The Matthews family connects with the Man family on the marriage of Catherine Jane Matthews to Edward Garnet Man on 26 December 1867 at Calcutta Cathedral, Calcutta, India.
Catherine Jane Matthews' father was James Matthews born on 24 July 1803 the son of Christopher Matthews and Elizabeth Teague,
James married Mary Ann Bailey on 3 October 1830 at St. Nicholas, Cole Abbey, London. Mary Ann's father was Henry Bailey of Southampton and her mother was Elizabeth, but little else is known.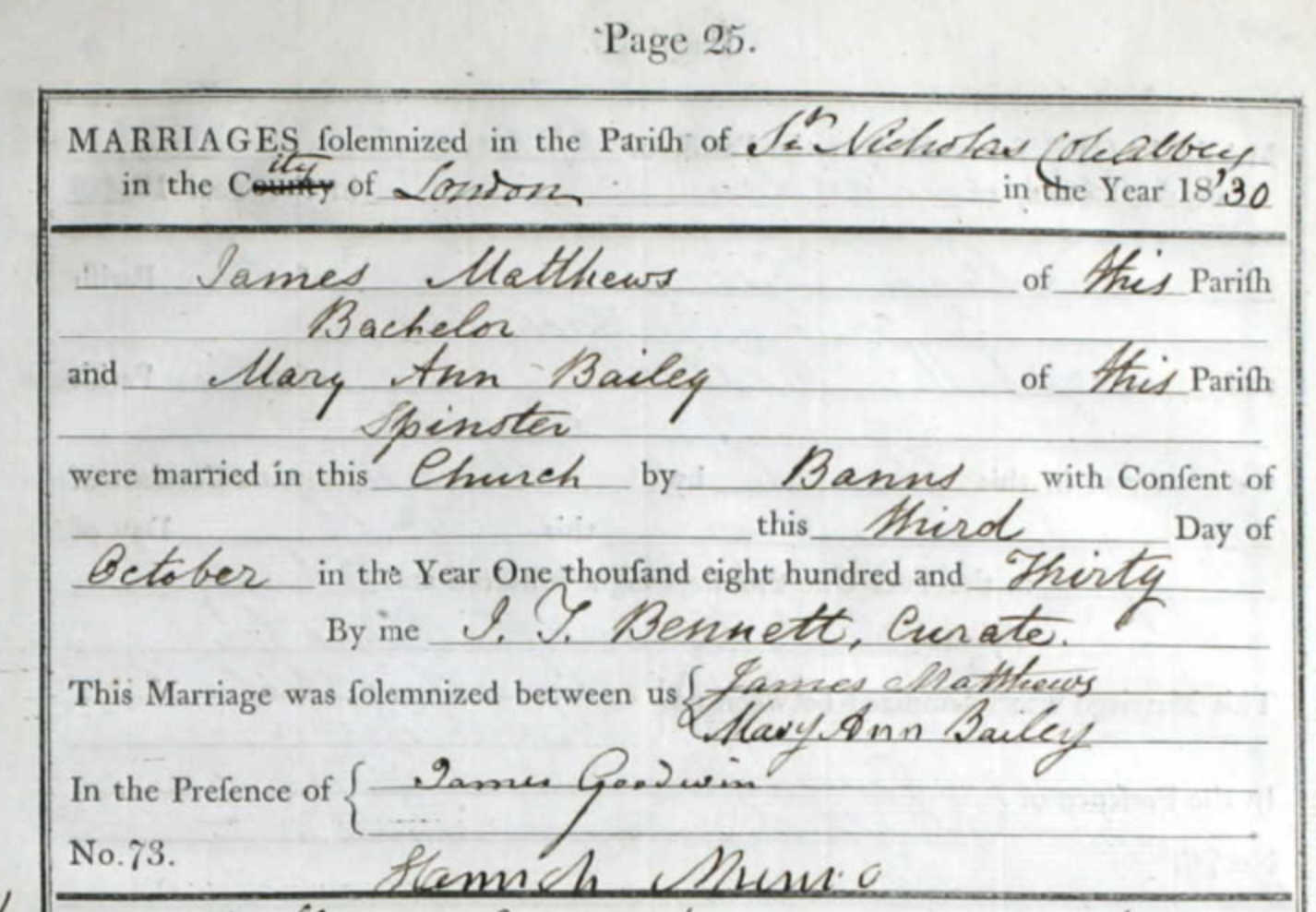 James and Mary Anne (Bailey) Matthews had four daughters:
Sarah (1832 – 1868) who married Ernest Hancock;
Elizabeth (1834 – 1917) who married Webber Desborough Harris;
Victoria (1837 – 1931); and
Catherine (1843 – 1919) who married Edward Garnet Man.
And two sons: James and Albert.
James died on 14 September 1891 at Brighton, Sussex.

A genealogy of the Matthews family can be found here (<– PDF).  James Matthews's Memorandum / Ledger Book can be read here (<– PDF). He was one the founding partners of  Grindlay's bank (<- an external link).
The letters of Shirley Brooks (editor of Punch) to Victoria Matthews in PDF can be read here. The family lived at No. 21 Manchester Square, London (below). The Man and Matthews family are related in a number of ways which can be viewed diagrammatically here.
To read a recollection of James Matthews by two of his 'Man' grandchildren click HERE.
The report of a burglary on 7 March 1799 when Christopher Matthews's butcher's shop at 60 Aldgate High Street was broken into can be read here. Christopher was the father of James Matthews. He married Elizabeth Teague.
James's family has been located on the 1841 census residing in Lambeth.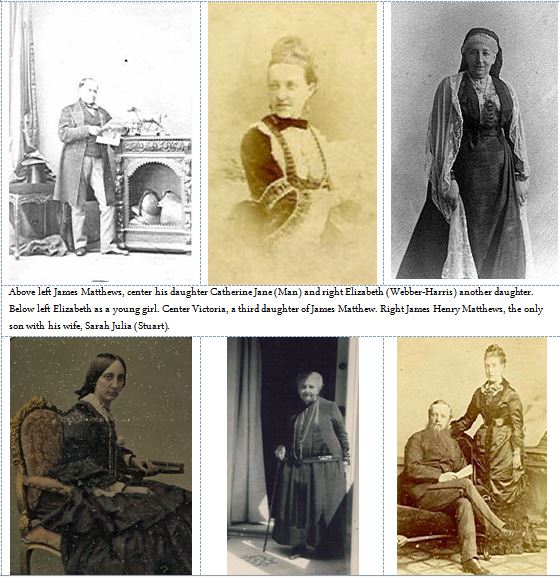 A pamphlet commemorating the 150th anniversary of Grindlays Bank can be viewed HERE (<– PDF).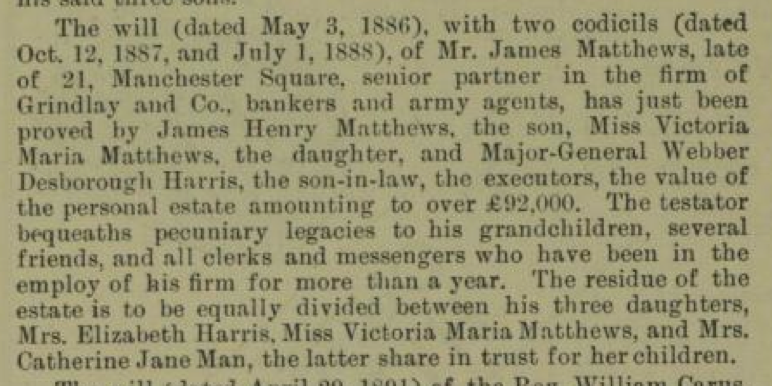 Trevor Matthews was the son of James Henry Matthews who was the son of James. There were no more male Matthews after Trevor.  One of Trevor's daughter, Margaret Joyce Matthews, married John Oswald Hugh Gairdner.
As noted one of James' daughters (Sarah) married Ernest Hancock and in turn one of Ernest and Sarah's daughters married a Keith and another, Florence, married a McMaster.
Trevor Matthews's memorial service notice in the Times. Trevor's daughter Margaret Joyce married a Gairdiner. Details on some of Ernest La Touche Hancock's publications can be found on the bibliography section of this web site. There are no living male descendants of James Henry Mathews.
The Argus, Melbourne, Victoria, Australia. Saturday, 21 July 1928
CENTENARY OF GRINDLAY'S.
FAMOUS BANKING HOUSE.
(FROM OUR CORRESPONDENT)
LONDON, June 7. – "Home News," summary of European news for India and the colonies, had an Australian career until about 1898, when it was superseded by the glowing service of press cable messages. "Home News" was owned by the banking house of Grindlay and Company, which has been celebrating its centenary. Grindlay's belongs to the line of East India agents, who did useful service in the days of John Company. It is the only firm of its kind to survive the passion for absorption which has ended the careers of so many private banking companies. The firm was founded in 1828 by Robert Grindlay, who had been a cadet in the employ of the East India Company, and who retired upon half pay after 17 years' service. Robert Grindlay decided to return to business. Many of his old Indian and colonial associates were in the habit of seeking his counsel on matters of business, so he determined to open an office in Birchin lane, in the city, with a reading-room attached. In 10 or so years the business increased so much that Grindlay took his assistant, James Matthews, into partnership. Mr. Matthews' association with the firm continued until 1891. At this time Grindlay's office was in Cornhill, but there was a branch at No. 8 St. Martin's place in the West End. Grindlay retired in 1842, though he did not die until 35 years later. He was a man of rare accomplishments, being a painter of merit, as his illustrated volume "Scenery. Costumes, and Architecture of Western India," shows.
In the middle of the 19th century a fresh element was introduced into Grindlay's. Stephen Philpot Low was admitted to partnership in 1850. Since then a Low or a Matthews has always been in charge of the affairs of the firm. A son of Mr. James Matthews was a partner. He did not cease daily attendance at the bank until 1923. The life work of the father and son thus covered more than 100 years, from 1820 to 1923 Mr. Austin Low the present chairman, has been in the service of Grindlay's for more than 50 years. His son, Colonel Stuart Low, has been a partner since 1913. "Home News" was founded in 1847. An Australian edition came into existence in the early days of the gold diggings. It was not a journal requiring much editorial originality. It was composed of summarised news from such London papers as "The Times" and the "Morning Post." The editors however, included Shirley Brooks, George Augustus Sala, T.H.S. Escott. Today Grindlay's is connected with the National Provincial Bank.