Maria[h] Man was born on 29 April 1760 at Croydon, Surrey, the youngest daughter of John and Mary (Balchen) Man, and was baptized on 11 May at St John the Baptist, Croydon.
She married The Rev. James Taylor on 25 June 1796 at Tilehurst, Berkshire.  Witnesses to the marriage were her brother John and sister Frances.  (The marriage record indicates that Maria was from Tilehurst, near Reading, and James from Reading.)
Maria died on 21 June 1797 at Reading, Berkshire. Her death was announced in the Reading Mercury on 26 June 1797 [Last Wednesday died, Mrs. Taylor, of Castle-street; most sincerely, and justly regretted by all that knew her.]

Maria was buried on 27 June at St. Mary the Virgin, Reading.
Her baptism at St John the Baptist, Croydon.is shown below: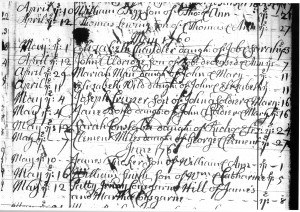 An Admon exists for Maria which is shown below..
Maria Taylor  } On the twenty third day – – – – – – }       
     formerly Man , , } Admon of the Goods Chattels – }
100                                 and Credits of Maria – – – – – – – }        June
                        Taylor formerly Man formerly of  – – – – – –  }
                        Walworth in the Co of Surrey and late of }
                        Reading in the Co of Berks,  dec'ed,  was  }
                        granted to James Taylor the lawful – – – – –  }  Decem'r 1798
                        Husband having been first sworn only to  }
                       Administer.  ,  ,  ,  ,  ,  ,  ,  ,  ,  ,  ,  ,  ,  ,  ,  ,  ,  , }   
No other information is available at this time on James Taylor. Maria and James belong to Man Generation ….. . There was no issue.
[References: Mariah's birth date and baptism – FHL Film # 0994331; her marriage – FHL Film # 0088445; her burial – FHL Film # 1040614.]
NOTES: Maria's death notice has been found in the Reading Mercury for June 26 1797.  It reads as follows: 'Last Wednesday [i.e 21 June] died, Mrs. Taylor, of Castle-Street: most sincerely and justly regretted by all that knew her.'
(Our thanks to Adam Sowan for providing this information and also to David Morgan for the image of Maria's baptismal record).
ADMON – A person who dies without leaving a WILL is said to have died 'interstate'. If there was property or money involved, an application for probate had to be made, and 'letters of administration' [ADMON] were granted to enable the heir(s) (in this case, James Taylor) to sell the property or obtain the money.
The reason for the brackets [  ] around Maria[h]'s name is because her baptismal record shows 'Mariah', but her marriage and burial records show 'Maria'.  In the summer of 1795 John Man, Maria's brother, retired from his position of schoolmaster and let the school to his brother in law James Taylor. James Taylor is said to have been a cousin of Eleanor Thompson who married Maria's brother Henry Man. However this has not been confirmed.