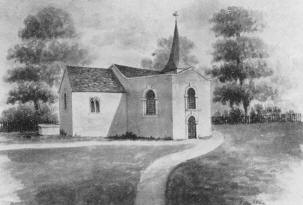 Emma Claudiana Rebecca Man was born on 1 July 1780 on Fenchurch Street, London, the eldest daughter of Henry and Eleanor (Thompson) Man, and was baptized on 4 August at St. Gabriel, Fenchurch. Emma died, unmarried, on 10 August 1858 at Halstead Hall, Halstead, Kent, and was buried on 16 August at St. Margaret's, Halstead (shown left). Emma belongs to Man Generation Seven.

[References: Birth and baptism – FHL Film # 0394830; her death – from a copy of her death certificate; and her burial from copy of record of film viewed at Kent RO.] Her father, Henry Man, composed a number of poems to Emma and in his posthumously published 'Miscellaneous Works' a letter to Emma appears which is reproduced below:
TO MISS EMMA MAN.
PAPA is not unmindful of his dear Emma's pretty French letter; she shall certainly see a play of her own chusing before she is a fortnight older.
My Hudson's-Bay friend promised me an Indian shot-bag here it is, a present from Papa to Emma, who is requested to examine it attentively, as the work of a little savage not more than twelve years old. The colours are dyed by the Indians, and the nicer work performed with a porcupine's quill.  I think you will admire it, and say, Well! after this, I never will be vain of any thing; see how regular the work is, with nobody to teach regularity!  If my eye guides me right, there is not a stitch amiss. I shall hear your opinion, and I shall hear you say, I will never undervalue any body; for, if a poor ignorant savage can do this, I will never be proud of any thing.  I am to have some other presents, and I shall judge, by the value you set on this, how to bestow them.  Kiss Nancy for me; and remember, as long as you are a good girl, I am an indulgent papa. So, Miss, your Servant,
Your very humble Servant,
H. M.
Emma appears on the 1851 below. She is at living at Halstead Hall with her brother's wife Louisa Caroline (Fowle) Man, her two sons Septimus and George, Jane Fowle who is Lousia Caroline's sister, and Ann who is Emma's sister.

Her obituary appeared in The Gentleman's Magazine, 1858 (November) Volume V of the new series, page 536, as follows:
At Halstead, near Sevenoaks, Kent, aged 77, Emma Claudiana, eldest dau. of Henry Man, esq., many years Secretary to the South Sea House, author of two posthumous volumes of poems, 1802. He died dec 5*, 1799. An account of him will be found in the Gentleman's and European Magazine; and humorous anecdotes of him in Charles Lamb's "Elia" and Doctor Dibden's "Reminiscences" . [* not dec 4]
Emma's gravestone still stands in St. Margaret's Halstead, Kent.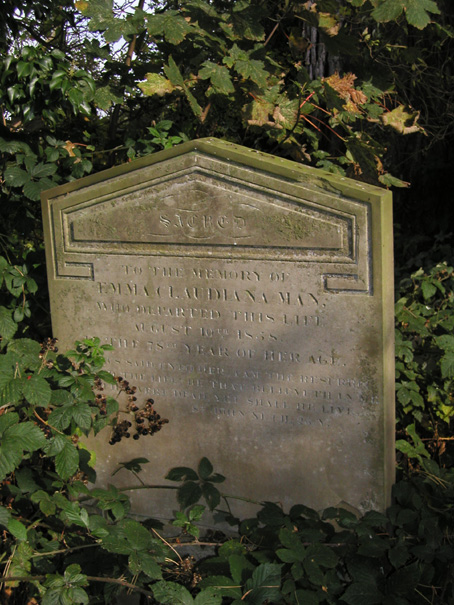 SACRED
TO THE MEMORY OF
EMMA CLAUDIANA MAN
WHO DEPARTED THIS LIFE AUGUST 10th 1858
IN THE 78TH YEAR OF HER LIFE
JESUS SAID UNTO HER 'I AM THE RESURREC-
TION AND THE LIFE: HE THAT BELIEVETH IN ME
THOUGH HE WERE DEAD YET SHALL HE LIVE'
ST. JOHN, XI CH, 25 V.