It is believed that John Man 'the Elder' was born in 1685 in Wargrave, Berkshire, the eldest son of Henry and Frances (Moody) Man (see Note One).  He was baptized on 5 October 1685 at St Mary the Virgin, Wargrave.  It is believed, also, that he is the John Man who married Ann Tyle on 14 December 1712 at All Saints, Great Marlow, Buckinghamshire.
John died on 24 November 1750 in the parish of St. George in the East, Stepney, Middlesex, and was buried on 30 November at St. Mary Matfellon, Whitechapel, Middlesex.  He left a will which has been transcribed and is placed toward the end of this page.

No baptismal record has been found for Ann Tyle at this time, but a burial record for Ann (Tyle) Man, has been located. One might have expected her to have been buried in Berkshire but a review of the Burial Index from the Berkshire Family History Society found there are no burial records of any of John and Ann Man's family, other than the second daughter Ann. That comes as a surprise. Obviously, they have died in other counties. In the case of Ann a review of The Hurst Court Records of 1767 indicated she had died fairly recently. A review of London parish records found a burial record for Ann Man dated 3 July 1765 at St Dunstan's, Stepney (last line). The time is right and the parish is adjacent to St. George in the East, Stepney, where John was reported to have lived. The initials "M.E.N.T." after her name stand for Mile End New Town.

John and Ann belong to Man Generation Four; their children belong to Man Generation Five and are:
ANN
ANN
ANN
THOMAS
HENRY
FRANCES
[References: John's baptism at Wargrave – FHL Film # 1040709; his marriage at Great Marlow – FHL Film # 1999444; time and place of his death – note on the back of the original will; his burial at Whitechapel – FHL Film # 0094711.] (The church above is a much later building than the one in which John and Frances were married, although note that the grave of Louisa Mary (Harris) Man is near the present church door.).
NOTE ONE:  In searching for John Man the Elder's baptismal record very few 'Johns' were found in the right time period.  The one clue to his parentage was that it was believed that John's mother's name was Frances.  This was based on the fact that in his will John Man the Elder admonishes his son John to be sure that his sister Frances receives the capital goods that her grandmother gave her.  Since there was an elder sister, Ann, the most reasonable explanation for this was if the grandmother's name was also Frances.  The record of John the Elder's baptism which was found in Wargrave (which is adjacent to Hurst) is the only one where the mother's name is Frances.
"Great Marlow, including the Borough and waste belonging to it, is bounded, on the North, by High and West Wycombe; on the East, by Little Marlow; on the South, by the Thames; and on the West, by the parishes of Medmenham, Hambleden, and Fingest; the whole parish being about four miles and an half long, and three in breadth: and containing, by computation, about 6000 acres; of which, 800 are woodland, 200 meadow, and 4500 arable, divided into about 35 farms; the waste, or common, not exceeding one hundred acres." [The History and Antiquities of the County of Buckingham, by George Lipscomb, 1847].
ADDITIONAL DATA ON JOHN MAN
John Man of Hurst is recorded below as a 'joyner' (carpenter) with an apprentice William Easthamsted, dated 30 June 1719.

He was also master to another apprentice, Stephen Sharp, on 2 August 1723:

John Man as a freeholder in Hurst: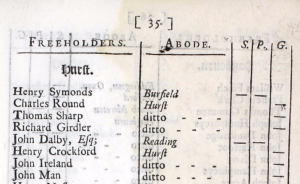 From court records of the Manor of Hurst [1600-1828] (Family History Library Film 0088300 of originals at the County Records Office, Berkshire).
Surrender of half of Robinhoods by John Goode to John Man[n] and his heirs with Man[n]'s admission, 19 October 1715. [In Latin]
Surrender of the remaining part of Robinhoods by John Goode to John Man of Hurst, joiner. Surrender took place on the 30 January 1738/9 and the admission on 13 April 1739.
Presentment, at a court held 31 January 1757, of the death of John Man[n] seized of Robinhoods, since the last court. Admission of Anne, widow of John, for life.
Presentment, at a court held 19 October 1767, that Anne, widow of John Man[n], who held Robinhoods for life, lately died, and proclamation for the heir John, son of John Man.
[The son John Man does not come forward and there is no further reference to the tenement in the rest of the book, which contains courts down to 1779.  The reason for John Man the younger not coming forward to claim the property that he had inherited from his mother etc., may have been due to the financial troubles that had begun to plague him and which caused him to flee to Wales]
John Man is listed as a member of the Homage for the Court Baron of John Dalby, Esq., Lord of the Manor of Hurst.  The first entry is in January 1724 and the last is on 2 August 1750. The codicil to John's will states that he died on 24 November 1750.
The following is the Court copy of John Man the Elder's Will.
In the name of God Amen
I John Man in the Parish of Hurst in the County of Berks, Joyner, being infirm in Bodily Health but of Sound and disposing Mind and Memory, Praise be therefore given to almighty God, yet Considering with my Self the ffrailty and uncertainty of humane Life and as much as in me lyeth to Prevent all Controversies and differences after my decease do make, Publish, and declare this my last Will and Testament in manner and form following: that is to Say, first and Principally I recommended my Soul into the Hands of Almighty God who gave it relying on his Mercy and precious death and Meritt of my only Saviour and Redeemer Jesus Christ for the Remission of Sins in this Life and to be Pertakers of Everlasting Glory in the Life to come and my Body I Commit to the Earth to be decently interred as my Executors hereinafter named shall think fitt as touching all such Worldly Estates as God in his Great Goodness hath bestowed upon me. I give will and dispose of the same as followeth, Viz:  Imprimus that I John Man do give Ann my Wife all my Tenements, Messuages, Lands  and Premisses in Hurst in the County of Beark to such use as in the Deeds of   Settlement is mentioned and expressed and which said Settlement I do hereby ratify and Confirm. Item, all and Singular my Goods, Chattells, Household Goods or Stuffe, ready money, debts, Stock in Trade and all other my Personal Estates whatsoever, my Just Debts and ffuneral Charges being first Payed.  I do hereby give and Will the Interest, Profits and Benefits of the same of every Part thereof unto my said loving Wife for and during the Term of her natural Life and to receive what Money I have owing of me and to Pay my Debts as far as it will go, and if any more I desire she will bestow it on her to Daughters Ann and ffrances but not to hurt yourself.  But after my Wifes Decease I do give, will and bequeth my Copyhold Houses and Lands I now dwelleth in goeth by the name of Robin Hoods dwelling houses with all Outhouses, Orchards, Gardens thereunto belonging, and all Messuages and Tenements to the only use and behoof to my Son John and to his Heirs forever, Paying to your Sister Ann fifteen Pounds of good and lawful money and to lett your Sister ffrancis have the little house next where the Widow Lives in for her Life, paying you Two Shilling the year for Rent for acknowledgement or the House and Garden full and XXXXX as you think fitt.  I leave it to your discretion; and pay to your Brother Thomas ten pounds; and my Working Tools share amongst you and your Brothers; and in to years, as you may be possessed what I have given you, pray pay to your Brothers and Sister if living; and I do will and bequeath to my youngest Son Henry Man the Little House where Willm Smith now dwelleth with the Garden as far as tis Parted containing about 15 pole more or less for him and his heirs forever, if any, paying your sister Ann Ten Pounds of good and lawful money of Great Britain and that the fence is where now tis fenced is yours as you may not Quarrell hereafter; and my Will and Pleasure is for you to pay your Sister in to years after you are possessed with what I gave you; and I desire you and your Brothers and Sisters may live Lovingly as you ought to do and be dutiful all to your parents; and I desire you may have all of you one Bed and Bedding; and for the other things if I leave any to my Wifes disposing as she thinks fitt but not all to XXX out.  I hope she will take care of her Daughters, so I hope you will take care of your Mother and see she do not want any thing that is needful; likewise I do name, constitute and appoint my said loving Wife Ann and her Son John full and Sole Executors of this my last Will and Testament and I do likewise name, desire and appoint. I hereby ratify and confirm these presente to Stand good as my last Will and Testament.  In Witness whereof I the said John Man have to this my last Will and Testament Set my Hand and Seal the Seventh Day of March one thousand seven hundred and forty seven in the Twentieth year of our Sovereign Lord George the Second King of England.  John Man Signed, Sealed, Published and Declared by the said John Man to be his last Will and Testament the day and year above Written in the Presence of us who Subscribed our names as Witnesses hereunto in his presence the Words being first.  interlined John Man. Willm  Crockford, Susanna Smith, William Dean, Witnesses.
A Summatery of the  Capital  Goods of ffanny Man.
A Summatery of my Daughter ffrances Goods her Grand Mother gave her in her Bed Chamber a very Handsome Pair of Chest and Drawers, Walnut tree, a Handsom Dressing Table, and a Trunk, and a handsome Chest of Speckled Wood standing on a Handsome fframe, and some pictures, a ffeather Bed and Beadstead, and Curtains, and all belonging to the Bed, 4 Pewter Dishes, one Dozen of the best Plates, and my Clock, and the Great looking Glass, half a Dozen of the best Cane Chairs, and the Warming Pan of your Grand Mothers.  So pray Son John so that she is not wronged of her right.  It is my desire she should have all this if I nor your Mother do not XXXXX of them tis my Mind at present, August 5: 1750. Witness my name, John Man.
This Will was proved at London with a Codicil annexed before the Worshipful John Bottesworth Sort of  XX Surrogate of the Right Worshipful John Bottesworth, also Doctor of Laws, Master Keeper or Commissary of the Prerogative Court of Canterbury lawfully constituted the tenth day of December in the year of our Lord one thousand seven hundred fifty by the Oaths of Ann Man Widow the Relict and John Man the Son of the Deceased and Executors named in the Will to which Administration was granted of all and Singular the Goods, Chattels and Credits of the said Deceased being first sworn only to administer.   Exd.
NOTES: Both the will itself and this summary are in the same hand, evidently that of John Man himself. The will is endorsed: "John Man Joyner The Elder his will; Proved in the Prerogative Court of Canterbury by Ann Man Widow and John Man the son, executors, 10 Dec 1750. [ note on back ] "This testator was formerly of the Parish of Hurst in the County of Berks but late of the Parish of St George in the County of Middlesex [where he had resided two months] (* interlineated ) and dyed 24th day of November last.