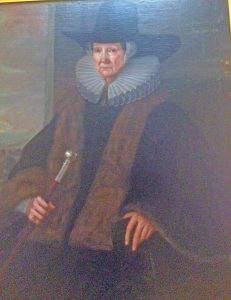 Richard Craddock (1640 -1712) was the brother of our direct ancestor Susannah Barnes and is thus the great uncle several times removed of all current (and many not) members of the Man family who are descended from Susannah. A page for the Craddock family can be found here.
In about 1635 Tobias Cradock (1603-1671), barrister at law of Gray's Inn, married Susannah Bourne (1605-1697/96) and they had at least two children: Susannah (1637–1710) and Richard (1640-1712). Richard Cradock married Hester Palmer on 26 July 1666, at St. Andrew, Totteridge in Hertfordshire. This was preceded by a marriage allegation dated 23 July between:
Richard Cradocke, of Hornsey, Midd., Mercht, Bachr, abt 31, & Mrs Hester Palmer, of the same, Spr, abt 20, at own disp., her parents being dead; at St Mary Le Bow, Lond., or Totteridge, Herts. Below the marriage record:

We do not have a baptismal record for Hester but we know that, based on her father's will, she was the youngest daughter of Andrew and Elizabeth (Hamey) Palmer and the granddaughter of Mathew and Ann (Raven) Palmer. Richard and Hester (Palmer) Cradock had a number of children (all baptised at St. Mary's, Hornsey) among whom were two daughters: Sarah (1667-1748) and Susannah (1668-1743) and two sons: William (1676-1746) and Richard Cradock (1684-1748). Details on the lives of these children can be found in The Families and Descendants of Susannah and Sarah Craddock.
The connection between the Palmer family and the Man family is somewhat circuitous and is as follows: Richard Cradock's sister, Susannah, married Dr. Henry Barnes (1631-1701) and they had a daughter Susannah (1663-1737) who married John Balchen (1658-1721). John and Susannah (Barnes) Balchen had a son Richard (1692-1738) who married Martha Hitchcock (1698/99-1766) and they had (among other off spring) a daughter Mary (1721-1798) who married John Man (1718-1783) (i.e. Cradock > Barnes > Balchen > > Man).
Richard Craddock began his career as a factor or agent for the East India Company. His time with the company can be divided chronologically and geographically into three. The first part was spent mostly in the city of Ahmadabad in India (1655-1662) and the second part in Persia (1662-1664). While in India he dealt with Shah Jehan, the builder of the Taj Mahal, and spent much time negotiating terms of trade with one or other of the Shah's rebellious sons. His time in Persia was mainly spent negotiating with the King of Persia to keep the Persian's true to their side of a bargain which allowed the East India Company to collect taxes from ships passing through The Gulf. Details of Richard's career with the East India Company can be read HERE(<— pdf 59 pages). While negotiating with the Shah of Persia Richard sent a series of letters to the East India office detailing his progress or lack thereof. The letters have not yet been transcribed and are difficult to read: the first selection can be read HERE (<— pdf); the second selection can be read HERE (<— pdf) and the third selection can be found HERE (<— 18 pages in .pdf). The third and final phase of Richard's career began on his return to London where he was appointed a Director of the Company on 20th December 1664.
Richard was also a director, along with Sir Christopher Wren (to whom he was very distantly related), of the Hudson Bay Company. His involvement with the company can be found in the 'Tale of the Beaver Hat' which concerns Craddock's claim to a hat originally intended for Charles II click here (<— pdf 7 pages). He was also a director of the Bank of England, as well as The Royal African Company. Because the latter company was involved in the slave trade it has been said (possibly by Daniel Defoe) that Craddock liked to sleep "… with his prayer book in his left hand and a company prospectus in his right, without letting either know what the other held."
In June 1712 Richard died at his house in Devonshire Square. Among the beneficiaries of his will was St Bartholomew's Hospital: 'I give and bequeath to the Governors of St. Bartholomew's Hospital for the time being fifty pounds for the use of the poor and belonging to the said Hospital'. In a recent communication with St. Barts', the archivist states that: 'We have a record of this donation [receipt dated 27th April 1713] which entitled [Richard Craddock] to become a Governor of St. Bartholomew's Hospital, and indeed it is inscribed on one of the benefaction boards that adorn the walls of the Great Hall in the North Wing … '
On 23 July 1666 Richard Craddock married Hester Palmer at Saint Mary le Bow, London. They had seven children of whom two: our first cousins William (1676-1736) and Susannah (d. 8th September 1743), will be the focus of what follows.
Susannah Craddock had three husbands: first John Banner, next Benjamin Tudman and third Sir John Blunt (left). The latter was a director of the South Sea Company and the chief architect of the scheme that is known as the South Sea Bubble. Of Susannah and John's marriage the poet Alexander Pope wrote in his 'Epistles to Several Persons' the following:
A Nymph of Quality admires our Knight;
He marries, bows at Court, and grows polite:
Leaves the dull Cits, and joins (to please the fair)
The well-bred cuckolds in St. James's air:
Pope, along with most of the population at the time and since, regarded Blunt as the main protagonist in the drama in which thousands lost millions when the South Sea Bubble burst in 1720.
Susannah Craddock's second husband, Benjamin Tudman, was a goldsmith and also a director of the South Sea Company. He was in partnership with Stephen Child, son of the banker Sir Francis Child, and when Tudman died Stephen Child took over his business. The company eventually evolved during the 19th century into Messrs. Willis, Percival and Co of 76, Lombard Street.
From Susannah Craddock's first marriage to John Banner is descended our fourth cousin (X5) Charles Long, Lord Farnborough (1760-1830) in the following way. Susannah's daughter Susannah married a wealthy London merchant by the name of Abraham Cropp. In turn their daughter Sarah Cropp married Beeston Long. There on, Charles Long is frequently mentioned in The Cumberland Letters and together with George Cumberland he toured Wales in 1784 from which Cumberland penned An Attempt to Describe Haford. Charles Long was the third son of Beeston Long, West India merchant and Sarah Cropp. He entered Parliament in 1789 as member for Rye, and from 1791 to 1801 was joint Secretary to the Treasury. In 1804 he became a Lord Commissioner of the Treasury, and in 1806 Secretary of State for Ireland. From 1810 to 1826 he was Paymaster-General, and on retirement in the latter year was raised to the peerage as Baron Farnborough. Thenceforth he devoted himself primarily to artistic pursuits, and obtained the title of "the Vitruvius of the present age." His tastes were fully displayed in the mansion which he built at Bromley Hill, Kent. (George Cumberland described this house in a pamphlet which can be read HERE). Long published in 1826 a pamphlet entitled 'Remarks on the Improvements in London', and several of the street improvements carried out in London originated in suggestions made by him. He died at Bromley Hill in 1838. He had in 1793 married Amelia, daughter of Sir Abraham Hume. Lady Long, who was noted as a judge of art and a skilled horticulturist, died at Bromley Hill in 1837. She was a skilful amateur artist, and frequently exhibited at the Royal Academy. Charles Long's wife Amelia Hume was an excellent watercolorist.
Charles Long's sister Sarah (1749-1817) married Sir William Prescott founder of a bank – Prescott, Grote in 1766. Charles's brother Samuel Long (1746-1807) married the daughter of the 7th earl of Lauderdale and their son, our fifth cousin (X4) Samuel Long (1799-1881), married Louisa Emily Stanley the sister of Edward Stanley, Lord Derby (1752-1834). Another of Charles's brothers, Beeston Long, was a governor of the Bank of England. Right is Susannah's daughter Jane Long.
On 21 April, 1715, at St. Bride's Fleet Street, Susannah Craddock's brother, William, married Mary Sheldon. Her father Daniel was a Director of the East India Company at the same time as Richard Craddock. Her uncle, Sir Joseph Sheldon, had been Sheriff of London during The Great Fire and was Lord Mayor in 1675. On his appointment as Mayor, Samuel Butler (1612-1680) penned a congratulatory poem to Sir Joseph Sheldon. Mary's great uncle was Gilbert Sheldon, Archbishop of Canterbury, (1598-1677) under Charles II and her aunt Catherine married John Dolben, Archbishop of York (1625-1686). She was thus ecclesiastically and commercially well connected.
William and Mary Craddock had a child, Mary (1719-1745) our 2nd cousin (X7), who on 9 December 1740 at St. Bride's, Fleet Street, married her first cousin Gilbert Jodrell (Gilbert's mother was a Sheldon). We know little about Gilbert Jodrell except that he was a lawyer who worked in Chancery Lane and specialized in bankruptcies. A twenty-two page pamphlet on the Jodrell Family can be found here. Gilbert and Mary's daughter, Sarah Jodrell, our third cousin (X6), was born on 23 September, 1741. She may have been born at Ankerwyke, the Jodrell home.
In about 1760 Sarah married Robert Child (1739-1782) whose grandfather Sir Francis Child (1642-1713) founded in 1671 Child's Bank and was a Lord Mayor of London in 1698. Robert's uncle, Stephen Child, took over Benjamin Tudman's business. A one page article on Child's Bank can be read here.
Robert and Sarah inherited Osterley Park from Robert's uncle Sir Francis Child (c.1684-1740). It is said that Robert Child possessed the largest private fortune in England in the eighteenth century, but the same has been said of quite a few others i.e. Sir Gilbert Heathcote.
Horace Walpole described Osterley as follows:
On Friday we went to see – oh, the palace of palaces! – and yet a palace sans crown, sans coronet, but such expense! such taste! such profusion! … The old house I have often seen, which was built by Sir Thomas Gresham ; but it is so improved and enriched, that all the Percies and Seymours of Sion must die of envy. There is a double portico that fills the space between the towers of the front, and is as noble as the Propyleum of Athens. There is a hall, library, breakfast-room, eating-room, all chefs-d'ceuvre of Adam, a gallery one hundred and thirty feet long, and a drawing-room worthy of Eve before the Fall.
Mrs. Child's dressing-room is full of pictures, gold filigree, china and japan. So is all the house; the chairs are taken from antique lyres, and make charming harmony; there are Salvators, Gaspar Poussins, and to a beautiful staircase, a ceiling by Rubens. Not to mention a kitchen-garden that costs 1400 a year, a menagerie full of birds that come from a thousand islands .. and then, in the drawing-room I mentioned, there are door-cases, and a crimson and gold frieze, that I believe were borrowed from the Palace of the Sun ; and then the Park is – the ugliest spot of ground in the universe – and so I returned comforted to Strawberry [Walpole's home]. You shall see these wonders the first time you come to Twickenham.
On 28th August 1764 Robert and Sarah's only child Sarah Ann Child was born and it is from Sarah, our fourth cousin (X5), that all of the families described below are descended.
Sarah disobeyed the orders of her parents and eloped to Gretna Green with John Fane (1759-1841), the 10th earl of Westmorland. John Fane was described as 'coarse in mind, manners and language' which may account for Robert Child's objections. Sir Robert, on hearing of his daughter's escape, gave chase in his chaise and was on the point of catching up with the eloping pair when the Earl stood up in his carriage, pointed a pistol at Sir Robert Child's leading horse, and shot the beast. Soon thereafter, on 20 May 1782, at age 17, Sarah and John Fane were married by the blacksmith at Gretna Green. Robert Child died some months after his daughter's marriage but he had time to change his will which had some interesting consequences.
The Earl and Countess of Westmorland, John and Sarah Ann Fane, had several children (our fifth cousins (X4)), three of whom made interesting marriages. The first child, and only son, John Fane (1784-1859), continued the Westmorland title being the 11th earl.
The second, Sarah Sophia Fane (1785-1867), married George Villiers 5th earl of Jersey (1773-1859). The third child, Maria (1787-1834), married John William Ponsonby the 4th earl of Bessborough. Thus these three noble families are all related to one another through Richard Craddock's descendant Sarah Ann Child. Thus, the Man family today is distantly related through its Craddock ancestors to some interesting families such as Fane, Villiers, and Ponsonby.
FANE
The only son of the Child – Fane marriage was John Fane, the eleventh earl of Westmorland, who married on 26 June 1811 Priscilla Anne Wellesley-Pole (1793-1879) the niece of Arthur Wellesley, The Duke of Wellington, and also a Prime Minister.
Another of the Duke's nieces, Ann Wellesley, married William Charles Augustus Cavendish-Bentinck the son of the Prime Minister William Henry Cavendish-Bentinck, the third Duke of Portland. On 28 December 1782, the Prime Minister's brother Edward married Elizabeth Cumberland, daughter of the playwright Richard Cumberland, and the third cousin of Richard Dennison and George Cumberland, the nephews of Mary (Balchen) Man.
The youngest son of John and Priscilla Anne Fane, our sixth cousin (X3) Julian Henry Charles Fane (1827-1870), was a diplomat and poet. In 1866 he selected as his bride Lady Adine Eliza Anne Cowper (1843-1868), third daughter of George, sixth earl Cowper. Lady Adine was extremely shy which was hardly a recommendation for a diplomat's wife. But the marriage was happy, and produced a daughter, Ettie and a son, John (who died in 1876). Lady Adine, who had always been delicate, died from typhoid pneumonia on 20 October 1868. Her husband did not long survive her.
Their daughter Ethel (Ettie) Anne Priscilla Fane, our seventh cousin (X2), was born on 27 June 1867 and both her parents died before she was three. She used to say that until she was five she never wore anything but black. She grew up to be outstandingly pretty, and had numerous admirers, but she chose solid worth in the shape of William Henry (Willy) Grenfell (1855-1945) athlete and public servant, whom she married on 17 February 1887; he was created Baron Desborough in 1905. Ettie Grenfell was a leading member of the group of politically minded intellectuals known as the Souls. Arthur Balfour (a prime minister), the central figure, was one of her greatest friends. Osbert Sitwell called her the last of the great Whig hostesses. (Balfour's brother, Gerald, married Elizabeth Lytton a direct descendant of Gilbert Jodrell's brother Paul.)
A granddaughter of John and Maria Fane and our seventh cousin (X2) – Mary Caroline Louisa Petty-Fitzmaurice – married on the 4th October Percy Egerton Herbert the 3rd Earl of Powis and their son our eighth cousin became the 4th Earl of Powis (pictured below).
VILLIERS
Under the terms of her maternal grandfather's will, Sarah Sophia Fane, inherited almost the entire fortune of Child's Bank. The reason Robert Child disinherited his daughter was, as we have seen, his great displeasure at her marriage to a man whom he considered odious and his determination that no earl of Westmorland would ever inherit Child money. (Image Lady Jersey)
On 23 May 1804 Sarah Sophia Fane married George Villiers, fifth earl of Jersey. In 1819 Lord Jersey, being the happy beneficiary of Child money, assumed by Royal license the additional surname of Child.
According to the Dictionary of National Biography (DNB), the immensity of Lady Jersey's fortune influenced her character and those around her who often felt her frightening and overpowering. Dark-haired and attractive, her volubility was such that she earned the nickname 'Silence' and the ridicule of her detractors, and exhausted even her friends. One day a friend found her 'remarkably amiable from being more silent than usual'. Henry Greville considered that "It was her great zest and gaiety, rather than her cleverness, which constituted her power of attracting remarkable men, many of whom I have seen listen with the greatest complacency to what they would have considered to be egregious nonsense had it emanated from less charming lips." (DNB)
As the owner and senior partner of Child's Bank Lady Jersey kept a desk in the office and was an active partner, nor did she delegate her responsibilities to her husband or other men.
Her son, our sixth cousin (X3) and the sixth earl of Jersey, George Augustus Frederick Child-Villiers (1808-1859), married Julia Peel on 2nd July 1841. She was the daughter of the Prime Minister Sir Robert Peel.
Lady Sarah Frederica Caroline Child-Villiers (1822-1853), another sixth cousin (X3), and sister of George Augustus the sixth earl, married in 1842 Nicholas Paul Carl, 9th Prince Esterhazy (1817-1894). She produced a number of children and her descendants are today still heading the House of Esterhazy.
However the alliance between the Child-Villiers and Esterhazy families was almost called off by the latter when, digging a little deeper into the Earl of Jersey's background, they were not amused to discover that what propped the Earldom up was not so much blue blood but rather the black ink flowing from the ledger books of Child's bank. The portrait right by Franz Winterhalter is of Clementina Child-Villiers sister of Sarah Frederica and also our sixth cousin (X3).
Victor Albert George Child-Villiers (1845-1915), the seventh earl and also our seventh cousin (X2), married Margaret Leigh a distant cousin of Jane Austen's. Their daughter and our eighth cousin (X1) Mary Julia Child-Villiers (1877-1933) married Thomas Packenham (1864-1915) 5th earl Longford. Their son was Francis Packenham, the 6th earl Longford and our ninth cousin. Lord Longford's sister Violet Packenham, married the novelist Anthony Powell. A son, Arthur Child-Villiers, led the charge at Rifle Wood in 1918. More on Arthur can be found here (<– external link). (Thanks to PB for the reference to Arthur).
PONSONBY
The third child of Sarah Ann Child and John Fane, our fifth cousin (X4) Maria Fane, married on 16 November 1805, John William Ponsonby (1781-1847), the fourth earl of Bessborough. Maria's mother-in-law was Henrietta Frances Spencer (1761-1821), whose sister Georgiana married William Cavendish, the Duke of Devonshire. A recent book followed by film called 'Georgiana' describes the Cavendish marriage. John William Ponsonby's sister, Caroline Ponsonby (1785-1828), married William Lamb, Lord Melbourne (1779-1848), the Prime Minister.
One of the children of John and Maria Ponsonby's, our sixth cousin (X3) Augusta Lavinia Priscilla Ponsonby (1814-1904), was to become mother of our seventh cousin (X2) Charles Gore (1853-1932) Bishop of Oxford.
The portrait left is of Henrietta Spencer whose son married our fifth cousin Maria Fane. John William Ponsonby's second cousin Mary Elizabeth Ponsonby married the Prime Minister Charles Grey.
A note on Maria Ponsonby's sister-in-law Lady Caroline (nee Ponsonby) Lamb who married the Prime Minister, Lord Melbourne. The DNB states that she was a high-spirited eccentric who feared 'nobody except the devil', she was a brilliant conversationalist: "A creature of caprice and impulse, and whim, her manner, her talk, and her character shifted their colours as rapidly as those of a chameleon". Caroline married the Hon. William Lamb on 3 June 1805. Their tempestuous marriage scandalized the nineteenth century, temporarily paralysing Lamb's political career. Caroline had open infidelities, the most notorious being a brief theatrical affair with Byron in 1812. She famously recorded her first impressions of the poet as, 'Mad, bad and dangerous to know'. She died aged forty-two on 26 January 1828.
Staying with the Lamb family, Emily (pictured below), the sister of William Lamb, Lord Melbourne, first married the 5th Earl Cowper and they had a son George Augustus Cowper (1806-1856) whose daughter was Adine Eliza Anne Cowper married Julian Henry Fane (see above). After her husband's death, Emily Cowper married her long time lover Lord Palmerston, yet another prime minister. The 5th Earl Cowper's sister, Emily Caroline Catherine Frances Cowper, married the reformer Lord Shaftesbury.
The heir to John and Maria Ponsonby was our sixth cousin (X3) John George Brabazon Ponsonby (1809-1880) who, despite marrying the daughter of the Earl of Durham, followed by that of the Duke of Richmond, failed to produce an heir. But what he did manage was to help found the Surrey Cricket Club (image right: Vanity Fair caricature of John George Brabazon Ponsonby).
These then are just some of the descendants of Richard Craddock and the families into which they married.
The lives of two of Richard's children, Susannah and Sarah, have been explored in more detail and can be found here: