William Lionel Man was born on 7 December 1832 at Halstead Hall, Halstead, Kent, the son of Harry Stoe and Louisa Caroline (Fowle) Man. He was baptized on 13 January 1833 at St. Margaret's, Halstead. He married (1) Rosa Cooper and (2) Mary Fowle Starnes on 20 July 1880, at Holy Trinity, Maidstone, Kent. He died on 30 March 1904 at No. 22 Beaconsfield Terrace, Hythe, Kent, and was cremated on 6 April 1904 at Woking cemetery and his ashes were interred at St. Margaret's, Halstead.
His first wife, Rosa Cooper, was born in 1829 and died of cholera on 4 September 1877, in the Calcutta Hospital, India and was buried at the Calcutta Cemetery. His second wife, Mary Fowle Starnes, was born on 1 January 1834 at Harriettsham, Kent, the daughter of Richard and Mercy Starnes and she was baptized on 1 February 1834 at Harriettsham. Mary died on 29 April 1916 in Hythe, Kent and was buried at Saltwood. William belongs to Generation Five; his children belong to Generation Six and are:
SAMUEL

BEATRICE
[References: William's birth – Family bible; his baptism – film viewed at Kent Record Office; his first marriage – Family papers; his second marriage – marriage certificate; his death – Family bible; Rosa's death – Family papers; Mary's death – Family papers. See Hythe Reporter April 1904]
NOTES: Known as 'Uncle Bill', William Lionel Man was a Shakespearean actor, as was his first wife Rosa Cooper. He used the stage names Lionel Harding and Lionel Osborne (although why both is a mystery). He wrote for local newspapers under the pseudonym 'The Lounger'. Click here to read extracts of 'The Lounger's' writings (<– PDF). He wrote two books: 'Lectures on Shakespeare' (<— PDF) and 'Gleanings in Rome' (<— PDF). See also Hubert and Morrice Man's recollections of William below.
A poem written in 1871 by William while in Australia has come to light and can be readat the very end of this page. Also, David Man has a series of letters addressed to Miss Starnes from the Martineau sisters who were first cousins of Hariette Martineau. William, his wife Rosa, and his brother George have been found on the 1861 census which can be viewed here. However we believe that the transcriber has mistakenly switched around the birth place of George and Rosa and that in fact George's birth place should be Halstead, Kent, and Rosa's should be Great Marlow, Bucks, and not the other way around as indicated on the census.
William, his wife Mary and her sister Eleanor Morris appear on the 1891 census which can be viewed here (<— one page PDF). They are living at No. 87 Beaconsfield Terrace, Hythe, Kent. Mary appears on her own with three servants on the 1901 census living at 22 Beaconsfield Terrace. The page from the 1901 census can be viewed here (<— PDF). William may have been travelling; so far he has not been found on the 1901 census. On the 1851 Census has been found:
Frances M. Man Head Widow 50 Boarding house keeper Born in London

Sophia C. Man Dau Unm 29 Governess Surrey, Kennington

William S. Man Nephew Unm 19 Clerk to a lawyer Kent, Halstead
There are some errors of transcription: Sophia C. should be Sophia E. and William S. should be William L. Also, William was James and Frances M. Man's first cousin once removed.
 Rosa Cooper's death in Calcutta as reported by The Australian Journal: A Weekly Record of Literature, Science …, Volume 13: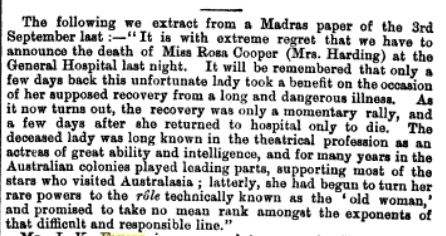 The following we extract from a Madras paper of the 3rd September last:- "It is with extreme regret that we have to announce the death of Miss Rosa Cooper (Mrs. Harding) at the General Hospital [Calcutta] last night. It will be remembered that only a few days back this unfortunate lady took a benefit on the occasion of her supposed recovery from a long and dangerous illness, As it now turns out, the recovery was only a momentary rally, and a few days after she returned to hospital only to die. The deceased lady was long known in the theatrical profession as an actress of great ability and intelligence, and for many years in the Australian colonies played leading parts, supporting most of the stars who visited Australasia; latterly, she had begun to turn her rare powers to the role technically known as the 'old woman', and promised to take no mean rank amongst exponents of that difficult and responsible line"
Found among Hubert Man's paper is a note saying that a photo of Rosa Cooper's tomb in Calcutta Cemetery exists and on it is transcribed the following:
Rosa Cooper
wife of William Lionel Man
Professionally Known as Lionel Harding
4th Sept 1877 aged 47.
The following are extracted from notes made by Lionel's nephew Morrice Man.
William Lionel Man 3rd son of of H.S. Man married Rosa Cooper and had 3 children, Samuel, Beatrice and Horace George William born at Glasgow, July 21, 1856. Sponsors Rev. William Prout, George Man (uncle), and Emma Man (aunt) – interred at Langham Place Chapel. Below Beaconsfield Terrace, Hythe, Kent where William Man lived (and died) at No 2 with his second wife Mary Fowle Starnes.
Below the memorial plaque to William and Mary at St. Mary's church, Hythe, Kent, photographed by Bill Ebden in 2009.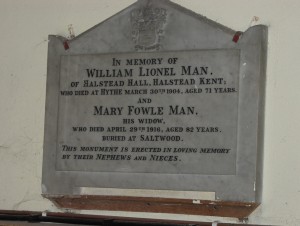 Hubert Man's recollections of William are as follows: Born at Halstead, Kent Dec 7th 1822, Sponsors William Man (cousin). He was educated at Westerham School. He was always full of fun & mischief, irresponsible & cheery. He was articled to a solicitor but ran away with & married Rosa Cooper, a well-known Shakespearian actress. [Not sure that this is entirely accurate as on the baptismal record of their first child Horace, William's occupation is listed as a 'solicitor' so he probably completed his training and then changed careers].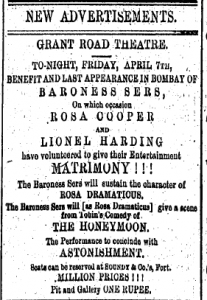 They were a devoted couple; he went on tour with her to India & Australia. He with a friend Jack Street were two of the first white men to walk across North (?) Island, New Zealand. He had several adventures; was shipwrecked with his wife and always declared that their two lives were saved by floating ashore on her crinoline.
Below is William Lionel Man as Lionel Osborne one of his stage names. These photographs are in the form of stamps with perforated edges and glue on the back.
They had 5 or 6 children all except one died young. The exception was Horace George William who was born in Glasgow, Scotland and baptised in London.
However even Horace died fairly young when he was about 15 by a blow to the head from a cricket ball. His aunt, Ann Man, was fond of her great nephew Horace and there is a note in her handwriting stating that 'Horace was born July 21 1856 at 46 Oxford Street, Glasgow, he came to Halstead and went to school at Maidstone thence to the grammar school at Basingstoke and then to Tonbridge Wells in 1868. He died (result of a cricket accident) in 1871. [He appears on the 1871 census with his grandmother and aunts at Halstead Hall]
Lionel's wife Rosa died of cholera, in India. William married a second time – Mary Fowle Starnes; they had no children. They lived at King St. Maidstone & then at Beaconsfield Terrace Hythe Kent, where both of them died, although she survived him for many years. He hated is said to have hated humbug & conventionality.
His nephews & nieces were devoted to him. He disliked meals at stated times, preferred toasting a chop over his study fire or roasting a potato when hungry. He was original, wrote for various papers; also wrote a book 'Gleanings from Rome'. He had a very kind heart and loved children, horses & dogs. He always tried to shock conventional people. A lady came to call & imparted much scandal to his wife. When he opened the front door to let her out he remarked, 'Go & sin no more'. People did not understand him & were apt to fight shy of him. His wife Aunt Mary was very good to her nephews and nieces; she was over 40 when she married William. She was not very happy as a child, she had a miniature of an Aunt of hers which she wore in a gold locket, the Aunt had been very kind to her in childhood, she told Beryl Man that every time she put the locket on she said God bless you, in gratitude to the old Aunt. The locket is [was] in possession of Mrs Beryl (Holberton) Man.
In Morrice Man's Diaries William Lionel Man (Uncle Bill) is recalled as follows:
Many are the tales my father and Uncle Bill used to tell of their pranks in the village and often the 'Old Man' [their father Harry Stoe Man] had to Discipline them. One evening they crept through the village tying up the 'Bobbins' of the cottage doors and then ran down the street calling 'Fire' watching with mischievous delight the frantic efforts of the villagers trying to open their doors. With other boys, they frequented an old quarry, which they made their headquarters, and on one occasion one of their comrades got so deep into the quarry that they could not get him out and he was left there all night.
They (and their elders) were superstitious it was believed that ghost haunted the house. In fear and trembling, they used to run about the churchyard and once they dared one another to run around it after dark. One of the younger boys accepted the challenge and started off. In the gloom, the others awaited his return, presently the air rang with his terrified shouts and close together the in fear the others went to his assistance. He was discovered at the bottom of a newly dug grave into which he had fallen. The ringleader in all these pranks was Uncle Bill, the eldest, abetted by Edward Garnet, my father. To church they were all marched on Sundays and listened to the old dreary Victorian services Morning Prayer, Litany, Ante-Communion in long Calvinistic Services. They all (except Uncle Bill) grew up at heart deeply religious, though certainly not outwardly so with a little firm belief in the existence and malignant power of the Devil. In fact a good deal of their religion might be described as Devil dodging – though token fears were always expressed in a humorous fashion and never interfered with their 'Joie de Vivre'.
There was also a mysterious girl called Sophie in the village whose 'goings on' were met with stern disapproval by the Aunts. When William was about 16 or so and started work in London he administered a shock to the whole family by running away and going on the stage. This was a terrible thing to do in those days and though he acted with Edmund, his adoption of that profession was viewed with horror which turned much later to absolute dismay when he married an actress, Rosa Cooper, a woman of much talent and good character. But she was a Roman Catholic!
I could fill many pages with accounts of our Uncle Bill, for he became a great influence on our lives years later on when he returned from touring Australia and India where with Rosa he ran a company of play actors in Shakespeare, Sheridan etc. His wife and two children died tragically – Aunt Rosa from Cholera suddenly in India, the boy Horace from a blow of a cricket ball at school at home. He married, when he returned a second time – a Mary Starnes, a Kentish woman and settled in Maidstone and later in Hythe.
In both places he left a name for eccentricity. He had a long black beard and dark piercing eyes and clad in Velveteen coat, Glengarry Cap, white waistcoat and check trousers he used to drive his Australian mare Kitty full gallop down Maidstone High Street down the steep hill and over the Medway Bridge in his Phaeton often with one us, his nephews clinging on behind in the seat back to back with him! It was great fun! Then, I could not have been much more than five or six and often with or without one of my older brothers used to stay with him. He lived at the old house, now pulled down, the post office is now built on the site with stables in a large garden with concrete roller skating rink. We used to sit on the back wall and watch the troops from the garrison march to Holy Trinity Church which was just opposite and sometimes go ourselves and listen to the vicar, Mr Moore, preach. We were friends with the Moore family and they used to come to tea.
Uncle Bill had a skull with a jaw with a spring to it. This skull he used when acting Hamlet – it was a thing of joy and terror to us. By inserting the little finger in the spring he could make the five teeth of the skull (a Negro's) snap. I remember once when the Moore's came to tea we beguiled them down a long dark passage – one of my brothers leapt out on them snapping the skull and screams of terror (for which we suffered afterwards). Years, years later I met one of the Moore's, Beatrice Ella de Jersey (I recollect her name) and reminded her of the shameful incident. She did not remember it! Uncle Bill had Dr Sarkey's carriage, a smart Brougham in his stable. One day the painters had been painting the stable and left a pot of red paint. Being Sunday we boys were at a loose end and my two elders, Harry and Hubert had the brilliant idea of painting the carriage, which they proceeded to do. Fortunately when they went in to tea, some of the stains of paint on their clothes gave them away before much damage was done. Uncle Bill sent for them in his study in a fury but the boys defence got the better of his wrath when they naively, 'But Uncle Bill we thought it was your carriage and we were helping you'! He was never angry with us for long and was a very indulgent Uncle.
We formed an audience whilst he recited long passages of Shakespeare to us. He liked me, being the youngest and spoiled me a bit. He taught me the 'Charge of the Light Brigade' and often he would take me, when he lived at Hythe to 'The White Hart' and stand me on the bar (by permission and with the encouragement of Miss Cobay, who was her fathers Barmaid, the Cobay's owned the White Hart for years) and make me recite to the assembled company. He taught me to use my voice in public but I did not like it. He was too frequently at the Inns. Years later when vicar of St Peter's Maidstone I called at the White Hart and reminded the Cobay's of my early efforts in their bar.
Endless are the tales I could tell of Uncle Bill 'one must suffice ' a curious coincidence. In his early days he took his company through Australia and New Zealand acting Shakespeare, by rail but mostly by old-fashioned coach from town to town acting for a week or a fortnight in each place, sometimes in theatres, sometimes in Town Halls, sometimes in bars. These were rough times in Australia – there were bushrangers who held up the coaches – the Kelly gang and a highwayman called Silvar. These men had accomplices everywhere. Once travelling a long way, a stern looking stranger got on the coach where Uncle Bill, Rosa and the company were travelling. At the stopping places Uncle Bill, always ready for a drink and a chat, got quite friendly with the stranger. At one Inn the man told him that he was Silvar and had arranged to hold up the coach, at the same time, opening his coat and displaying a long sinister 'gun'. Uncle Bill was alarmed but Silvar said, 'I know you will not give me away — I will see you safely through to —– and there you will have a bumper show. Sure enough when the show opened at —– they played to full enthusiastic houses and Silvar was a prominent figure in the stalls! Now for the coincidence mentioned above.
From Australia they went to New Zealand and played Hamlet (Uncle Bill) with Aunt Rosa as 'Ophelia' at Hokitika a growing town in the South Island, a flourishing community with Mayor & Corporation. The weeks spent there were a great success and they played to full houses. When the time came to move, the inhabitants arranged a gathering at the Town Hall to which the whole company were invited, complimentary speeches were made and finally the Mayor presented Uncle Bill with a gold watch duly inscribed within as a gift from the people of Hokitika. That watch Uncle Bill always wore.
Years later when he had retired to a house he and his wife purchased on the front at Hythe (Beaconsfield Terrace), a house in the same terrace became vacant and was taken by some newcomers. It was Uncle Bill's custom to pace up and down the sea front opposite his house contemplating the sea and reciting Shakespeare to himself, clad in his velveteen coat, bell bottomed trousers and Glengarry cap with his black beard (now dyed) flowing in the breeze. His new neighbour came out to take the air and they soon began to chat. The neighbour said he came from New Zealand and from a town called Hokitika. Uncle Bill said he had been there told the tale and drew out his beloved Gold watch. The neighbour turned out to be the very Mayor of Hokitika who had presented it to him and whose name was in the watch! Incredible as this may seem it is the fact.
His was a queer menage we boys, Harry, Hubert and I often visited there- as we grew up we used to bicycle or walk through Kent from our house at Walton on Thames staying at Sevenoaks, Maidstone & Ashford for the nights on the way. He and his wife were always glad to see us. It was a jolly if bizarre experience to stay with him. Food was abundant – pasties cooked by Mary and Elder wine brewed by her (we used to collect Sloes on the marsh for her Sloe Gin) but the hours of meals were very erratic – breakfast sometimes as late as 11am and we used to get pasties etc from the maids to satisfy our hunger till breakfast was ready. Bedtime was very late and the evening and nights were spent listening to many tales of adventure. The days were blissful bathing, walking etc.
Aunt Mary was very deaf and proud of being the wife of an actor but she thought she too could recite. It was a terrible (if humorous) experience to hear her recite 'The Curfew shall not ring tonight' Uncle Bill bore it with great good humour and used to look slyly at us as she ranted on. Once I am ashamed to say he whispered to us 'Hark at my old War-horse' – as I have said she was very deaf – a dear kind old lady to whom we owed very much and who, was very good to us, but she was no actress.
At the top of the house was a room – fascinating to us boys as it contained a veritable armoury of weapons – the guns all loaded! Amongst them a case of ancient duelling pistols. One day Hubert, who was then at Rugby and working in the Army Class for Sandhurst, asked permission to fire these pistols from the beach out to sea. After some demur permission was given so Hubert and I adjourned to the beach with a long ancient duelling pistol each. We had some discussion, not being sure of our weapons, which should fire first he said I should being the youngest. I pointed out that as a military man he should do so. So he dug himself in to the beach stones, knelt down and pulled the trigger there was a loud explosion, the pistol kicked up and tore Hubert's forefinger making it bleed. I began with assured nonchalance to walk homeward. Hubert would have none of that so I too knelt down shut my eyes, pulled the trigger, the hammer snapped down without any result to my great relief. I refused to try again so we returned to Uncle Bill. He looked down the long muzzle of the pistol and found it had been loaded over and over again and with a narrow file extracted much powder and shot. Had that Hammer gone right when I pulled the trigger I should not be here (at any rate) not all of me today.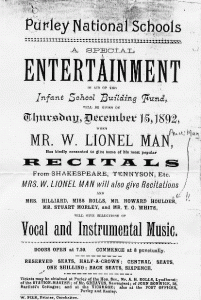 As I have said Aunt Mary was very deaf. Once Hubert was carrying one of the rifles under his arm upstairs when by mistake he pulled the trigger there was a loud report and the bullet bedded in the stairs. Harry and I were with Aunt Mary in another room with the door closed she looked up and said, 'What was that'? Harry with great presence of mind recovering from the shock said something about a door slamming! And she seemed quite satisfied, later he explained the smell of sulphur by delicately hinting that the cat was responsible! We hated that cat, it was consumptive and spoiled and every time I sit to my dining table (inherited from them) I can see today the marks of its claws where it used to scratch at meals to call attention to itself.
Looking back I can see what a queer life it was and how anxious mother must have been at our visiting there but in the early days she and father were often in Burma and when he retired he would not interfere with visits we so much enjoyed. But dear Uncle Bill was not a good example for one like myself who later was 'Called' to take Holy Orders. From what I have written it will be obvious that he was by no means a social success either at Maidstone or Hythe – being too fond of the company at the Inns and quite intolerant of the parochial attitude and respectability of the average stay at home Englishman (whom he despised). Yet let me put on record here that there were some clergymen who were welcome at his eccentric house and as I have found throughout my life the clergy are far beyond the laity in breadth of outlook and understanding of such folk as Uncle Bill. There is after all a good deal to be said for his point of view.
I remember how the conduct of the service in church, on the rare occasions he attended, grated on him. He would afterwards imitate to us the giving out of the Hymns thus: HYMN (stentorian voice) 22 (a voice so small to be inaudible) : also the elocution in the pulpit and finally (here again he would send us in to fits of laughter by his imitation) the way the clergy walked in procession. Naturally to an old actor, the voice, the walk were what he noticed. But many were the scraps he had with me about the Creeds, which he wilfully misquoted. He had all the ignorant arrogance on things religious which characterised so many Victorian men of his day. But one always knew he did not mean half he said and there was only one Uncle Bil Bye the way, Uncle Bill was very fond of the ring and I heard a lot about Jim Sayers, Tom Heenan, Mendoza and others and often at Hythe he used to show me how to tackle any rough who might come squaring up to me (none ever did thanks be ). Uncle Bill would get me to approach him fists up in a threatening manner. Just when I was close he would drop on one knee and seize my foremost ankle with one hand, chop me under the knee with the other and explain how I should then go flying over his head! It must have been a comic sight, the little boy in tight blue jersey, the elderly man on one-knee black eyes flashing and long beard flowing.
Found among William Lionel's papers is the poem he wrote: 'Vir Desperandum' below.
I am not old –
though years have cast Their shadows on my way;
I am not old –
though youth has passed On rapid wings away,
For in my heart a fountain grows,
And round it pleasant thoughts repose;
And sympathies and feelings high Spring like the stars on evening's sky
I am not old –
Time may have set
"his signet on my brow",
And some faint furrows there have met
Which care may deepen now;
Yet love, fond love a chaplet waves of fresh young buds and verdant leaves;
And still in fancy I can twine Thought sweet as flowers,
that once were mine.
Dec 7th 1900.


William Lionel Man and George Maxted
In 1871, William Lionel Man wrote a poem in memory of George Maxted (below). Who was George Maxted and how did William know him? About George we know the following. He was printer & engraver who was born in Ramsgate, Kent on 11 February 1817. He went to Australia in around 1840 although where he arrived is not known. He married Martha Spencer in Launceston, Tasmania in March 1843. From there they moved around a bit, first to Hobart Tasmania, then Sydney NSW and from there about 3 years in Auckland NZ. On returning to Australia they moved to Newcastle NSW, which at that time had a population of around 1500 and started the first newspaper there in 1855. It was called the "Newcastle Telegraph". After its closure he was also associated as either proprietor or publisher with other papers, "The Freepress", "The Newcastle Pilot" and "Northern Times" . George & Martha had 8 children, 3 of whom died in infancy or early childhood. George died in Newcastle NSW, on 4 March, 1871 aged 54.
We do not know how, or when, or where William Lionel Man met George Maxted. However, Morrice Man, writing in his diary, notes that ' … in his early days as an actor William Lionel Man took his company through Australia and New Zealand acting Shakespeare, by rail but mostly by old-fashioned coach from town to town acting for a week or a fortnight in each place, sometimes in theatres, sometimes in Town Halls, sometimes in bars. These were rough times in Australia there were bushrangers who held up the coaches – the Kelly gang and a highwayman called Silvar. These men had accomplices everywhere. Once travelling a long way, a stern looking stranger got on the coach where Uncle Bill, Rosa and the company were travelling. At the stopping places Uncle Bill, always ready for a drink and a chat, got quite friendly with the stranger. At one Inn the man told him that he was Silvar and had arranged to hold up the coach, at the same time, opening his coat and displaying a long sinister gun. Uncle Bill was alarmed but Silvar said,' I know you will not give me away. I will see you safely through to —– and there you will have a bumper show.' Sure enough when the show opened at —– they played to full enthusiastic houses and Silvar was a prominent figure in the stalls! From Australia they went to New Zealand.
All we know about William and George is left behind in the following poem:
IN MEMORIAM
George Maxted: Died March 4th 1871
Thou hast gone from us to that bright land
where angels dwell;
And where the wicked cease from troubling
and the weary are at rest
Glorious exchange from the rude cares and turmoils
of the world!
To lay thy weary head upon thy pillow,
To close thine eyes in death, and open them on Paradise,
To glance back, before the closing scene of all,
And ponder on the toils and troubles of thy pilgrimage,
To mark the milestones thou hast passed the cares and sorrows,
The joys and disappointments, of life's journey,
And, ere the misty films of death shut out the light,
To see they wife and children weeping round thee
To feel their kisses on thy lips, and know thou hast
Left for them a good man's proudest legacy
An honest name! A glorious death to die!
And such was thine;
Thy memory honored, and they less deplored.
No fitter epitaph
Than this for thee: The best of fathers, husbands, and of friends.
Dear, honest heart, I love thee living, and I mourn thee dead,
And humbly drop this chaplet of affection on they grave.
William Lionel Man Newcastle, March 7, 1871