Three of the descendants of Henry Man of the South Sea House married into the Walch Family and they are:
Peter Bruels Man married Catherine Walch;
Morrice King Man married Jane Smart Walch; and
Emma Elizabeth Man married Charles Edward Walch.
Right is Charles Edward and below is his brother James Henry Brett Walch (1828 -1897); their sister was Jane Smart who married Morrice King Man. Charles, James and Jane were the children of James William Henry Walch whose sister, Catherine, married Peter Bruels. Catherine was known as 'Aunt Peter'.
Jane Smart Walch was born in Kotagiri, her grandfather served there
(at the siege of Seringapatam we believe). Her father (James William Henry Walch) found himself a prisoner of war in France  at the age of 8 during the Napoleonic wars. He then served 37 years in the British army mainly in India and Burma, before going to Tasmania in 1840, and buying and running the first bookshop/import business in Hobart.
In 1830 Aunt Peter embarked with Sarah Nash (the daughter of her brother's wife's sister) on board the East Indiaman ship the 'Lady Holland' and sailed from Portsmouth.  Some weeks later in February, the 22 passengers and the crew were shipwrecked on Dassen Island near Cape Town in South Africa. All survived the disaster. Aunt Peter wrote two letters describing her experience. One, addressed to her brother, concentrates on the death of Sarah Nash on board ship from TB. The other was addressed to her son Henry Garnet Man and is a vivid description of the shipwreck. These letters can be read here.
Also on board the Lady Holland was a Ms. Molesworth who shared Sarah Nash's cabin. In spite of their close quartering, Ms. Molesworth was healthy enough not to become infected; indeed she wrote her parents a long account of the shipwreck ordeal, although only a very brief account of Sarah's death. This letter was published in 1947 in Blackwood's Magazine under the title 'One Generation Passeth Away'.  James William Henry Walch was Captain in H. M. 54th regiment.
A genealogy of the Walch family can viewed on request. See also Jane Smart (Walch) Man's 'History of the Walch Family' (in PDF only) as well as the Australian Dictionary of National Biography entries for Charles Edward Walch and his brother Garnet Walch. An interesting summary of some of the Walch family's activities in Tasmania can be found here.
John Walch a living descendant wrote the following summary about the Walch's business:
In 1836 Samuel Tegg opened a branch of his father's London bookshop in Hobart, at Wellington Bridge, the corner of Liverpool and Elizabeth Streets. In 1846 the Walch family bought the business. By 1876 growth warranted rebuilding this shop, erecting a new building in Macquarie Street and buying a store in Davey Street. Books, stationery, pianos and other musical instruments, sporting goods and paper were sold; the Company manufactured stationery items and published books, notably its annual Walch's Almanac (1863-1970) and Walch's Literary Intelligencer (1859-1916). It had a London office, and imported directly from the manufacturers. In 1900 a new printing department and manufactory were built.
Although the Company, remaining in family hands, continued to prosper through most of the twentieth century, by 1990 it could not compete with large national enterprises. The printing department had already (1969) merged with the Mercury Press to form Mercury Walch, the stationery business was sold and the remainder went into voluntary liquidation in 2003.
Charles's entry in the Dictionary of Australian Biography follows:
WALCH, CHARLES EDWARD (1830-1915), bookseller and lay preacher, was born on 8 May 1830 at Cannanore, Kerala, India, son of Major James William Henry Walch, 54th Regiment, and Eliza, nee Nash. The family returned from India to England in 1837 but, probably influenced by Henry Hopkins, they migrated to Van Diemen's Land in 1842 in the Royal Saxon and were granted 300 acres (121 ha) in the Westbury district. About three years later they moved to Hobart Town, where Walch's father bought the bookselling business of S. Tegg; with his eldest son James Henry Brett he traded as J. Walch and Son; another son was G. Walch.
In 1845 Walch was apprenticed for five years to Captain William Crosby in the barque Jane Francis, trading between Hobart and London. He spent two more years as an able-seaman and second officer but, soon after his father's death in 1852, went to the Victorian gold diggings. Unsuccessful, he returned to Tasmania intending to go back to sea. But J. Walch and Son had prospered and his brother offered him a partnership and position as buyer in London, where he worked in 1854-58. Growth of business in Tasmania led to his recall, but he returned to London in 1861 to buy stock and printing machinery and engage tradesmen. Walch's Literary Intelligencer, first produced in 1859 and edited by him for some fifty years, and Walch's Tasmanian Almanack became standard references.
In England Walch had joined the Young Men's Christian Association and the King's Weigh-House Chapel, in Eastcheap, under Rev. Thomas Binney. Back in Tasmania he took charge of a Sunday school held in the Ragged School building, Collins Street, Hobart; later he became a regular teacher and was superintendent for thirty-five years of the Davey Street Congregational Church Sunday School. He sought new and improved teaching methods on which he gave lectures and published pamphlets. In 1868 he led 516 teachers and 4618 children in an ode of welcome to the Duke of Edinburgh. He became a well-known Congregational lay preacher and an advocate of the principles of competitive business.
In 1874 Walch opposed plans to build showgrounds and buildings on the Queen's Domain and later became chairman of a committee to advise on its use. He was a member and sometime chairman of the Central School (Bathurst Street) Board in Hobart and campaigned successfully for new buildings. In evidence to the 1882 select committee on education he criticized the Board of Education for 'the want of a head to the department'. He moved resolutions at a Town Hall meeting in 1875 supporting the public works proposals of the Kennerley government, and again in 1876 protesting against the proposed closure of the Hobart-Launceston railway line. He was a director of the Commercial Bank and other companies, and a foundation member of the Society for Prevention of Cruelty to Animals.
Among Walch's many writings was The Story of the Life of Charles Edward Walch, with a Selection of his Writings, printed in 1908 for private circulation. He was married twice; first at Halstead, Kent, England, on 27 February 1861 to Emma Elizabeth (d.1863), youngest daughter of Henry Stoe Man, R.N.; their daughter died in 1864; next year he married Fanny Eugenia Clara, daughter of George Birch; they had four sons and six daughters. He died at his home in Davey Street, Hobart, on 25 March 1915 survived by his wife and five daughters. His estate was sworn for probate at 42,855 pounds.
Select Bibliography Cyclopedia of Tasmania, vol 1 (Hob, 1900); P. Bolger, Hobart Town (Canb, 1973); Votes and Proceedings (House of Assembly, Tasmania), 1882 (106); Mercury (Hobart), 26 Mar 1915; indexes and correspondence file under C. E. Walch (Archives Office of Tasmania). More on the resources. Author: Neil Smith
Print Publication Details: Neil Smith, 'Walch, Charles Edward (1830 – 1915)', Australian Dictionary of Biography, Volume 6, Melbourne University Press, 1976, pp 337-338.
JAMES HENRY BRETT WALCH
The Publishers' Circular and Booksellers' Record of British and Foreign Literature 7 July-December 1897 Volume 67: Death Notice of Mr. J. H. B. Walch (brother of Edward who married Emma Elizabeth Man) .
We regret to have to record the death, in his 70th year, of Mr. James Henry Brett Walch, the senior partner of Messrs. J. Walch & Sons, booksellers, of Hobart, Tasmania. His death took place on November 5. Mr. Walch was one of the oldest business men of Hobart, and ranked among the oldest citizens of Tasmania. The firm celebrated their jubilee on January 1, 1896, and Walch's Corner is the best known spot in Hobart, the business having been carried on there during the last fifty-one years. Mr. James Henry Brett Walch was born in India, and has been in business for close on 52 years. He was a son of Major J. W. H. Walch, of Her Majesty's 54th Regiment, who, having relinquished his position in the army, returned to England, thence to Tasmania, to take up land, but owing to the great depression he availed himself of the opportunity of purchasing the business of Mr. Tegg, bookseller, in 1846. After a few years Mr. James Walch was taken into partnership with his father. Major Walch died so far back as 1852 —just six years after he had founded the house bearing his name — and then Mr. James Walch was joined in business by his brother, Mr. Charles E. Walch, and the business was continued under the title of J. Walch & Sons. Mr. James Walch was twice married. His first wife was Miss Watehorn, by whom he had a son and a daughter. The former is a solicitor by profession, now practising in England. Mr. Walch was married secondly to Miss Crosby, daughter of the late Captain Crosby, and sister of the Hon. William Crosby, M.L.C. He has had a large family of eleven, eight sons and three daughters, by the second marriage—the sons being Arthur, the eldest, with Messrs. W. Crosby & Co.; William, of the firm of Bayley & Walch; Richard, in the Macquario Street business; George, a settler on the N.W. Coast; Charles, following the medical profession; Horace, a solicitor; Percy, with his brother Richard; John, in the Australian Mutual Provident Society. It is to the labour and perseverance of Mr. James Walch that the public owes the invaluable 'Red Book' or ' Tasnianian Almanac,' with which the name of the firm of J. Walch & Sons has been associated for 35 years past. Mr. Walch has edited that publication from the beginning in 1862 up to the present year of 1897. In 1873 Mr. Walch was appointed a justice of the peace and a member of the Licensing Bench for the district of Hobart, in both of which capacities he exhibited the same uprightness and independence of character which marked his short career in the City Council. The business of J. Walch & Sons has expanded with the population of Hobart, and the history of the house may be said to be incidentally the history of the city for over half a century.
Below from The Publishers' Circular and Booksellers' Record of British and Foreign Literature January – June 1901.
THE OLDEST FIRM OF BOOKSELLERS IN AUSTRALASIA.
On January 1, 1846, in Hobart, Tasmania, then and for many years afterwards known as 'Van Diemen's Land,' was established the publishing, bookselling, and stationery business of J. Walch & Sons, the subject of the present article. The bookselling business itself, however, is of older date, for it was started in 183G by Mr. Samuel A. Tegg, a son of Mr. Thomas Tegg, the well-known publisher of Cheapside. Mr. S. A. Tegg on the death of his father decided to sell his business and return to London, when it was purchased by Major J. W. H. Walch, a retired officer of her Majesty's 54th Regt.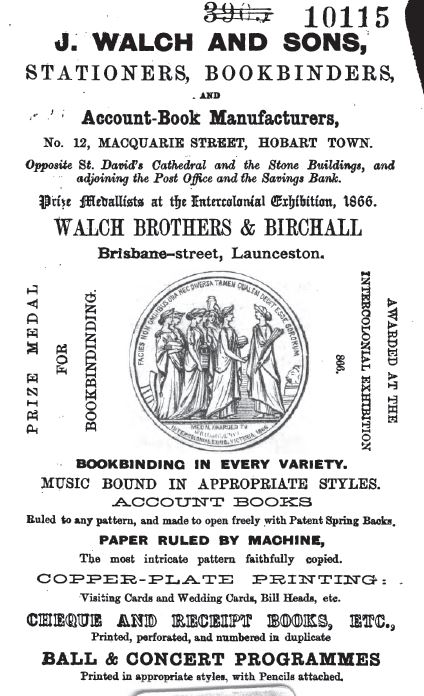 The Hobart Town of that day, fifty-five years ago, was a very different place from the city of Hobart of to-day, and its wants were more easily supplied, especially as regards literature. Its streets and shops were dimly lit with oil, and most of its appliances were primitive in the extreme. As regards communication with the I 'old country,' that was entirely dependent on sailing vessels, not the ' Clipper' of more recent date, but old fashioned craft which seldom made the passage under a hundred days, sometimes extending to four months. It was not for some years afterwards that the P. & O. Company put on a couple of their small steamers to convey a monthly mail from Suez to Port Phillip—now the State of Victoria. These steamers also brought a small amount of merchandise, how small may be judged from the fact that across the Isthmus of Suez the goods had to be transported slung on the backs of camels, in packages measuring 18 x 12 x 12 inches, and of a limited weight. The cost of importation amounted to twenty pounds a ton.
Business in 1840 and the few succeeding years was decidedly bad, not in Hobart Town only but throughout Australia, when the discovery of gold in Victoria in 1851 made a marvellous change. Returned gold-diggers brought with them into the several towns fabulous amounts of gold, which they lavishly spent, and then went back to the 'diggings ' to get another supply. Anything and everything sold, and the shops were well-nigh depleted of stock. Shopkeepers were at their wits' end to get goods to sell, and besieged the merchants' offices on the wharf, bidding against one another for the privilege of giving as much as 100 per cent, for goods 'to arrive.'
Major Walch, the founder of the firm, died in 1852, having previously taken into partnership his son Mr. J. H. B. Walch, the style of the new firm being J. Walch & Son. At this time the whole of the importing business was in the hands of the merchants on the wharf, which was well enough for the general class of goods but decidedly bad for books. With the increased purchasing power of the community, and the consequent growing demand for new and higher class books, Mr. J. H. B. Walch decided that the time had arrived for taking anew departure, and so in 1853 he took into partnership his brother, Mr. Charles E. Walch, in order that he should go to London and open up direct relations with the publishers; the name of the firm at the same time being altered to J. Walch & Sons.
Arriving in London early in 1854, Mr. Charles Walch secured offices in Bucklersbury, where for five years he transacted the business of the firm. A perfect stranger in London, from such an unknown and almost unheard of place as Van Diemen's Land, Mr. Walch encountered many difficulties and had many strange and amusing experiences among publishers and others; but the net result was that the 'new departure' proved a grand success and greatly increased the business, besides making the firm of J. Walch & Sons known to every publisher.
At the end of five years the growth of the business in Tasmania necessitated Mr. Walch's return, and the London agency was handed over to Messrs. J. M. Holworthy & Co., of Great St. Helen's.
In 1860 the partners decided to develop their stationery trade by erecting a suitable building, and to combine with it a bookbinding and account-book manufactory. Mr. Charles Walch again went to London, and purchased the necessary stock and a complete equipment of the most modern machinery. The completed premises and workshops were opened in 1861 and were considerably enlarged in 1891; a wholesale paper store was also added.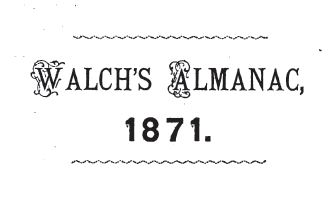 Increasing business necessitated larger premises, so in 1874 the original building, known as ' Wellington Bridge,' was pulled down and in its place was erected a spacious and handsome shop 75 x 35 feet, fronting on two principal streets. In this building space was provided for a show-room 75 feet long for exhibiting the stock of English, French, and German pianofortes and American cabinet organs.
In 1897 Mr. James H. B. Walch, the senior partner, died, having been in the business 52 years, and the management devolved on Mr. Charles Walch, who took into partnership his nephew Mr. Richard Walch, the firm still retaining the old title of J. Walch it Sons, while the London office was removed to 48 Gresham Street and placed under the management of Mr. Charles M. Holworthy.
The advantage of doing their own printing being very evident, the new partners decided to erect printing-offices, which were opened last year, furnished with the best English and American machinery and type.
We cannot conclude this account of 'the oldest firm of booksellers in Australasia' without some notice of their two publications, which have greatly helped in the extension of both their name and their business.
Walch's Literary Intelligencer a sixteen page monthly publication, was commenced in 1859 for the purpose of bringing under the notice of the public the new books and other goods the firm had to offer, together with literary news of the day. For forty-two years this publication has been in existence, and is the pioneer of all similar ones throughout Australia, and for many years it stood alone.
Walch's Tasmanian Book Almanac—or, to give it its more familiar title, 'Walch's "Red" Book ' — is an annual of 400 pages, published 'By Authority,' and is now in its thirty-ninth year. It is recognised throughout the entire Commonwealth as the one publication that gives the fullest and most reliable information as to everything pertaining to Tasmania, and the estimation in which it is held by the Government may be judged from the fact that large supplies are sent annually to the Agent-General at London for distribution. In Tasmania it is the book that is to be found everywhere throughout the State.
Messrs. J. Walch & Sons hold many appointments: they are Contractors to the Government for the supply of Books and Stationery to the State -Schools of Tasmania, Booksellers to the University of Tasmania, the Parliamentary Library, the Public Library, and all the leading clubs &o.
Finally—in the words of the leading daily paper in Hobart, when writing about the firm in 1897—'" Walch's Corner" has been a bookseller's shop for nearly sixty years. It celebrated its Golden Jubilee and its sixty years' "reign" with her Majesty's, and no one can dare speculate when "Walch's Corner" will cease to disseminate literature over the island.'
GARNET WALCH
Garnet Walch (1843-1913), author and dramatist, was born on 1 October 1843 at Broadmarsh, Van Diemen's Land, son of Major James William Henry Walch of the 54th Regiment, and his wife Eliza, née Nash. Charles Walch was his brother. Major Walch had arrived in Van Diemen's Land in 1842 and settled in Hobart Town about 1845, where he purchased a bookselling and publishing business. He died in 1852 and Garnet was sent in the care of a relation to England, where he was educated at Denmark Hill Grammar School, near Camberwell, London, and then at a private college at Hameln on the River Weser, Germany. He returned to Tasmania in 1860 and drifted into journalism, after deciding that commerce, banking or law did not appeal to him. He went to Sydney, where his first full-time job as a journalist was with the Sydney Punch. In 1867 at Parramatta he started his own newspaper, the Cumberland Times, and on 9 March at Scots Church, Sydney, he married Ada Kate Sophia Mullen.
George Darrell introduced Walch to the theatre, engaging him to write the pantomime Trookulentos, the Tempter: or, Harlequin Cockatoo, which was produced at Sydney's Royal Victoria Theatre at Christmas 1871. After moving to Melbourne next year he wrote a steady stream of pantomimes, burlesques, comedies and comediettas; he published about thirty works. Titles such as Australia Felix, considered his best pantomime, and Pygmalion and His Gal (a Dear!) (both Melbourne, 1873) suggest the themes and flavour of his work. The pantomimes, full of local allusions and atrocious puns, were especially significant for helping to introduce a range of stock Australian characters, many of whom were incorporated in the tradition of local melodrama. Later Walch worked with Alfred Dampier; they adapted Rolf Boldrewood's Robbery Under Arms which, produced in 1889, was acclaimed as a major contribution to the development of a native drama and was repeated many times in following years. Much of his writing, however, was hack work, the colonial stage requiring continual adaptations or 'localisations' of overseas pieces.
Walch produced two books of verse (1874, 1881), a number of miscellanies, popular annuals which included works by leading writers of the day, and books about Tasmania. On the recommendation of (Sir) Henry Parkes, he was made secretary of the Melbourne Athenaeum in 1873, resigning in 1879 to devote his energies to the preparation of Victoria in 1880. Despite his insolvency in October 1880 caused by difficulties in his publishing business and family sickness, the book appeared in Melbourne next year. In August 1883 he went to Madagascar as special correspondent for the Argus and the Australasian. His Life of General Gordon was published in Melbourne in 1885.
Walch seems to have enjoyed a somewhat raffish reputation. He was a member of a bohemian circle in Melbourne which included Marcus Clarke, while Hugh McCrae recalled him as a tremendous talker, 'shabbily dressed and distracted looking'. For many years he lived in retirement at his home in Surrey Hills, Melbourne, where he died of heart failure on 3 January 1913. Survived by his wife, two of his four sons and three of his four daughters, he was buried according to Anglican rites in the Box Hill cemetery.
Select Bibliography H. M. Humphreys (ed), Men of the Time in Australia: Victorian series (Melb, 1882)
H. McCrae, My Father and My Father's Friends (Syd, 1935) Table Talk, 14 Mar 1890 Argus (Melbourne), 4 Jan 1913
M. Williams, Nimble Naiad, Lonely Squatter and Lively Aboriginal. Dramatic Convention and National Image in Australian Drama (Ph.D. thesis, Monash University, 1973).
Stuart Crosby Walch.
The only Tasmanian to appear on the Battle of Britain Honour Roll,  Stuart Crosby Walch (no. 2832), was one of 21 Australians who took part in the Battle of Britain – 14 of whom died – and is the only Tasmanian to appear on the Battle of Britain Honour Roll in Westminster Abbey.
Stuart Walch was born in Hobart on 16 February 1917 and attended the Hutchins School from February 1927 until December 1934 (no. 2832). He was 'a thorough sportsman' and extremely popular with his peers. After leaving Hutchins, Stuart went into the family business in Hobart: J. Walch & Sons, stationers, booksellers and publishers. In March 1935 he joined the 40th Battalion (Militia) where he served until discharged at his own request in July 1936 to join the RAAF.
After gaining his 'wings' at Point Cook he travelled to London to join the Royal Air Force as a Pilot Officer, and in 1937 was stationed at Uxbridge, England. By the time war broke out in 1939 he had been promoted to Flying Officer, training pilots for aerial warfare.
Appointed Flight Commander of 238 Squadron (B flight) in May 1940, he led several successful raids against the German Luftwaffe. On 11 August 1940 he led his section on patrol over Portland, where they encountered an enemy force of about 150 aircraft. Heavily outnumbered, his Hawker Hurricane was shot down off the south coast of England. His body was never recovered.
More information on Stuart Crosby walch can be found here.
The photographs below are of the Walch family but none of the originals had the names noted on them and so we are unable to identify who these people are.