The Upfield-Green family appears here on the Man family web site as a result of the marriage between Ella Katharine Emma Man and Fredrick Ernest Upfield-Green 1 July 1896 at St John the Baptist, Pinner, Middlesex.
Upfield Green (the father of Frederick Upfield-Green) was an interesting man; the following obituary appeared in the Geological Magazine of July 1917.
UPFIELD GREEN, F.G.S.
BORN AUGUST 4, 1834. DIED MAY 31, 1917.
OUR old friend Mr. Upfield Green, who had been failing for many months, passed away suddenly at Bristol. He was born in London, educated at Brighton and Neuweid, entered the London and County Bank in 1852, became Master at Stourbridge School in 1855, and the same year Overseer of the Wildberger Hiitte. The mine stopped working in 1860, when Green returned to England and acquired the old printing business of Groom, Wilkinson & Co. He was an enthusiastic geologist, hut wrote nothing, until after thirty years' observation and study of the geology of Cornwall had given him the key to the tectonics of that county. In 1904 lie published " Note on the Correlation of some Cornish Beds with the Gedinnian of Continental Europe" (GEOL. MAG., 1904); in 1909, "On the Geological Structure of Western Cornwall" (95th Rep. Roy. Geol. Soc. Cornwall), a paper which brought him the Bolitho Gold Medal; in1912, "Note on the Pollurian-Trewavas Coast Section, Cornwall" (GEOL. MAG., 1912); and in 1913, "On the General Geological Structure of Western Cornwall, with a Note on the Porthluney Dodman Section" (GEOL. MAG., 1913); the last two in conjunction with C. Davies Sherborn. He had the great satisfaction of knowing that his views on this difficult and controversial area were accepted by many of his friends, especially in Belgium, Prance, and Germany.
He was materially assisted in his researches by his personal knowledge of the structure of the North of France, Belgium, and the Rhine, and his familiarity with the fossils of the Continental Devonian rocks. He became a Member of the Geologists' Association in 1886, and a Fellow of the Geological Society in 1889. He had held for many years a geological " At Home " once a month, when he gathered round him many friends.
C. D.
The above's son, Frederick Upfield-Green, who married Ella Man, was apprenticed to his father's firm Groom Wilkinson & Co of 79 Upper Thames Street, London and in the possession of the family is his indenture as an apprenticed stationer, dated 21st August 1874. His probate record is below:

The following has been found on the internet:
THOMAS GREEN was born (maybe) in London circa 1798. He was the bank manager of the London & County bank. He married HARRIET KEMBER circa 1837. HARRIET GREEN nee KEMBER was born in Middlesex, Chelsea circa 1805. The 1871 and 1881 censuses state that HARRIET GREEN was living in Margate, Kent. THOMAS GREEN died before 1871. Their children were:
UPFIELD GREEN, born in London circa 1838. He married on 27 April 1857 Lisette Wilhelmine Schöler who was born on 14 March 1834 at Waldbrölin in Prussia. Her father was Johann Friedrich Gottlieb Schöler (1772 – 1858) and her mother was Charlotte Elisabeth Henriette Abel (1789 – 1834). On the 1851 census (below) he is a 'visitor' at 119 High Street, London and County Bank, Clapham Branch, he is aged 16 and he gives as his employment 'bank clerk'. Others listed include the bank's manager, his wife, and a son who is also a bank clerk, as well as other children of the manager's. Upfield Green states that Kingston in Surrey is his place of birth:
On the 1881 Census there is only one UPFIELD GREEN and he is living in South Hackney.
ASHDOWN HENRY GREEN born in London 1840. He emigrated to Canada in 1862. He was employed as a surveyor. His daughter CAROLINE GREEN born in Canada in 1880 and married a John W.C. Norie in 1903, and later moved to England. JOHN NORIE died 1923, CAROLINE NORIE nee GREEN may have died in Cornwall about 1965.
CAROLINE GREEN born in Middlesex, Islington circa 1843.
WALTER GREEN born in Maidstone, Kent circa 1847. His wife was FLORENCE maiden name and birthdate unknown. No children.
MARY H. GREEN was born in Maidstone Kent circa 1852. Either MARY H. GREEN or CAROLINE GREEN married a man with the surname GILES, and they had a son RALPH GILES.
The children of Upfield and Lisette Green were: A. SIESE GREEN born in Prussia about 1858, B. FRIEDERICH ERNST UPFIELD GREEN born in Prussia about 1860 (he married Ella Man), C. FLORENCE GREEN born in London, Middlesex about 1866.
 Friday, Nov 06, 1903
The Sewing Machine: Its History, Construction, and Application (1864) by Rudolph Herzberg translated by Upfield Green.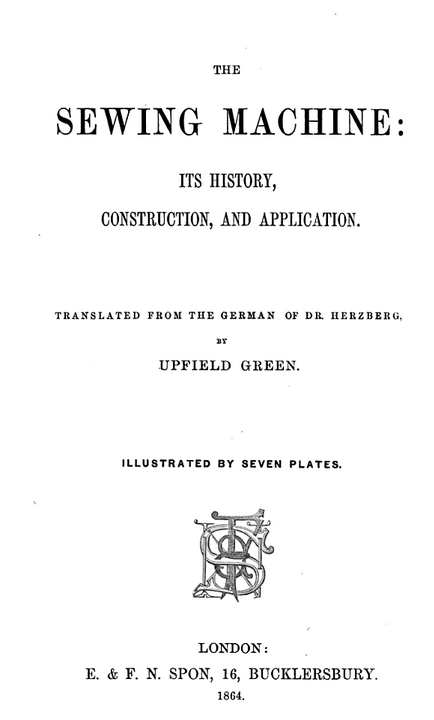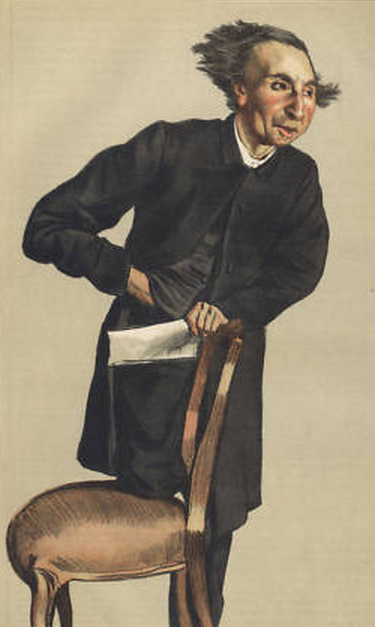 Upfield Green published a series of pamphlets beginning in about 1899 by Charles Voysey (left).
A list of these publications can be found at the end of this page.
The spear head shown below was given to the British Museum by Mrs Upfield Green. The comment in the BM's register is:   Thrown into the boat when Captain Cook was murdered, brought to England by Thomas Bean, whose wife was nurse to Thomas Green, & gave it to her master."  '(This would locate it as coming from Kealakekua Bay on the 'Kona' coast of Hawaii. A.D [Adrian Digby?]'  If associated with Captain Cook, it is likely the third voyage (1776-1780). (British Museum)

Ashdown Henry Green (Ella Katharine Emma Man's husband's uncle)
A.H. Green was born August 18, 1840 London England. He studied Civil Engineering in England with plans to work there but health problems resulted in doctor's recommendation for a cooler climate. He arrived in Victoria on Vancouver Island in August 23, 1862 as a qualified architect and surveyor and he never returned to England.
He became a partner with F.W Green, no relation, the City Surveyor (now called City Engineer). In 1865 he explored Selkirk Mountain range to locate a government road to pre-confederation Canada. He kept a diary of this expedition which is available at the BC Archives. In October 1865 he received orders from Joseph Trutch and Dewdney to return to Victoria.
In the late 1860's he settled in the Cowichan Valley on a farm near Somenos Lake where he was a founding member of the Cowichan Lending Library and Library Institute. From 1871 to 1880 he was appointed Divisional Engineer for the CPR working on the location of the CPR line across BC. Through 1974 and 1975 Green surveyed Saltspring Island and in 1879 he married Miss caroline Guillod of Comox. The couple moved to Victoria and had two children; Caroline and Ashdown Thomas. Mrs Green died in 1883 and the children were sent to England to be raised by Mr. Green's brothers. They later returned and settled in Duncan in 1903.
In 1878 Green set out to survey reserve allotments as part of the Joint Indian Reserve Commission along with Edward Mohun and W.S. Jemmet. He appears to have at times also held the role of negotiator when arriving to survey land to find that had been set out by commissioners but the survey created more specific boundaries. His curiosity sometimes cause him inconvenience as demonstrated in 1906 when his queries about how a Nass woman shaped her head through binding was interpreted as a threat and the response was to guard the woman when he was present. He continued as a surveyor for the reserve Commission throughout its existence and in 1913 was appointed as technical officer to the McKenna-McBride Royal Commission on Indian Affairs.
In 1888 Green married Constance Clara Augusta Dumbleton of Victoria had three sons, one of whom died in infancy. Sometime before 1894, the Green's moved to Duncan where Mrs Green became very active in the social life while Henry was traveling with the reserve Commission. Green was an avid sport fisherman and published several fishing articles in the Journal of Natural History on fish species. He identified nine species previously not see in BC and discovered 2 species that were previously unknown; Lake Chub and Lobefin Snailfish.
The BC Museum currently has a collection of his preserved fish. He was also known for tying fishing flies. His steamer trout fly, called the Ashdown Green, was regularly featured on the back of packages of Sportsman cigarettes. The Green's moved back to Victoria in 1913 to Mrs Green's family home in the Rockland area of Victoria. Green retired as a surveyor in 1918 and passed away in 1927.
References
Gordon, Katherine. Made to Measure: A History of Land Surveying in British Columbia. Vancouver: Sono Nis Press, 2006.
Green, J.W. Ashdown "A brief Account of the Life of Ashdown Green 1840-1927; Civil Engineer, Land Surveyor, and Amateur Ichthyologist" Corporation of Land Surveyors of the Province of British Columbia Biographies September 20, 1984 MS-2259 – Box 10, file 12 BCA.
Harris, Cole. Making Native Space. Vancouver: UBC Press, 2002.
Paterson, Tom W. "Green Trooped Through B.C. – Inch by Inch" The Link July (1999): pp 28-20.
BC Archives MS 0437: Survey Journal Howe Pass, CPR 1871.
Journal of Columbia River Exploring Party 1865. Diary of Ashdown H. Green CPR Survey Party "S" Han. 31 1872- Oct. 28, 1873. Ashdown H. Green, Diary of A Survey of Salt Spring Island June 8-Nov 22 1874.
The pamphlets by Charles Voysey that Upfield- Green published were:
A retrospect of the nineteenth century in matters of religion: preached at the Theistic Church; 

The purpose of the Jew in history a paper read at a meeting of the Zionists League at the West Hampstead synagogue; 

The essentials of sacrifice : preached at the Theistic Church; 

The will of God in human affairs: Preached at the Theistic Church, Oct. 21st, 1900; 

Moral and religious culture. Part [1], Preached at the Theistic Church;  

The need of religious conviction: Preached at the Theistic Church, Dec. 30th, 1900;  

Some hindrances to a religious life: A sermon preached at the Theistic Church, April 26th, 1885; 

The battle of life: Preached at the Theistic Church, June 24th, 1900; 

True religion and science in harmony: Preached at the Theistic Church, July 1st, 1900; 

Creeds as ladders: Preached at the Theistic Church, July 8th, 1900; 

For his name's sake' : Preached at the Theistic Church, January 14th, 1900; 

Body and soul : preached at the Theistic Church, July 15th, 1900; 

The primitive religion: Preached at the Theistic Church, January 21st, 1900; 

Spiritual depression and its cure: Preached at the Theistic Church, July 22nd, 1900; 

Impieties of infant baptism: preached at the Theistic Church, July 29th, 1900; 

Call to united prayer: preached at the Theistic Church, February 4th, 1900.