The Roberts family connects with the Man family on 15 September 1781 when Sarah Roberts married James Man at St. Mildred Poultry, London. Sarah Roberts was born in 1756 in London, the second daughter of Edward and Elizabeth (Neale?) Roberts, and was baptized on 21 April 1756 at St Mildred Poultry.
Sarah had three siblings: a brother Edward baptised on 9 April 1749 and two sisters: Elizabeth baptised on 30 August 1753 and Anne baptised on 22 November 1758. All baptisms were at St. Mildred Poultry.
Ann(e) Roberts married William Humfrey on 17 May 1788 at St Michael Paternoster Royal. Her sister Sarah (Roberts) Man and her brother in law James Man were witnesses.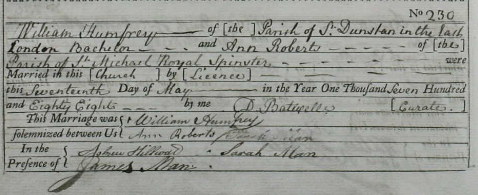 A possible burial for Ann (Roberts) Humfrey has been located at St Dunstan's & All Saints, Stepney, Middlesex on 29 June 1791. She is said to have lived in Mile End, Old Town. Below is the marriage allegation of James Man of St Dunstan in the East, a bachelor aged 25.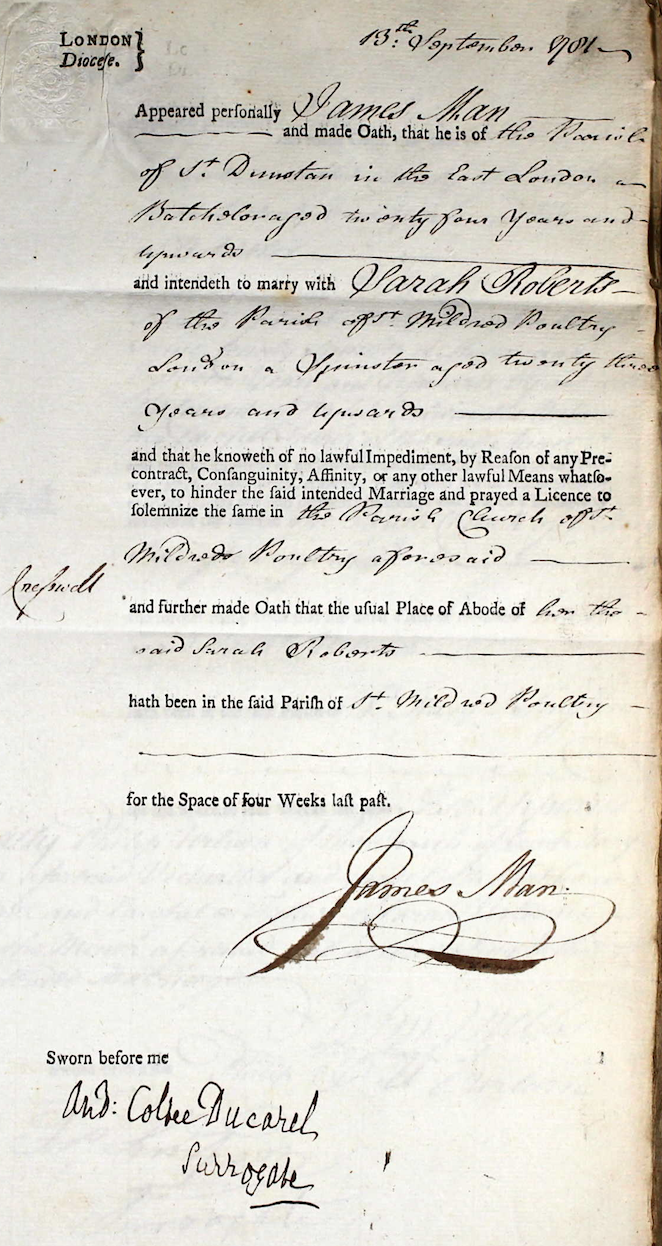 Notes on the Humfrey / Humfrie / Humphrey / Humphrie Family.
Humfrey was a well known London merchant family during the seventeenth and eighteenth century. Whether there is a connection between the well known Humfrey family and the WIlliam Humfrey who married Anne Roberts has not been established but there are a number of pieces of data that would suggest that there may well be. The most renowned member of the Humfrey family was Sir William Humfrey but he had no descendants as his son Orlando produced no heirs and so if there is a connection it would have to be via a brother of William's. We are working on this.
BIOGRAPHICAL NOTE ON SIR WILLIAM HUMFRIES (below from various sources on the WWW)
Sir William Humfries, Bart., was an alderman of the city of London, only son of Nathaniel Humfreys, citizen and Ironmonger, of Candlewick Street, and grandson of William Humfrey, of Penrhin, in the county of Montgomery. He was by trade a dry-salter in the Poultry. His country residence was Hever Castle, in the county of Kent, the birthplace of Anne Boleyne. He served the office of Sheriff in 1704, when Queen Anne conferred on him a knighthood. In 1705 he was Master of the Ironmongers' Company, and in 1714 Lord Mayor of London: on which latter occasion he was created a Baronet, having entertained King George the First at Guildhall.
Sir William married, first, Margaret, daughter of William Wintour, Esq. of Dymocke, in the county of Gloucester, and granddaughter of Sir William Maxey, of Bradwell Hall, Essex, and had by her an only son, Orlando, who succeeded to his father's title and estate. By his second wife, Ellen*, relict of Robert Lancashire, merchant of London, he had no issue. He officiated as chief butler at the coronation of George I., sat in parliament for Marlborough in 1714, and died in October, 1735; and was buried in the Rector's vault at St Mildred, Poultry on 6 November.
His will was proved in the Prerogative Court of Canterbury in the month of November.
Orlando married Ellen Lancashire, his stepmother's daughter by her first husband. He died without surviving male issue on 14 June 1737, his only son (Robert) having died a few months before on 17 January; the baronetcy became extinct. His widow died on 3 April 1745. Orlando was buried at Barking, in Essex, where there is a monument on the south wall of the church to his memory, with a marble bust and arms.
* In the notice of her death, 10 April 1734, she is called relict of Colonel Robert Lancashire, second wife of Sir William Humfreys, Bart, alderman of Cheap ward.— Collections of Samuel Gregory, Esq.
Marriage announcement: LONDON, December. 5. 1741: Thursday Morning was married William Gore, Tring, and Knight of the Shire for the County Hertford, Miss [Eleanor] Humphries Daughter of Sir Orlando Humphries, a young Lady of great Beauty and Merit, with Fortune of 10,000l.