Adelina Clarinda Breslauer was born in 1878, the eldest child of Theresa (Reis) and Adolphus Breslauer. She married Herbert Joseph Hands on 7 April 1900  at Holy Trinity, Brompton.  Adelina died in 1953 at Stanmore, Middlesex. Herbert Hands was born in 1877.

Adelina and Herbert belong to Reis Generation Three; their children belong to Reis Generation Four and are:
Norman Stanley Hands was born on 14 July 1904 and died in Feb 1989 at Watford, Hertfordshire. [He authored Old Cranleighan Lodge, no.4680: A history of the Lodge's first fifty years]
NOTE: This page also contains information on the Hands family. The probate entry for Adelina Clarinda is as follows; Hands – Adelinda Clarinda. Below, Herbert Joseph Hands' probate record:

Herbert was the son of Thomas Larter Hands and Mary Young Hulls. They were married in 1868 at Ware in Hertfordshire.
The 1891 Census showing Thomas L Hands (born in Jamaica) and son Herbert (J.) Hands (born Clapton) aged 14 years.: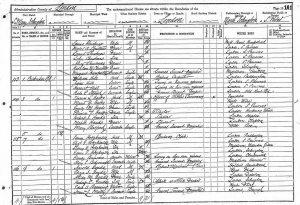 Below, the probate record for Thomas Larter Hands:

[To return to Reis Family Introduction and a list of the entire Reis family click here]