Vera Dagmar Reis was born in 1883 in Kelvin, Glasgow, the daughter of Charles Lionel and Elizabeth (Woodburn) Reis. She married i) Robert Bruce on 12 April, 1911, at 12 Henderson Street, Glasgow. He died in 1939. She then married ii) John James Costello on 10 December, 1960. He died on 18 June,1961.
Vera and Robert belong to Reis Generation Three; their child belongs to Reis Generation Four and is: Elizabeth
NOTES: She was educated at Glasgow University (M. B., Ch. B., 1906). L.M. (Rotunda), 1907. Formerly Medical Superintendent, Glasgow Medical Missionary Society. School Medical Officer, Bradford Yorkshire, 1915-1918. (See The Samuel Family of Liverpool and London, p. 6).
Vera's first husband, Robert Bruce, was a doctor (as was she) who was resident at 12 Rosebery Terrace, Glasgow at the time of his marriage to Vera. Robert's father was Robert Wilson Bruce (who was also a doctor) and his mother was Madeline Redpath. The witness to the marriage were William Redpath Bruce (possibly Robert's brother) and Violet Ida Reis, Vera's sister.
It is believed that a brother of Robert's – William Redpath Bruce – founded a property company called 'Redpath Bruce' which flourishes today. The company's website is HERE.
One of Robert's brothers Charles James Bruce was killed during WWI:
Second Lieutenant
Charles James Bruce
Army cyclist corps
Died on 20 may 1917 age 30
Cairo war memorial cemetery, Egypt. Son of Robert Wilson Bruce and Madeline Redpath Bruce. Born in Glasgow.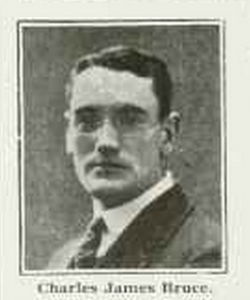 BRUCE, CHARLES JAMES. 2nd Lieut., Army Cyclist Corps, 3rd .s. of Robert Wilson Bruce, of 5. Rosebery Terrace, Glasgow, Surgeon, by his wife, Madeline, dau. of William Redpath ; b. Glasgow. 20 March, 1887 : educ. Billhead High School there; was an Inspector of the Scottish Widows' Fund Life Assurance Society, being for four years a member of the Glasgow Highlanders (T.F.); volunteered for foreign service, and rejoined on the outbreak of war in Aug. 1914 ; served with the Expeditionary Force in France and Flanders from the following Nov. ; was wounded at Festubert in May, and invalided home; obtained a commission in the Army Cyclist Corps 10 Aug. 1915 ; served with the Egyptian Expeditionary Force in Egypt and Palestine from May, 1916 ; took part in the Battles of Romani and Gaza, and died at Cairo 20 May, 1917, from wounds received through bombs being dropped on a Field hospital where he was stationed, suffering from an attack of dysentery. Buried in Old Cairo Cemetery. His former Commanding Officer wrote : " I feel Bruce's death very much, as he was such a fine fellow ; so cheery and one you could entirely depeud on to do the very best, no matter how trying the circumstances. He did so well also during the fighting." Unm.
Below 'The Lancet' of July 28 1906 showing Vera listed eight lines from the bottom of the page. Her birthplace is given as Ireland which contradicts what we know.
[To return to Reis Family Introduction and a list of the entire Reis family click here]