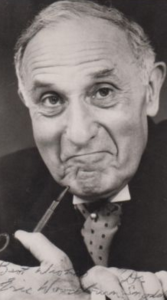 Eric Melville Reis was born in 1893 in Glasgow Scotland, the son of Charles Lionel and Elizabeth (Woodburn) Reis.  He married Jean St. Clair Balls in in 1922 at Paddington, London.
Eric and Jean belong to Reis Generation Three; their son belongs to Reis Generation Four and is:
Alan Reid Woodburn
Notes: Eric changed his surname to Woodburn.  He played the part of a very old doctor called Dr Snoddie in the 1960's BBC series Dr. Finlay's Casebook. He also appeared in one show of Dad's Army. He appeared frequently at the Windmill Theater (see the film 'Mrs. Henderson Presents') and these have been briefly captured on film.
[To return to Reis Family Introduction and  a list of the entire Reis family click here]