Audley Harcourt Reis was born in 1910 the son of Leonard Maitland and May (Samuel) Reis. He appears to have been a dentist and in about 1930 emigrated to the US but not much is known about him.
Audley has been found on a passenger list (below) travelling to Port Said, Eygpt. He may have been going to visit his grandfather Arthur Montagu Reis.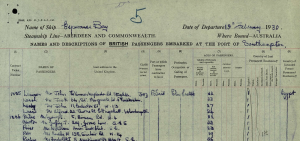 Audley has also been found on the Cunard's 'Britannic'  leaving Liverpool on 4 July 1952 to New York, aged 41. His address is given as 183 Wilmelow Road, Cheadale, Cheshire and his profession is 'Dental Surgeon'. He may have emigrated, but there are no records to indicate that he in fact did.
[To return to Reis Family Introduction and a list of the entire Reis family click here]