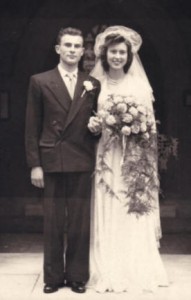 Trevor Kenneth (Ken) Reis was born on 18 May 1926, the son of Cecil and Dorothy (Melton) Reis. He married Jean Florence Huckle on 27, August 1949 at Harrow Weald Church. Ken died on 4, January 2000 and was buried at Upton Cemetery.
Jean was born on 25 August 1930 and died on 2 August 2015 at Forest Hill Nursing Home and is buried with Kenneth at Upton Cemetery.
Ken and Jean belong to Reis Generation Four; their children belong to Reis Generation Five and are still living.
Notes:  Trevor, known as Ken, was a Building Surveyor and very much a family man who always worked hard for his children and was very much missed by them all after cancer took him in a relatively short space of time. As a younger man he was very competitive and an outstanding athlete. Always the charmer, very much liked by everyone that new him, especially the ladies. In the years from the early 1950's especially until Cecil's death in 1966 Ken & Jean looked after Ken's parents as they lived across the road at number 107 Queens Walk in South Ruislip. It always upset Ken when he remembered having to check for any signs of life when Cecil died. Jean still tells the stories of Cecil and his life and how he never went out without his trilby hat with the silk band and walking stick with its ivory ball on top. On many occasions these were both seen flying out of the door followed by Cecil when he and Dorothy were arguing.