Cecil Clive Reis was born in 1880 in Liverpool, the eldest son of Arthur Montagu and Lillian (Samuel) Reis.
He married Hilda Marguerite Mary Buxley in September 1910 in Portsmouth, Hampshire. She died on 14 April 1919. He then married Dorothy Melton on 15 September 1923 at Holy Trinity Church, Tottenham, Middlesex.
Cecil died on 30 July 1966 at 98 Queens Walk, South Ruislip, Middlesex and was buried at Breakspear Cemetery, Northwood Hills, Middlesex. Dorothy died on 5 December 1980 (aged 80) at Mount Vernon Hospital, Northwood, Middlesex.
Cecil belongs to Reis Generation Three; his children belong to Reis Generation Four and are first by Hilda Buxley:
Claudian Reis
and then by Dorothy Melton:
Clive Melton
Gordon Eric
NOTES: Following in the family tradition, Cecil was a jeweler who had his own shop in central London, near Marble Arch. He retired when he was in his 40s. Cecil used to sleep in the shop with a gun to deter burglars. Cecil and his first wife, Hilda, were living at 7 The Ridgeway, Golders-Green, Middlesex at the time of Hilda's death. The Melton family has been found on the 1901 census.
Cecil and Hilda appear on the 1911 Census residing at Golders Green in London: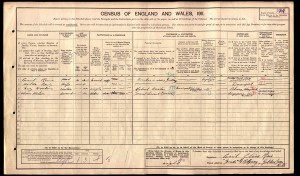 Cecil's probate record:

[To return to Reis Family Introduction and a list of the entire Reis family click here]