Arthur Montagu Reis was born on 21 November 1857 at 5 Chatsworth Street, Liverpool, the son of Jonas and Marian (Samuel) Reis.
He married his cousin Lillian Samuel on 9 September 1879 at the Liverpool Old Hebrew Congregation. Lillian was only sixteen years old.
Lillian was born on 8 October 1862, the daughter of Alfred and Emma (Schreiner-Wolfe) at 48 Manchester Street, Liverpool. (Alfred Samuel was the brother of Marian, Arthur's mother).
She died on 30 November 1955 while residing at 138 Sinclair Road, West Kensington, London. Her mother, Emma Schriener Wolfe, was one of three sisters that married into the Samuel family, one of whom, Harriet, is the H. of the H. Samuel jewelry chain.
Arthur and Lillian belong to Reis Generation Two; their children belong to Reis Generation Three and are:
Audrey Phyllis
After 1901 Arthur left England and settled in Egypt. He was accompanied by Fannie Ruth Cruwys. She was born on 18 February 1882 at Whiteleaf, Warlingham, Godstone, Surrey, the daughter of Tom and Ruth (Pearce) Cruwys. Arthur died on 3 June 1941 in Alexandria, Egypt. Fannie died on 11 October 1943 at the Jewish Hospital, Cairo, Egypt. The children of Arthur and Fannie Ruth belong to Reis Generation Three and are:
Notes: Arthur's birth certificate can be viewed HERE (<— PDF) and his death certificate HERE (<— PDF). Lillian's birth certificate can be viewed HERE (<— PDF) and her death certificate HERE (<— PDF). Their marriage certificate is HERE (<— PDF). At the time of their marriage Arthur was living at 4 South Castle Street, Liverpool and Lillian at 21 Lime Street, Liverpool. Lillian's will and probate can be viewed HERE (<— PDF).
Lillian Reis is interred at East Ham Jewish Cemetery – Section K, Row 9, No.565, (see pictures below). Fannie Ruth Cruwys's father listed himself as 'Foreman Carpenter' on his daughter's birth certificate.
Arthur and his family appear on the 1891 census which can be viewed here and on the 1901 census living at 138 Sinclair Road. The census page can be viewed HERE (<— PDF). Arthur's wife's mother Emma was living in the same road at the time of the census.  At the beginning of the 20th century Arthur bought a large house at 68 Holland Park for a little more than 4,000.00 pounds.
A number of articles appeared in The Times and other newspapers between and 1880 and 1905 about AMR's various attempts to address his creditors and to discharge himself from bankruptcy. These articles can be accessed  HERE  (<– PDF). A recently found report in The Law Times of Jan 7 1903 on Arthur's case can be read HERE (<— 9 page pdf). Below, the auction of the content of Arthur's house after he declared bankruptcy.
Arthur went to Egypt sometime after 1901, and there he had a second family (Spencer, Dennis, Enid and Brenda). It is said that he dealt in cotton, which is apparently why he went to Egypt, and also in stocks and shares. Below Lillian (Samuel) Reis: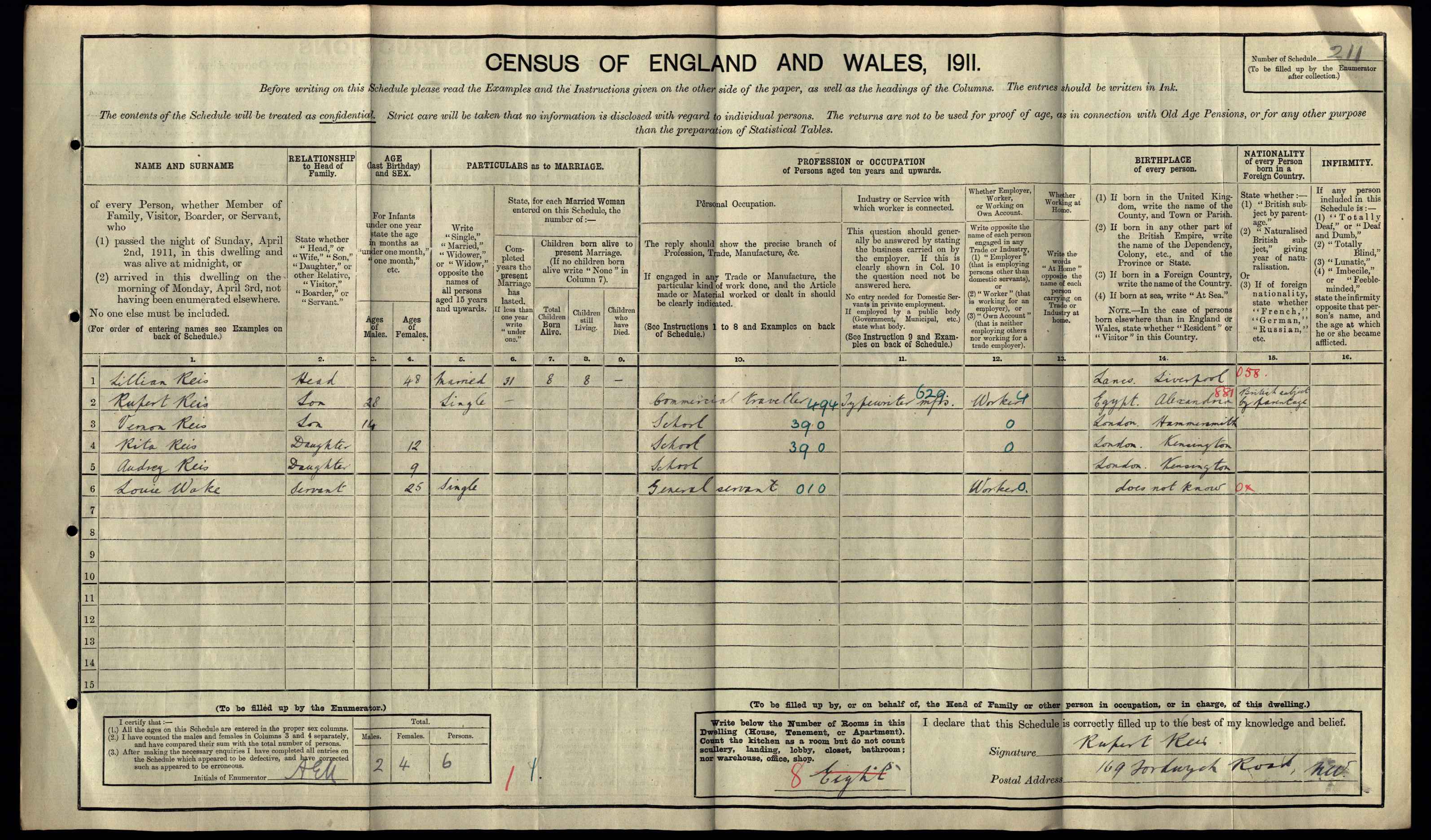 Lillian's grave at Willesden Jewish Cemetery in north London:
Below, Lillian's probate record:

[To return to Reis Family Introduction and  a list of the entire Reis family click here]