Norah Eveline Reis born on 6 August 1891 at 2 Bright's Crescent, Edinburgh, the daughter of Alphonse Louis and Marian (Dugan) Reis.
She married Richard Walter Stanfield on 29 September, 1915, at St George's Church, York Place, Edinburgh. 

Richard was born on 23 April 1891 at 49 Mayfield Road, Edinburgh, the son of Richard and Lizzie Mary (Wakeford) Stanfield.  49 Mayfield Road is where three of the Reis boys were born and it is probable that the Reis family sold the Mayfield Road home to the Stanfield family. 

Norah's birth certificate can be viewed HERE (<— PDF). So far, her death registration has not been found.
The marriage between Norah and Richard was dissolved according to a newspaper notice in The Scotsman 12 July 1930 reporting on the uncontested divorce of Norah Eveline Reis or Stanfield of 5 Albany Street, Edinburgh, and Richard Walter Stanfield motor mechanic whereabouts unknown.
There then appears a marriage record for James A Richardson and Norah E "Stanfield or Reis", June quarter 1931 in Steyning, Sussex. There is also a marriage announcement from The Scotsman on 4 July 1931 of the marriage on 25 June at Shoreham by Sea of J A Richardson Esq and Norah Eveline Stanfield, at home after 6 July, 31 Lawrence Road Hove.
So from the above we can conclude that Norah divorced Richard Stanfield and re-married James Richardson.
NOTES ON THE STANFIELD FAMILY
Richard's father was a Professor of Engineering and he married Lizzie-Mary Wakeford in London on June 25 1890. Richard's occupation is given as Royal Engineers Territorials.  Norah gives her address as 55 Arden Street, Edinburgh, at the time of her marriage. Norah studied music at Heidelberg University.
Richard Stanfield's (Richard Walter's father) death certificate has been found. He died on 19 October 1950 at 24 Mayfield Gardens, Edinburgh aged 87 years. He was married to 1) Lizzie Wakefield; 2) Sarah Annie Coutts and 3) Helen Alexander Gray Brechin. His profession is listed as Emeritus Professor of Engineering. Listed on the death certificate are the parent's of Richard Stanfield with their profession as follows: Father – Richard Stanfield – Cashier and Margaret Lowe. We thus have data on three generations of Stanfields.
Below from Engineering, Volume 69, January-June 1900
THE CAMPBELL OIL ENGINE. The illustration here shows an oil engine of 13 brake horse power, constructed by the Campbell Gas Engine Company, Limited, of Halifax. A most satisfactory test of this engine has recently been made by Mr. Richard Stanfield, Professor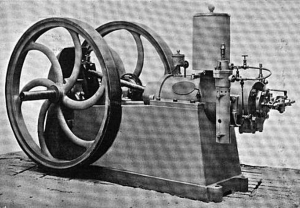 of Engineering at the Heriot-Watt College, Edinburgh. In this test, the details of which are given below, the oil consumption per brake horse-power per hour was at a maximum power (17.8 brake horse-power), .773 lb.; at full power (15.6 brake horse-power), .846 lb.; at halfpower (8.6 brake horse-power), .957 lb.; at light power, 1.111 lb. per indicated horse-power per hour. It will be seen that these are most satisfactory figures, and demonstrate that the engine was both well made and carefully designed. The oil used was of a specific gravity of .824, and its calorific value may be taken at 18,630 heat units per pound.rked through a lever and side rod by an eccentric on the crankshaft. When the speed exceeds the normal, a centrifugal governor pushes down a Bteel catch and prevents the exhaust valve closing. When this valve is held open, no vacuum can form in the cylinder during the suction stroke of the piston, and consequently no charge of oil is drawn through the inlet valve A. (Read more HERE)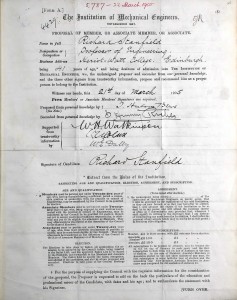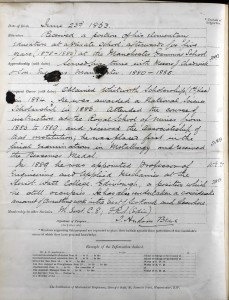 [To return to Reis Family Introduction and a list of the entire Reis family click here]