Gordon Stanley Reis was born on 25 April 1889 at 49 Mayfield Road, Edinburgh, Scotland, the son of Alphonse Louis and Marian (Dugan) Reis.
Gordon had six siblings: Harold, Emile, Albert Victor, Cyril Herbert, Norah Evelyn, and Louis Norman.
They were raised in the Jewish faith and could read Hebrew, but after their father left their mother for another woman, most appear to have abandoned their faith and some adopted that of the majority population, i.e. they became Presbyterian.
Gordon married Winifred Simpson Cran on 16 December 1921 in Rangoon, Burma.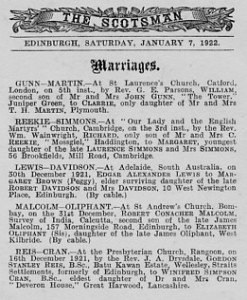 Gordon died as a civilian prisoner of war on 2 November 1944 at Muntok on Bangka Island off Sumatra, Indonesia.  His civilian internment diary can be read HERE (<– PDF over 70 pages).
Winifred Cran was born on 3 September 1898 in Blackburn, Lancaster, the daughter of Alexander and Anne (Bennet) Cran. She died on 7 July 1983 in Durban, Natal, South Africa.
Gordon and Winifred Reis belong to Reis Generation Three; their children belong to Reis Generation Four and are:
Sheila Allwynne Cran born on 29 October 1922 at Penang and died on 30 July 2001 at Petersfield, Hampshire;
John Alistair Cran born on 30 October 1926 and died on 13 August 1928 at L'Abri, Avenue de Beaumont, Lausanne, Switzerland.
Additional Data: Gordon Reis studied Agriculture at Edinburgh University after attending the Royal High School.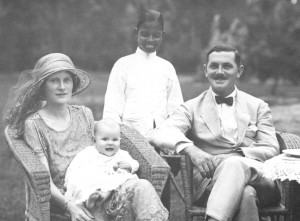 He spent one year at Munich (possibly Heidelberg) University studying forestry and he then joined, before World War One, Harrison Crossfields in Sumatra where he ran one of their estates. He remained there throughout World War One.
Gordon Reis met his future wife, Winifred Cran, when he returned to Edinburgh from Sumatra after WWI. They both had studied Agriculture at Edinburgh under Professor Robert Wallace through whom they met when he invited them both to Tea one day.
It would appear that they soon after got engaged but Gordon returned to the Far East almost immediately. Winifred then completed her studies at Edinburgh becoming the first woman in Scotland to be awarded a degree in Agriculture. As soon as she graduated she left Scotland, unaccompanied, arriving in Burma in 1921 and marrying Gordon Reis in Rangoon. A year later their daughter was born.
From about 1921 to 1939 Gordon and Winifred lived most of the time on a rubber estate called Batu Kawan on an island of the same name, just off Penang.

The plantation was owned by a French company known as SOCFIN, or 'Societe Financiere des Caoutchoucs'. Gordon also co-owned, with Thomas Menzies, an estate called Sungei Wei in Selangor state just outside Kuala Lumpur on the Malay peninsular.
In 1939 Gordon Reis fell gravely ill suffering from a gangrenous appendix leading to septicemia followed by pneumonia, a coronary thrombosis and a pulmonary embolism. He spent months in Penang General Hospital after which he took six months leave and in 1940 traveled to New Zealand and Australia with his wife and daughter. In Sydney, they left their daughter behind where she boarded in a hostel for single young ladies and began to train as a beautician:
| | |
| --- | --- |
| | |
| Allwynne Reis being chaperoned in Sydney | Morning Tribune (Singapore) 22 December 1941 |
her parents having insisted that it was now time for her to begin a career for herself. They returned to Singapore where Gordon Reis joined Cable and Wireless. However, the Japanese were already preparing to invade Malaya and realizing that war was imminent Allwynne returned to Singapore in December 1941.
| | |
| --- | --- |
| | |
| Winifred (Cran) Reis) | Gordon Stanley Reis |
The story is taken up in Gordon Reis's own diary which he kept after the fall of Singapore and which can be read HERE (<– PDF). This is supposedly the only surviving diary kept by a British male civilian prisoner of the Japanese. His death was from beri beri as a result of malnutrition brought about at the hands of the Japanese. His burial site among the Commonwealth war graves (below).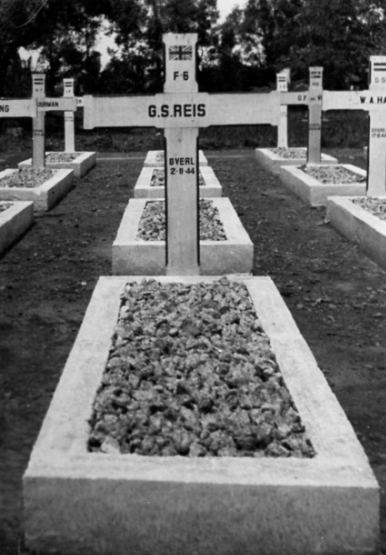 A letter sent after the war from John Drysdale, who cared for Gordon in Muntok prison, to Gordon's brother Harold can be read HERE. Included are a couple of letters between Drysdale and Gordon's daughter. Gordon is memorialized HERE.
POSTSCRIPT
Below is a description of a latter day visit (2011) to Muntok prison undertaken by Colin Campbell's granddaughter, Judy Balcombe. Colin was a fellow prisoner and his grave, just in front of Gordon's, is shown below.
Judy writes: I returned home from the trip to Palembang and Muntok on Friday. Anthony Pratt and I had a busy and productive time. In Palembang, we were helped by a local guide who showed us the Palembang jail and the exact site of the Men's and Women's camps (now housing). It was possible to locate these sites by comparing an old map with a modern street map. The shape of the streets was still the same, allowing the camp locations to be identified.
In Muntok, we stayed as guests of a local company. The Manager and friends were extremely kind and helpful to us, which helped to compensate for the sad purpose of the journey. We visited the petrol station where we believe the men were buried, on the edge of an old local cemetery which has also extended into housing.
There were also some very old grave stones in the gardens of the houses, from 1881 and before. We met with several older residents who verified that our style of graves were here. One man described playing there as a little boy and he indicated the margins of the cemetery.
The Tinwinning building opposite the Muntok jail Muntok jail in 2011 where Gordon Reis, Colin Campbell, and other civilians were held prisoner by the Japanese
The petrol station was built in 1981 and the remains of 25 people found there during its construction were moved to a single grave in the Catholic cemetery at Kampong Menjelang. Someone has built a grave and placed an engraved headstone commemorating these British people who died during the War. The petrol station owner has now died but it is a very kind act that the headstone was engraved and placed there.
This grave is definitely that of civilians as the residents remember the Dutch military and civilian and British military graves being exhumed in the early 1960's. At that time, remains were placed in bags with metal name plates and were moved to Bandung cemetery in Java.
We have seen the letters that Shelagh Lea, nee Brown, a camp survivor whose Mother died in the camp, wrote to the Commonwealth War Graves Commission, now held in the National Archives in Kew, London. Mrs Lea wrote repeatedly between 1948 – 1968, asking for the graves at Muntok to be maintained or to be made into a memorial. Eventually in 1968, the CWGC concluded it had no responsibility for civilian graves, that any project would be too expensive and would need to be funded locally or by Mrs Lea herself. She was married to a church minister and so did not have the funds to do this.
A new cafe has just been built behind the petrol station and the land behind this is about to have a house built on it. I have asked to be informed if any remains are found there. We visited the jail where our families were housed and died. The building and rooms were very much as described in William McDougall's book, 'By Eastern Windows'. Today, the prisoners seem well cared – for today, with a good diet, work training and sports tournaments.
The local Christian graveyard. Behind the wall is the petrol station and the original civilians' graveyard The Petramina petrol station which is on the site of the original British civilians graveyard
We were taken to meet some very old residents in Muntok. One lady still had a small ring given to her by an Australian nurse in return for food, before she was interned. We also saw a huge rock formation where several hundred residents hid from the Japanese.
The town is still largely unspoilt, a 'heritage town' and I was surprised to know the residents have a strong interest in local history, especially from World War 2. A tender has gone out for architects to construct a museum in the Tinwinning building, next to the jail. This will cover the history of Bangka Island, back to the 1600's, then when the British came in 1812. It was later handed to the Dutch and of course there are the events of the Second World War.
Below is the mass grave of the British civilians who were moved from the original British civilians' graveyard and placed in the still active Catholic graveyard.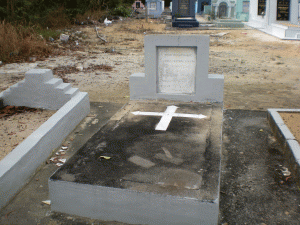 Below is Muntok prison in 1931. Reis and Campbell were housed in the prison complex in the lower left corner.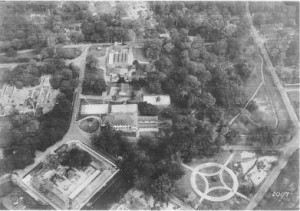 Despite the sadness of our visit, the town has a warm and caring feeling, with everyone so kind and helpful and trying to assist us. It was a consolation to know that our families have their resting place in this concerned and friendly town.
The 55 men and 33 women who died in the Muntok internment camp, were buried at a nearby cemetery. For more details read Judy Balcombe's letter HERE and a further one HERE.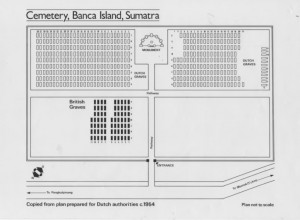 (A list of all prisoners held in Sumatra POW camps and prepared by The Malayan Volunteers Group can be read HERE)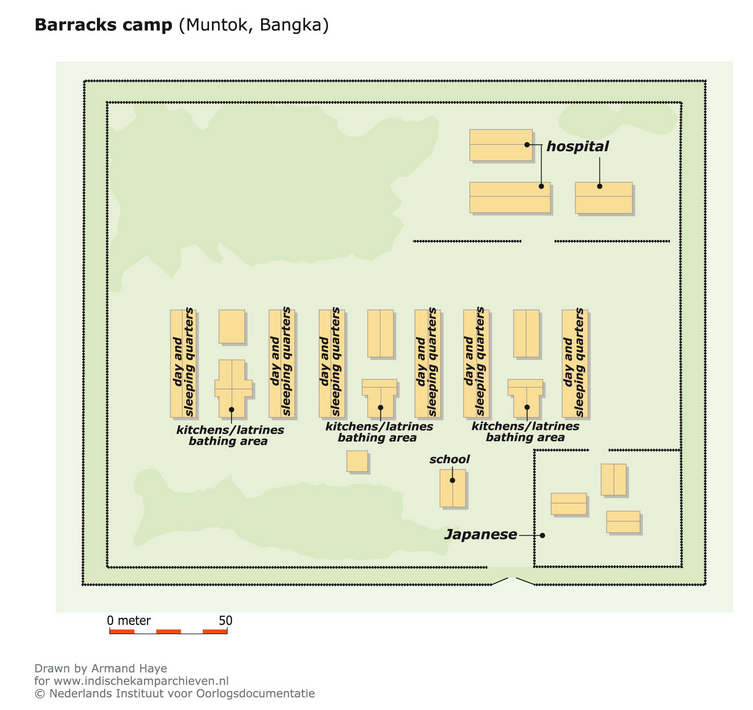 The Eighty-eight British and Australian Civilian Internees who died in Muntok Camps are listed below:
 WOMEN   (name/age/date of death)   33 women
Mrs Theresia 'Resie' Armstrong, 51, 7 February 1945
Miss Dixie Resie Armstrong, 32, 5 April 1945
Mrs Mary Awmack Battensby, 51, 11 February 1945 (read more HERE)
Mrs Edith Florence Bedell, 65, 19 January 1945 (a little more HERE)
Mrs Mary Elizabeth Brown, 67, 17 January 1945 (Her daughter Shelagh survived and her obituary notice in the Daily Telegraph on 5 December 2005 described some of what happened to them)
Mrs. Edith Evangeline Castle, 50, 19 November 1944
Mrs. Marjorie Hindnaugh Cocke, 53, 5 March 1945  (Moved to Jakarta)
Mrs. Mary Louise Day, 53, 16 December 1944
Mrs. Helen Dixey, 48, 28 February 1945
Mrs. Agnes Gertrude Dominguez, 63, 9 November 1944
Mrs. Marjory Gray, 55, 13 January 1945
Mrs. Murial Gregory, 43, 5 November 1944
Mrs. Rena Rosie Haynes, 49, 10 January 1945
Mrs. Kathleen Mary Hutchings, 46, 12 April 1945
Mrs. Blanche Lucy Jones, 58, 8 December 1944
Miss. Sabine Elizabeth MacKintosh, 57, 27 December 1944
Mrs. Dorothy MacLeod, 59, 1 April 1945
Mrs. Joan May Maddams, 36, 19 December 1944
Mrs. Olga Mary Neubronner, 39, 2 March 1945  (Moved to Jakarta)
Mrs. Evelyn Mary Parr, 38, 11 January 1945
Mrs. Isobel Veronica Pennefather, 48, 15 March 1945
Mrs. Sylvia Plummer, 42, 19 November 1944
Miss. Eva Prouse, 49, 2 February 1945
Mrs. Lillian Rodrigues, 46, 1 January 1945
Mrs. Ruth Russell-Roberts, 36, 20 January 1945
Mrs. Claire Sammy, 52, 18 November 1944  (Moved to Jakarta)
Mrs. Esme Barbara Skinner, 38, 27 March 1945
Mrs. Amy Alexandra Mary Simmons, 30, 26 February 1945
Mrs. Louise Sinnatt, 32, 23 February 1945  (Moved to Jakarta)
Mrs. Emily Elizabeth Smith, 72, 9 November 1944
Mrs. Nellie Ellen Tay, 40, 21 November 1944
Ms. Lottie Regina Wales, 48, 3 January 1945
Mrs. Marion Galloway Langdon Williams, 46, 7 February 1945
MEN  (name/age/date of death) 55 men
Mr. C. H. Adam, 5 October 1944
Mr. Frederick Marshall Adam, 38, 25 January 1945  ARP, Singapore
Mr. John C. H. Aitken, 54, 25 November 1944   LDC
Mr. Charles John Arnold, 70, 9 June 1944   WW1 Pte to 2nd Lt MSVR 1917
Mr. L. R. Blake, 47, 23 February 1945  Sub Lt SS  RNVR  1939 to early 1941
Mr. Francis Grainger Brown, 44, 5 November 1944
Mr. Lindsay Burn, 58, 8 November 1944
Mr. Thomas Burns, 50, 22 October 1944
Mr. Gordon Burt O.B.E., 46, 28 January 1945  Formerly Lt/Cpl to Sgt  ISSVF Armoured Cars
Mr. Colin Douglas Campbell, 53, 2 August 1944  MSVR 1915 –
Sir John Bruce Stuart Campbell, 66, 14 October 1943  WW1 Croix de Guerre
Mr. Richard James Potter Clarke, 56, 19 November 1944
Mr. Vernon Rowe Connolly, 49, 17 October 1944
Mr. John Gallagher Dominguez, 65, 11 September 1944
Mr. Kenneth Godfrey Arthur Dohoo, 38, 25 October 1944
Mr. Walter Pattinson Douglas, 55, 23 November 1944
Mr. E. A. M. Dumas, Unknown, 1 December 1944
Mr. Thomas Efford, 59, 24 November 1944
Mr. Michael Francis Enright, 63, 24 January 1945  Chief Motor Mechanic  RVNR WW1
Mr. David Richard Evans, 60, 30 July 1944
Mr. John Samuel Evans, 37, 17 July 1944
Mr. Frederick Fletcher, 70, 9 June 1944
Mr. George Basil Warburton Gray, 62, 12 February 1944
Mr. Cecil Reynold Grixoni, 43, 28 October 1944
Mr. George Henry Hallam, Unknown, 18 July 1944
Mr. Geoffrey Holderness, 45, 28 May 1944
Mr. L. B. G. Jeffrey, 53, 2 May 1944
Mr. Charles Martin Jenkin, 51, 17 November 1944
Mr. Algernon Neville Laybourne, 54, 28 July 1944
Mr. Frederick Lagharne Llewellyn, 48, 13 May 1944
Mr. E. H. M. Manden, Unknown, 23 July 1944
Mr. John McGuffin, 52, 8 March 1945
Mr. Robert Meldrum, 49, 13 December 1944  Sgt 529 JVE to 101 STS
Mr. Jack Stephenson Messenger, 45, 2 November 1944
Mr. Riley Llewellyn Morgan, 24 March 1945
Mr. Robert Wallace Morris, 42, 8 June 1944
Mr. Walter Penrice, 47, 20 July 1944  Major 2SSVF
Mr. Richard Henry Cozens Prior, 61, 15 August 1944
Mr. Donald Frederick Pratt, 37, 1 May 1945  1930's. Member Johore Volunteer Engineers
Mr. Vincent Bristow Pybus, 11 November 1944
Mr. C. G. Rebel, Unknown, 10 November 1944
Mr. Gordon Stanley Reis, 55, 2 November 1944
Mr. James Henry Stanners, 32, 22 January 1945
Mr. Robert Stephenson, 47, 8 April 1945
Mr. Frederick Thompson, 36, 27 November 1944
Mr. Henry Stanley Tisshaw, 56, 24 November 1944
Mr. W. Vorlauf, Unknown, 5 February 1945
Rev. Albert Victor Wardle, 47, 4 January 1945
Mr. Harry Leonard Watson, 31, 2 November 1944
Mr. Hubert Victor Miles Woods, 43, 21 November 1943
Mr. Thomas Kinnear Wilson, 53, 22 November 1944
Mr. Alfred Herbert Wright, 44, 9 February 1945
Mr. Herbert Zimmerman, 43, 11 June 1944
(Mr Vivian Gordon Bowden, 57, Australia's Official Representative to Singapore, killed by two Japanese guards outside the Muntok cinema, 17 February 1942.)

A Bibliography of Books by and about the Prisoners at Muntok and Palembang
A memorial of Margaret Dryburgh, Ann Armstrong Livingston, Sabine Elizabeth Mackintosh
 Diary of Charles Samuel held at Padang
THE NEW MUSEUM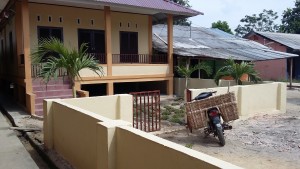 [To return to Reis Family Introduction and a list of the entire Reis family click here]