In 1883 Marian Dugan married Alphonse Louis Reis. Some sixty-four years later their granddaughter Sheila Allwynne Cran Reis married Frank Otto Stoe Man. Marian's father was Ezekiel Dugan and her mother Eliza / Elizabeth Stafford.
Ezekiel Dugan was baptised on 7 September 1822 at Inch, County Down, Northern Ireland (IGI Batch No. C00071). Ezekiel's parents are shown as John Dugan and Anne McAnnally. There was also a daughter of this marriage, Eliza, baptized on 12 Aug 1826 at Inch, Church of Ireland.
EZEKIEL DUGAN, Bachelor, of full age, police constable, of Ballinspittle, Parish of Ringroan, (Father – John Dugan, farmer) married on May 31st 1855 ELIZA STAFFORD, Spinster, of full age, of Ballinacolla, Parish of Myross, (Father – William Stafford, Chief Boathan [?] in the Coast Guard Service), in the Parish Church of Myross (Registrar's District of Skibbereen, Co. Cork) according to the Rites and Ceremonies of the United Church of England and Ireland, by Licence, by Robert Oliver, Curate, in the Presence of Edward Beatty & Thomas Caffrey.
This confirms that Ezekiel Dugan's father is John Dugan as shown on the baptismal certificate of 7 September 1822 at Inch, Co. Down, Northern Ireland.
Ezekiel was a member of the Royal Irish Constabulary (RIC). The RIC service record for Constable EZEKIEL DUGGAN, RIC 7537, shows that he was stationed in the Constabulary Division of Cork W(est) R(iding), the headquarters of which is Bandon, Co. Cork. His final rank was that of Constable which was in effect a Sergeant. The rank of entry into the RIC before October 1882 was 2nd Class Sub Constable and after a year of having a clean sheet the next rank was 1st Class Sub Constable. The next promotion was to that of Acting Constable and then that of Constable. From 1st October 1882 the rank on entry to the Royal Irish Constabulary was Constable which replace Sub Constable; Acting Sergeant replaced Acting Constable; Sergeant replaced the rank of Constable. A one page summary of Ezekiel's RIC career can be found here.
Ezekiel's pension receipts are below: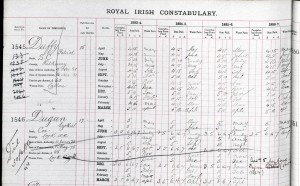 He died on 3 June 1886 at Cork. Below the death registration of RIC officers showing Ezekiel's entry on the last line.