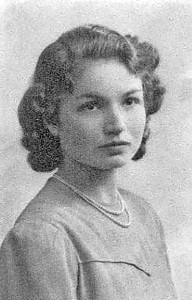 Louise Morrison Reis was born on 31 October 1917 at Los Silos de Calanas, Huelva, Spain, the daughter of Albert Victor and Jean (Morrison) Reis.
She married Henry Gordon Hudson on 25 May 1946 at St Catherines-in-Grange Church, Edinburgh.
Louise died on 25 November 2000 at Copper Beech Nursing Home, Eastbourne Road, Ridgewood, Uckfield, Sussex and was cremated on 8 December 2000 at Eastbourne.
Henry Hudson was born on 23 September 1920 at Worsley and died on 19 July 2001 at Uckfield and cremated on 25 July 2001 at Eastbourne.
Louise and Gordon belong to Reis Generation Four; their child belongs to Reis Generation Five and is living.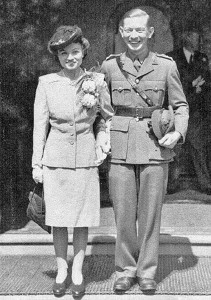 Louise was born in the tiny village of Los Silos de Calanas, near Heulva, in Spain. Her father was a mining engineer and at the time worked for the Rio Tinto Zinc Company. Her early years were spent in Spain, where she attended the primary school run by her fathers company. Many holidays were taken with her sister, Rena, at the Manse in Bannockburn, where her grandfather, the Reverend Andrew Morrison, was a Presbyterian Minister.
In the mid-1920's her father took up a position with the Fife Coal Company and moved the family to Cowdenbeath and later Dunfermline. Louise travelled daily by train across the Forth Bridge from Fife to Edinburgh where she was a pupil at George Watson's Ladies College.
After leaving school Louise took a qualification in catering management and subsequently worked as catering supervisor at a hospital in Dysart. In 1937 her father accepted a post as chief civil and mining engineer at the Manchester Collieries and the family moved to Worsley. It was here that Louise met her new neighbours, the Hudsons, and in particular their 17-year old son. Harry.
At the outbreak of War Harry was conscripted into the Royal Artillery and spent the next six years away from home. Initially in North Africa, but after capture at Tobruk, at various German prisoner of war camps. During all this time Louise kept in touch with Harry, despite moving back to Edinburgh with her family when her father was posted to the Ministry of Supply. Louise took up a new job in charge of catering at Atholl Crescent Hospital in Edinburgh.
In 1945 Harry and Louise were engaged and after Harry's demobilisation they married at St.Catherines in Grange Presbyterian Church in Edinburgh, on 25th May 1946. They spent their honeymoon in Callander. Louise and Harry set up home in Salford, near Manchester, where Harry worked with his father in the family textile business. Their only child, Richard, was born at Eccles on 19th April 1947.
Louise spent most of her time looking after the family home, but for several years she worked for the WRVS, one morning a week, helping out in the tea bar at St.Mary's Maternity Hospital in Manchester. In 1978 Harry's business transferred to Burnley and Louise and Harry moved to a new home close to the Pennine moors. At the same time they acquired a caravan at Nether Kellett, near Morecambe, and used this as a base to entertain their young grandchildren Mary and Mark.
After Harry's retirement in 1983, Louise and Harry moved to Eastbourne where they enjoyed regular golf, bowls and Bridge. Louise had always been keen on sport and was a lifelong and at times extremely enthusiatic follower of the Scotland Rugby Union team. She was also a member of the Eastbourne Branch of the Scottish Association. These activities were curtailed as Harry developed Parkinson's Disease and Louise spent more time looking after him.
After Harry's stroke in 1997 they moved together to the Copper Beech Nursing Home at Uckfield. Louise has travelled far and wide and made many friends wherever she went. She will be greatly missed by all those who knew her, especially her family, and in particular by her loving husband Harry, with whom she shared 54 happy and memorable years.

Notes: To view Louise's birth certificate click here (<– PDF), to view Louise and Gordon's marriage certificate click HERE (<— PDF).  To read more about Louise click here.  Below Louise and Gordon on their wedding day.
To return to the Reis Family page click HERE.