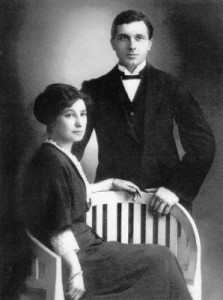 Albert Victor Reis was born on 21 September 1886 at 49 Mayfield Road, Edinburgh, Scotland, the son of Alphonse Louis and Marian (Dugan) Reis.
He married Jeanie Morrison at the British Consulate, Seville, Spain on 2 May 1914.
Albert Victor died on 10 January 1943 at Cowdenbeath and is buried at Old Monkland, Coatbridge, Scotland.
Jeanie was born on 25 February 1881 at Bannockburn, the daughter of Andrew and Margaret (McGregor) Morrison. She died, aged 82, on 2 October 1963 at North Devon Infirmary, Barnstaple, Devon and was cremated at Torquay.
Albert Victor and Jeanie belong to Reis Generation Three; their children belong to Reis Generation Four and are: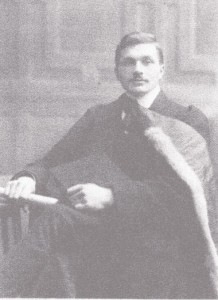 NOTES: Albert Victor was a Civil/Mining Engineer and he worked for a time for the Rio Tinto Zinc Company. (The Rio Tinto river flows through Andalusia, Spain). To view Albert Victor's birth certificate click here and his death click here (both PDFs).
Albert Victor Reis was the 3rd of 7 children. His father, Alphonse Louis Reis owned two jewellers shops, one in Edinburgh and one in Aberdeen. His mother Marian Dugan(Duggan/Dougan) came from Glasgow and was of Irish descent. Albert Victor was educated at the Royal High School in Edinburgh but unlike his brothers who studied agriculture and medicine, he became the first undergraduate ever to be awarded two individual BSc degrees in civil and mining engineering. He was also a fine sportsman and represented his university at athletics and rugby union. It may well be that he met his future wife, Jean, at a rugby match, as she too was an ardent follower of the game and regularly attended Scotland internationals. After graduating 'Bert' joined the Rio Tinto Zinc Company and went to work at their mines near Huelva in southern Spain. It was while he was there that on 02.05.1914 he married Jean(ie)

Morrison at the BritishConsulate in Seville. Jean's brother William was one of the witnesses. Jeanie Morrison had been born on 25.02.1881 at the manse, Murrayfield Presbyterian church,
Bannockburn. Her father was the Reverend Andrew Morrison, a Presbyterian minister, and her mother was Margaret McGregor who came from Glasgow. Jean had one older sister and one older brother. Jean was educated locally at Bannockburn and Stirling. When Jean was only 2 years old her mother died in childbirth. A year later her father married Christina Cross Stirling.
There were no more children. 'Bert' and Jean had two children, Andrena (Rena) Morrison (1916) and Louise Morrison (1917), both born at Los Silos de Calanas near Huelva. As the family grew older Bert and Jean moved back to Scotland. Bert accepted a job as a mining engineer for the Fife Coal Company. At first they made their home at Broom Hill, Cowdenbeath, but a few years later moved to a larger house in Dunfermtine. Rena and- Louise commuted daily by train via the Forth Bridge to George Watson's Ladies College in Edinburgh. Rena became a domestic science teacher and Louise pursued a career in catering management. Her first job was working in the kitchens at a hospital in Dysart, Kirkcaldy. In 1937 Bert was offered the post of chief civil and mining engineer with the Manchester Collieries. The family moved to Worsley Road, Worsley, where their neighbours were the Hudson family, and when Louise first met Harry. Bert's farewell gift from the Fife Coal Company was a fine grandmother clock now residing at 31 Berkeley Court, Eastbourne. With the outbreak of war, Bert was seconded to the Ministry of Supply in Edinburgh and the family moved back to Cowdenbeath. Louise took a job as catering supervisor at Atholl Crescent Hospital, Edinburgh. After years working in poor conditions Bert developed stomach cancer and died of the disease at Cowdenbeath on 10.01.1943. He was 56 years old and was buried at Coatbridge beside his wife's parents.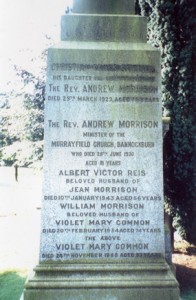 After AVR's death his widow, Jeanie, moved to No. 6 Strathfillan Road.
In 1947 Jean moved to 8 Ellastone Road, Pendleton, Salford, to be near her daughter Louise. She loved doing embroidery and working in her garden. Jean lived there until 1963, when she moved to a bungalow. Bay View, at Woolacombe, near Mortehoe, Devon, where her other daughter Rena and husband William (Bill) Charlesworth owned Rockham Bay Hotel. Soon after moving Jean died on 02.10.1963 at Barnstaple Infirmary from cancer of the Pancreas. She was 82 years of age and was cremated at Torquay. Her ashes were scattered there in the garden of remembrance.
To return to the Reis Family page click HERE.