The Pollard family connects with the Man family on the marriage of Arthur Pollard to Harietta Emma Man on14 September 1893 at Carshalton, Surrey.
Arthur was born in 1862 at Sherborne in Dorset. His father was Edwin Pollard, a watchmaker. For more details on the Pollard family please visit this website.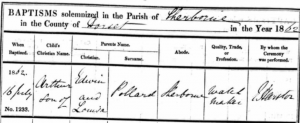 We can follow Arthur on the censuses. He is too young to appear on the 1861 census, but his family does; living at No. 11 Cheap Street, Sherborne in Dorset: and they can be viewed HERE. Arthur first appears on the 1871 census where he is at school and is listed among the students. This can be viewed HERE. Arthur can next be viewed  on the 1881 HERE, and on the 1891 HERE. Arthur and Emma appear on the 1911 Census HERE.