Randolph Schwabe was born on 9 May 1885 at Alsbach House, Barton-upon-Irwell,  Lancashire, the son of Lawrence and Octavie (Ermen) Schwabe.
His grandfather was Stephan Schwabe who in 1820 had emigrated from Germany. Randolph's mother, Octavie Henriette Ermen, was one of three members of the Ermen family to marry a Schwabe.
On 19 April 1913 Schwabe married Gwendolen Rosamund Jones (known as 'Birdie'), the daughter of Herbert and Elizabeth Jones.
Randolph and Gwendolen had one daughter, Alice.
[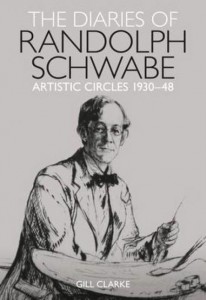 Just published for the first time –  Randolph's diaries. Schwabe's diaries offer a unique record and fascinating insight into British artistic and literary circles in the first half of the twentieth century.
Candid, witty the diaries provide much rich and new material about the practice and spirit of twentieth- century British art revealing the inter-relationships between often familiar figures in the art community and the tensions within.
Published to accompany a major exhibition Circles of Influence: British Art 1915-50: A Diarist's Perspective' at the Otter Gallery, University of Chichester (6 February 19 April 2016).]
Below, Gwendolen Rosamund Jones (known as 'Birdie), Schwabe's wife.
Schwabe was an illustrator, draughtsman, and costume designer.  He was educated at a private school at Hemel Hempstead, Herts and then at the age of only fourteen he entered the Royal College of Art, and then in 1900 he transferred to the Slade School of Fine Art, where he stayed for four and a half years.
In 1906 he travelled to Paris and studied under Jean Paul Laurens at the Academie Julian for eight months after which he travelled and worked in Italy, where he acquired a more intimate knowledge of Italian art and architecture. Because of his frail health he was not able to serve in the First World War and instead he was made an official war artist.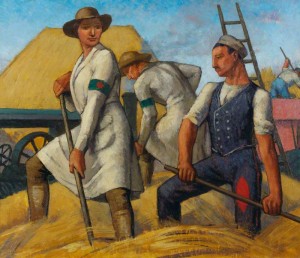 From that period the Imperial War Museum holds a number of his drawings of the Women's Land Army.
One of his earliest successes was his book 'Historic Costume' co-authored with Francis Kelly:
After the First World War he taught at the Camberwell and Westminster schools of art and he also taught drawing at the Royal College of Art. In 1930 William Rothenstein sponsored Schwabe to succeed Henry Tonks as Slade professor of fine art at University College, London, and as principal of the Slade School of Fine Art.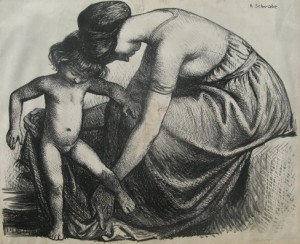 Schwabe had a bit of a stammer and it is said that when commenting on a student's work he would prefer to use a brush or pencil to illustrate his point rather than speaking. Unlike Tonk's who had been much feared by the Slade students, Schwabe was willing to listen and encourage and was much beloved by those he taught. Although he was often not in good health, he did manage the successful evacuation of the school from London to Oxford during the war, and he remained with the school until his death.

Schwabe was hardly ever seen without a brush or pencil in his hand executing some drawing or other and he is best known as an 'architectural draughtsman'. His subject matter though was quite varied and included portraits, figurative work, landscapes, still life, nature studies, book jackets and book illustrations. His drawings and watercolours are not highly imaginative but rather very accurate reflections of reality having 'exquisite detail'.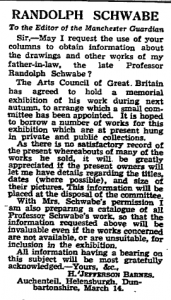 In executing his work he would begin in the middle of the canvas or paper and paint steadily out to the edges. He was a member of the New English Art Club and of the London Group and he regularly exhibited with these two groups. He was closely associated with C. W. Beaumont as publisher, for whom he illustrated several books on various subjects.
Schwabe died on 19 September 1948 at Auchenteil, 25 Suffolk Street, Helensburgh, Dunbartonshire in Scotland, the home of his daughter. He was a heavy smoker which must have exacerbated his condition leading to a heart attack.

To read an article by Schwabe on the etchings of Henry Rushbury published in the Print Collector's Quarterly click HERE <— PDF). To view Tennyson's introduction to the Randolph Schwabe Memorial Exhibition Catalogue, Click HERE (<—- PDF).
"During 1930 Randolph Schwabe became Slade Professor in succession to Tonks. I was glad to be one of his sponsors. Drawing is the tradition of the Slade School and Schwabe is a dignified and scholarly draughtsman. He has also a wide and impartial outlook on the arts, and a generous sympathy for gallant experiment as well as for disciplined achievement. So too had Allan Gwynne-Jones whom I had chosen to be professor of painting at the Royal College of Art, and who now deemed it his duty to give up his professorship that he might support his friend Schwabe at the Slade School."  From p. 154 of William Rothenstein's autobiography: Since Fifty Vol. 3 of Men and Memories 1922-1938 Recollections of William Rothenstein. Left is 'birdie' – Mrs. Randolph Schwabe – painted by Augustus John.

Randolph's wife, Gwendolen Jones, was also a student at the Slade. There she acquired the lifelong sobriquet of Birdie as she was said to have spent drawings lessons perched aloft in the studio, among the rafters, at least so family legend has it, either from shyness of her mostly male colleagues or from artistic modestly … . After she married Randolph she never draw or sketched again.
Below: this small statute by Alan Durst stands against the wall of the churchyard of St John-at-Hampstead Churchyard and is where Randolph's ashes are interred. Wrapped around the figure is a narrow banner on which is written: Randolph Schwabe in whose life we have seen excellence in beauty.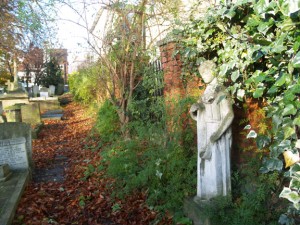 Randolph's daughter, Alice Barnes, died in November 2010 and her obituary appeared in The Glasgow Herald: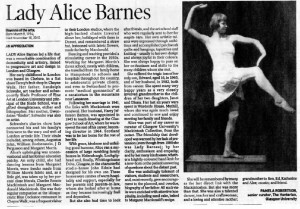 If anyone has further information on Schwabe or has drawings by him I would be interested in hearing from you. Please use the contact form at the top of this page to get in touch.