The Ermen Family unites three times with the children of Stephan and Eliza (Sykes) Schwabe:
On the marriage of Frederica Sara Schwabe to Henry Edward Ermen on 21 Oct 1868,
On the marriage of Lawrence Schwabe to Octavia Henrietta Ermen, and
On the marriage of Edward Schwabe to Julie Ermen in 1873.
Some excellent work on the Ermen family as it pertains mainly to the Manchester branch has been undertaken by Professor Harry King including three PDFs of Ermen family genealogy. The first can be viewed HERE, the second HERE, and the third HERE.
The late Godfrey Ermen was born in Holland but cannot really be said to be a Dutchman, for while he was still very young his family moved to Hachenburg Nassau in what is now West Germany, where he grew up and received his education. About 1835, he came to England to join his older brothers Peter and Anthony who had a small cotton doubling mill in Blackfriars, Manchester.
Godfrey quickly settled in and showed himself to be an energetic, tough, and shrewd businessman. Soon afterwards the Ermen Brothers took into partnership a successful German cotton manufacturer called Frederick Engels, the firm continued to expand and prosper, building mills at Weaste and Eccles, trading under the name of Ermen & Engels.
The eldest of the Ermen brothers, Peter, retired in 1851 and as Anthony had returned to Germany to look after the firm's interests there, Godfrey took charge of the business and ran it very successfully. He also invented and patented a number of improved methods of cotton processing, but he was farsighted and shrewd enough to retain the right to earn royalties on them, becoming thereby quite a wealthy man, apart from his interest in the firm.
Frederick Engels died in 1860 and his son, Frederick Engels, junior, who had been employed by the firm for some years, became a partner. It was not a happy partnership however. Engels Junior was more interested in politics than business. He was a great friend of Karl Marx whom he financed during the writing of the book 'DAS KAPITAL'. It is perhaps interesting to note here that, although they probably didn't know it, the employees of Ermen & Engels were helping to finance early communism through Engels junior's association with it.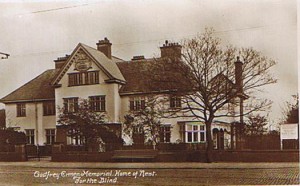 The uneasy partnership of Ermen & Engels came to an end in 1869 and Godfrey Ermen seems to have driven a hard bargain for he bought out Engels' share for a paltry sum. H.J. Roby became a partner in 1875 and the firm then became known as Ermen & Roby.
Godfrey Ermen retired to live in Devon in 1877 at the age of 65, still full of energy, and one wonders what he did in the 22 years before he died, there is no record of him having taken part in any business enterprises, but he did own three farms and other land as well as a large house and estate called 'Derncleugh' at the time of his death in 1899. He never married – and so had no direct heirs, but the Ermen family at that time was a very large one and he seems to have kept a record of them all, for in his will, a lengthy document of 28 pages, he made provision for over 50 of his relatives. He also made many other bequests (the Vicar of Barton, the Rev. A. E. Francis, would have received £500, but he unfortunately predeceased Godfrey Ermen by a few months).
The will appointed Frank Ermen and Arthur Godfrey Roby as the Trustees of the estate, and instructed them to dispose of the residue (about £200,000) within ten years of his death for, among other things, "the benefit of any charitable philanthropic literary or educational institution . . . or in the formation and maintenance of hospitals, libraries, baths, wash-houses, model cottages, and generally in support of any object which may seem worthy of encouragement and assistance."
The firm of Ermen & Roby was bought out by the English Sewing Cotton Company in 1897 for about £300,000 but continued to trade under the name of Ermen & Roby. At that time it had mills at Patricroft and Pendlebury employing about 1,200 workpeople. During the cotton trade recession of the 1930s the Patricroft mill was slowly run down and finally closed in about 1945. The Pendlebury mill is still active but trades under another name.