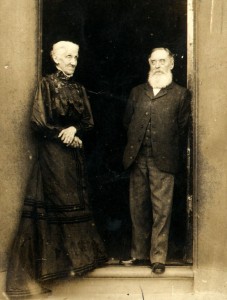 Frederica Sara Schwabe was born in 1834, the daughter of Stephan and Eliza (Sykes) Schwabe. She married Henry Edward Ermen on 21 October 1868 at the Strangeways Unitarian church. Frederica died on 27 February 1919. Henry was born on 20 June 1833 in Hachenberg and died on 23 September 1913 in Pendleton, Lancashire.
The Children of Frederica and Henry Ermen are:
BERNARD GEOFFREY ERMEN, b. 1869; d. 20 Jul 1917, Buxton, Lancashire.
PETER STEPHEN ERMEN, b. 1870; d. 09 Jan 1941, Alderly Edge.
GEORGE ERMEN, b. 1871; d. 1945; m. CARRIE JACKSON.
CHARLES FRANCIS ERMEN, b. 1874; d. 1947, West Didsbury.
ROSE FREDERICA ERMEN, b. 1875; d. 22 Mar 1947, London.
Henry Edward Ermen was the son of Franciscus Bernardus Ermen and Augusta Bohle. He joined the family business "Ermen & Engels" (at age 17) in 1850 at the same time that Friedrich Engels Jr. did. Godfrey Ermen (b. 1812) controlled the firm from this time, then bought the mill at Pendlebury for "Ermen Brothers" and had Henry Edward manage it. This is a picture of Henry Edward in 1908 (at age 75), together with his wife Frederica (nee Schwabe).