Thomas Adolphus Falcon was born on 24 July 1872 in Pudsey, near Leeds. The son of Thomas Falcon, Member Royal College of Surgeons, later of Bowdon, Cheshire. He studied at Manchester Grammar School; Trinity College, Cambridge (Classical Tripos, 1893; Mediaeval and Modern Language Tripos, 1894); Master of Arts.
He married Julie Alice Schwabe on 13 March 1901.
She was the daughter of Edward and Julie (Ermen) Schwabe. They had three children:
Kenneth Ian (1902 – 1921)
Norman Leslie (1904 – 1996)
Elsie Falcon (1905 – ?     )
Thomas was a painter, silversmith and author. The paintings shown below formed a series of six that were painted as decorative panels for the small drawing room at Sharlands House, Braunton, which was built by Godfrey Albert Edward Schwabe (Thomas's brother-in-law) for Dr Elliston Wright (a relative by marriage to G.A.E. Schwabe).
Braunton overlooks Barnstaple Bay and Appledore is on the other side of the Taw estuary. The work is interesting both as a record of the layout of this fishing and ship-building village, and also as an early example of Braunton's inspirational role for artists 100 years ago.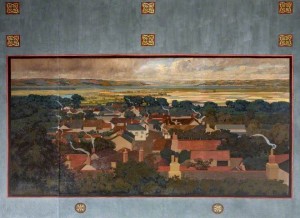 Thomas also published in 1900 'Dartmoor Illustrated' a book consisting of one hundred full page plates of its scenery and antiquities with some short topographical notes. The edition was printed for sale and limited to 125 large paper copies. In 1902 he wrote 'Pictorial Dartmoor' which the trade magazine 'The Bookseller' described as – "a portfolio of fifty-four photographs of views of Exeter, Chagford, Dartmoor, and of the principal features of interest to visitors who intend making a trip in sunny Devonshire."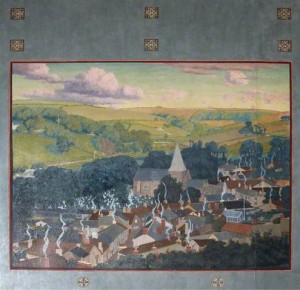 Also in 1902 he provided the photographs that were used to illustrate the book 'The Ancient Stone Crosses of Dartmoor and its Borderland' . This 250 page book can be read HERE  in PDF. TAF's son Norman Leslie Falcon (1904-1996) was a geologist and his biography can be found on the Dictionary of National Biography.
So far the precise connection between F.R. Elliston-Wright and the Schwabes is unclear although he may have married a sister of Katherine Harper who married Godfrey Schwabe the brother of Julie Falcon. The image below shows Elliston-Wright and is described as follows:
On far left Mrs H. Incledon-Webber, gentleman in centre holding hat in his left hand is Captain W.B. Incledon-Webber and the man seated to the right is Dr. F.R. Elliston-Wright.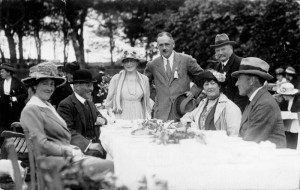 Below the 1911 Census: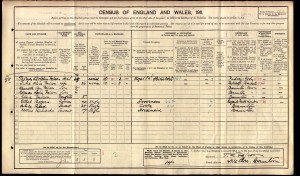 Norman Leslie Falcon had a successful career as a geologist and his obituary in Biographical Memoirs of Fellows of the Royal Society, Vol. 44. (Nov., 1998), pp. 160-174, can be read HERE.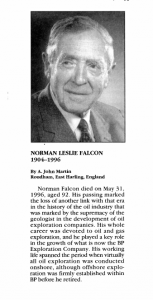 Below are the probate records for Thomas Falcon, Surgeon  and Thomas's wife Dorothee Caroline Falcon; being the parents of Thomas Adolphus Falcon: