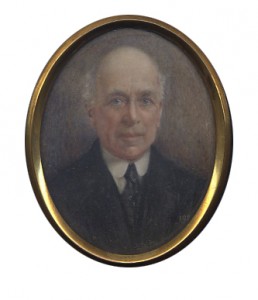 Henry Thackeray Schwabe was born in 1865, the son of Louis and Blanche (Hartwright) Schwabe.
He married Gertrude Whiteside Cook on 5 July 1894 in St Mary Abbot Church, Kensington, London.

Henry died on 24 October 1950 at The Grove, Ashbourne, Derbyshire.
Gertrude was the daughter of Harry Cook and Millicent Hamilton Johnson and was born in Essex, and died on 16 September 1938 at The Grove, Ashbourne.
Gentlewoman – Saturday 21 July 1894
Mr. H. T. Schwabe to Miss G. Whiteside Cook. A pretty wedding took place in St. Abbotts, Kensington, on the afternoon of July 5, the bridegroom being Mr. Henry Thackeray Schwabe, eldest son of Mr. Louis Schwabe, of Hart Hill, Manchester, and the bride Miss Gertrude Whiteside Cook, only child of the late Mr. H. Whiteside Cook, and niece of General Sir Allen and Miss Johnson, of 60, Lexham-gardens, South Kensington. The service was choral, the Rev. Canon Erskine Clarke, vicar of Battersea, officiating, assisted by the Rev. and Hon. E. C. Glyn, vicar of Kensington, and the Rev. W. B. F. Blunt. The bride was given away by her uncle, Sir Allen Johnson. She looked charming in a unique dress sent from Japan of silky crape, with train from the shoulders of ivory white satin trimmer' with lace and real orange blossoms. Her veil was of Limerick lace, the gift of her uncle, and she bad a beautiful shower bouquet presented by the bridegroom. There were six bridesmaids—Miss Schwabe (sister of the bridegroom), Miss Edith Hordern, Miss J. Strachey, Miss Walpole, Miss Elsie Grant, and Dorothy Shakespeare, cousin of the bride. It was quite a "white" wedding, as their dresses were white China silk trimmed with moire antique, and their hats white chiffon trimmed to match. They wore also pearl crescent brooches, the gift of the bridegroom, and carried bouquets also given by him. The latter were composed of deep red roses. Master Henry A. Beaumont Johnson, cousin of the bride, attended as page, and Mr. L. Gustave Schwab., brother of the bridegroom, as best man. The honeymoon is to be spent at Brook, Essex, the residence of the bride. Her going-away dress was a blue serge trimmed with moiré antique to match, and having a front of cream silk crepon; hat to match.
The children of Henry and Gertrude are:
VIOLET MILLICENT BLANCHE born on 2 April 1895, at Brook Standon, Brentwood and died on 21 April 1918 at Beesthorpe Hall, Caunton, Newark-on-Trent;
HUBERT BASIL, born on 21 July 1903 and died in 1993;
JOCELYN, born on 30 November 1904 and died in 1983; and
ENID MARGERY THACKERAY, born in 1905 and died on 8 July 1915, at Beesthorpe Hall, Newark-on-Trent.
Below the 1901 census. The family is residing at Upwoods House which is shown below the census record.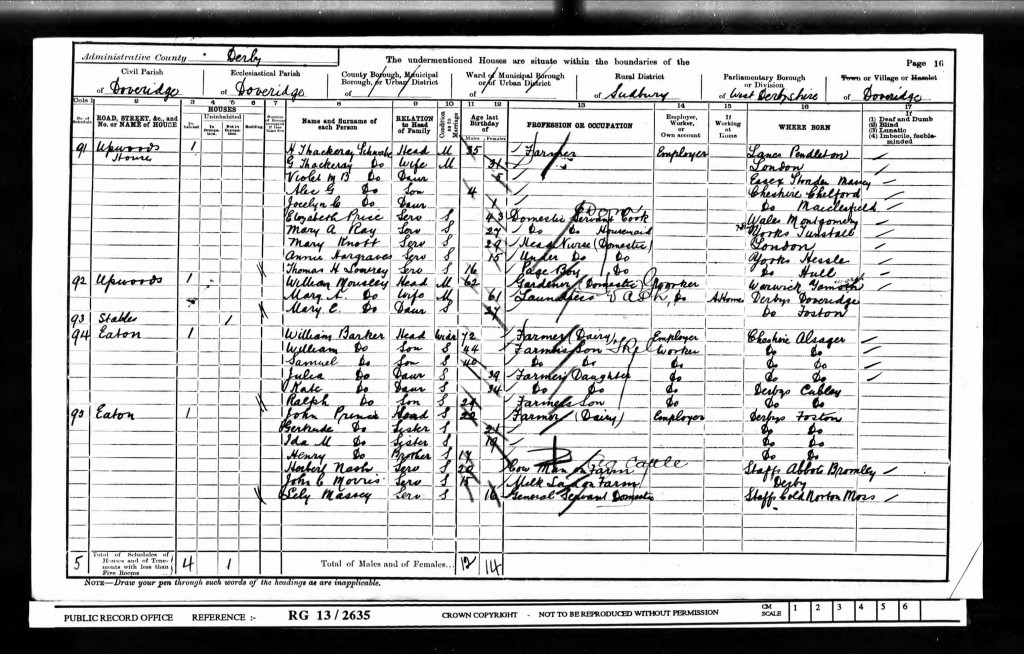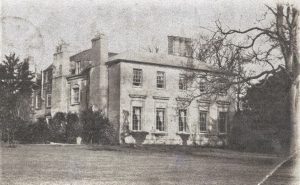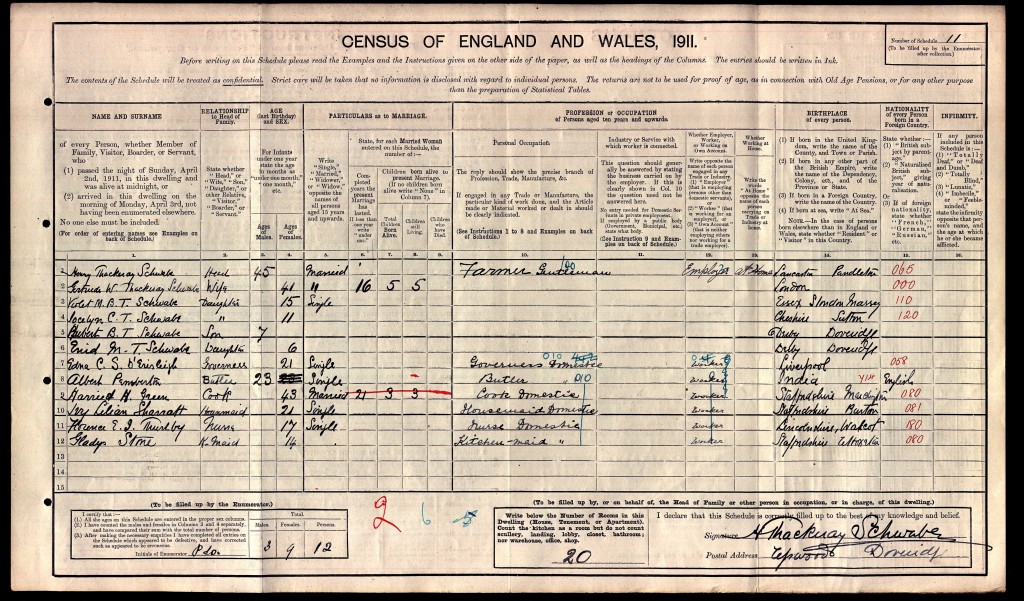 Ashbourne Telegraph – Friday 03 November 1950
THE LATE MR. H. THACKERAY SCHWABE. At the Derbyshire Quarter Sessions at. Derby on Monday, the chairman, Mr. P. L. Sandlands, K.C. paid tribute to the Magisterial work of Mr. Henry Thackeray Schwabe, who died in Ashbourne last week at, the age of 85. Mr. Sandlands said that. Mr. Schwabe was a man of great truth and clarity of mind. He had done great public service to his County. On behalf of members of the bar, Mr. Nigel Robinson associated himself with the chairman's remarks.
Ashbourne Telegraph – Friday 16 March 1951
MONDAY NEXT MARCH 19th. By Direction of of H. Thackeray Schwabe, deceased. THE GROVE HALL ASHBOURNE. A Portion of the VALUABLE ANTIQUE & MODERN FURNITURE, including an important Chippendale Mahogany Bookcase; Mahogany inlaid Bonheur de Jour Sheraton Satinwood and painted China Cabinet; Louis XVI. Kingwood Commode; Chinese lacquered Cabinet; Amboyna wood French Liqueur Cabinet, etc. ENGLISH, CONTINENTAL & ORIENTAL PORCELAIN AND CHINA. CARVED IVORY. Some 250-ozs. SILVER. CHINESE EMBROIDERY (20 lots). On view Saturday, March 17th, from 10.30 am. to 4 p.m. Catalogues (1/- each), from the Auctioneers. The Sale will be held in a Marquee. Sale at 11-30 prompt.
Some Schwabe probate records:
Gertrude Whiteside Schwabe

Enid Margery Thackeray Schwabe

Violet Millicent Blanche Thackeray Schwabe:

Henry Thackeray Schwabe: