Arthur Green Schwabe was born in 1873 and baptised on 6 April of that year, the son of Henry Albert and Eleanor (Burdett) Schwabe.

Arthur must have married although we have not located a registry yet.
He can be found  on the 1911 census staying at his cousin Clifford Schwabe's farm.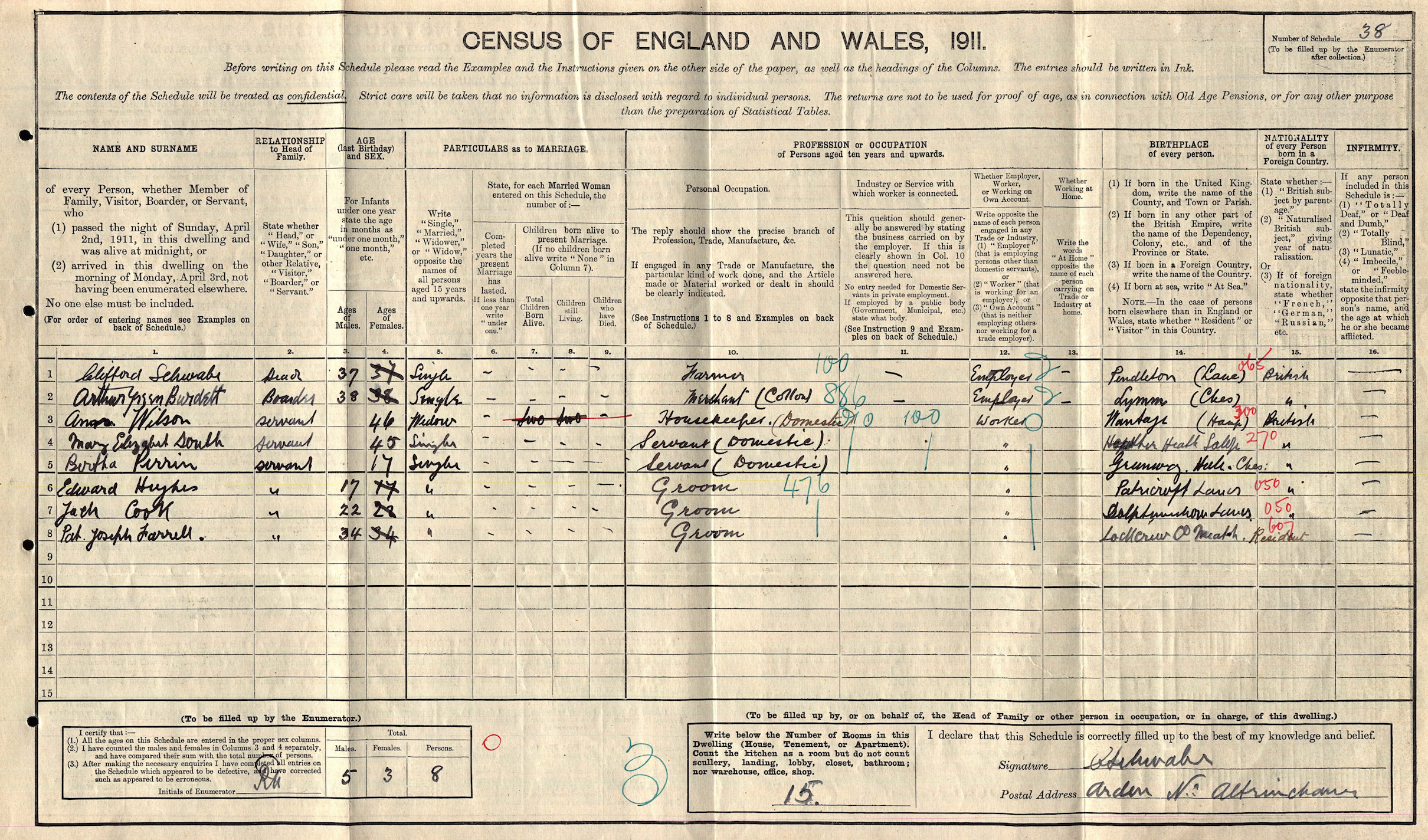 NAME CHANGES. Two of Henry's sons Arthur Green and Herbert Priestly changed their names from Schwabe to Burdett:
I, Arthur Green Burdett, heretofore called and known by the name of ARTHUR GREEN SCHWABE, of Grotto House, Over Peever, in the County of Chester, Merchant, hereby give public notice, that on the 25th day of April, 1907, I formally and absolutely renounced, relinquished and abandoned the use of my said surname of Schwabe, and then assumed and adopted and determined henceforth on all occasions to use and subscribe the NAME of BURDETT; instead of the said name of Schwabe; and I give further notice, that by deed poll, dated the 25th day of April 1907, duly executed and attested, and enrolled in the Central Office of the Supreme Court, on the 1st day of May, 1907, I formally and absolutely renounced and abandoned the said surname of Schwabe, and declared that I had assumed and adopted and intended thenceforth upon all occasions whatsoever to use and subscribe the name Arthur Green Burdett, instead of Arthur Green Schwabe and so as to be at all times thereafter called, known, and described by the name of Arthur Green Burdett exclusively.
Dated the 2nd day of May, 1907.
Arthur Green BURDETT, late Arthur Green Schwabe
 Like his brother Cecil, Arthur committed suicide by blowing out his brains with a gun.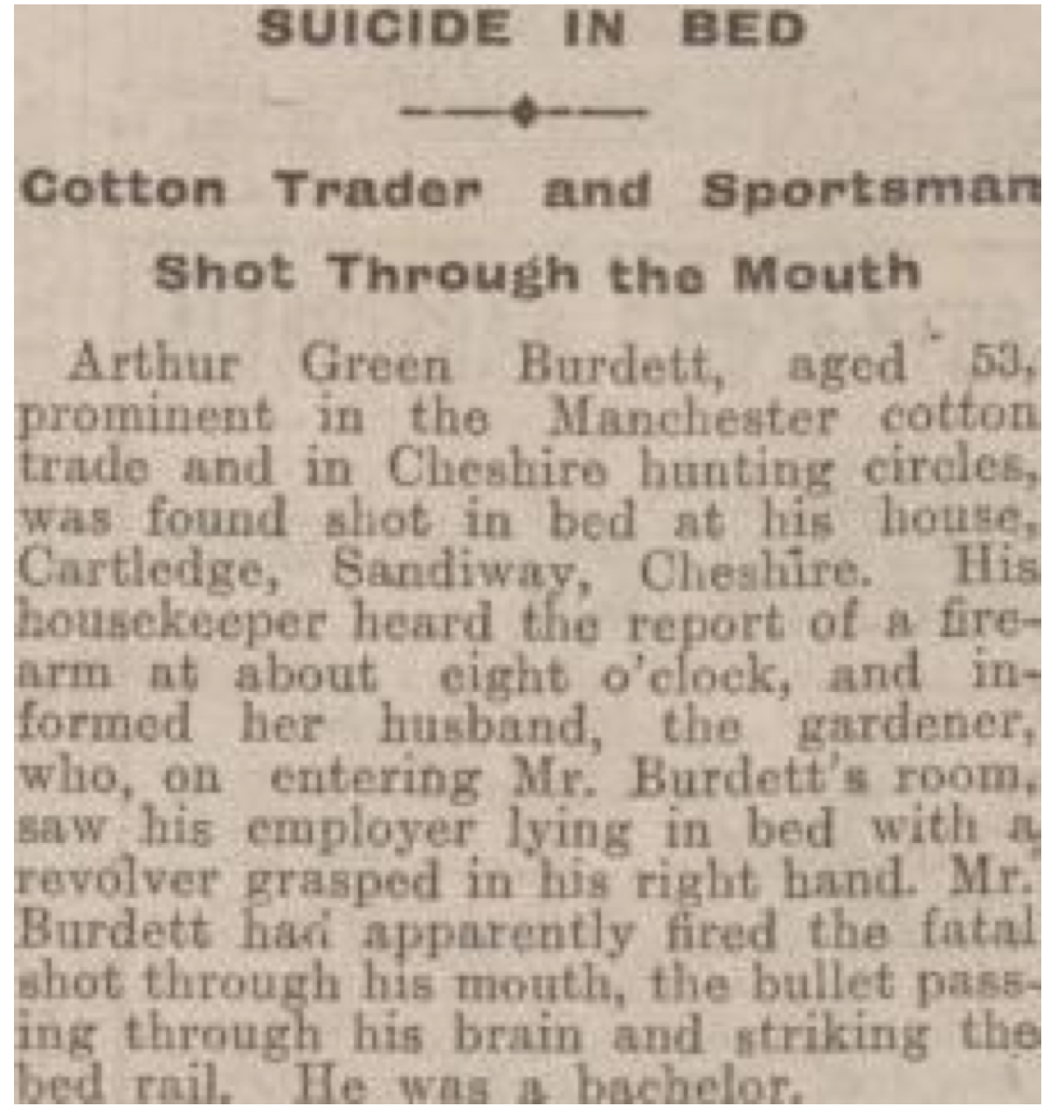 The claim that Arthur was a bachelor in the above article is contradicted by the Manchester Guardian's report on the inquest that refers to Arthur's son in law (below).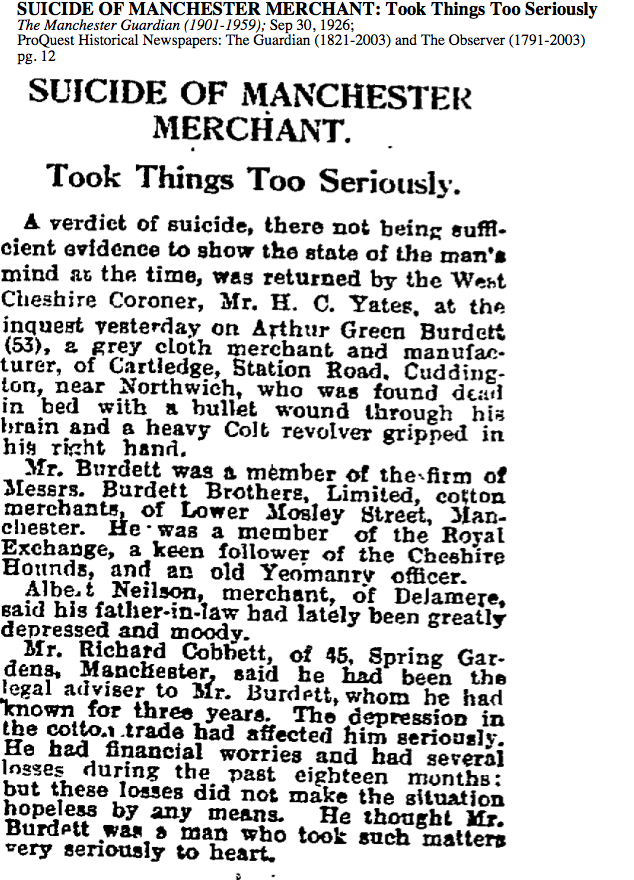 Manchester Guardian 30 September 1926
His probate record:

Also, a web site devoted to memorializing those killed during World War Two refers to an Arthur Patrick Burdett who was an RAF pilot and whose father is identified as Arthur Green Burdett.
A record of Arthur's birth dated 1914 at Buxton in Derbyshire has been found.
In 1942 a detachment of 76 Squadron began to fly out of Northern Scotland at RAF Station Tain to attack German positions in Tirpitz in the Trondeheim area of Norway. Their mission was to bomb targets of industrial centres, railways, gun emplayement, oil and petrolium installations.
Halifax bomber #R9435 MP-K took off from Royal Air Force Station Tain at 18:32 on the evening of March 30, 1942, as part of a night attack on the Tirpitz, where they encountered heavy fighter and anti-aircraft fire and suffered losses. R9453 was last heard on w/t at 02:15 on 31 March 1942 on its return flight to Scotland. It was presumed to have crashed in the sea, roughly 16 miles South of Sumburgh Head in the Shetland Isles. The members of the crew included: 78272 Squadron Leader (Pilot) Arthur Patrick Burdett. Son of Arthur Green Burdett and Jean Burdett; husband of Clare Burdett, of Haverstock Hill, London. Below Patrick's grave.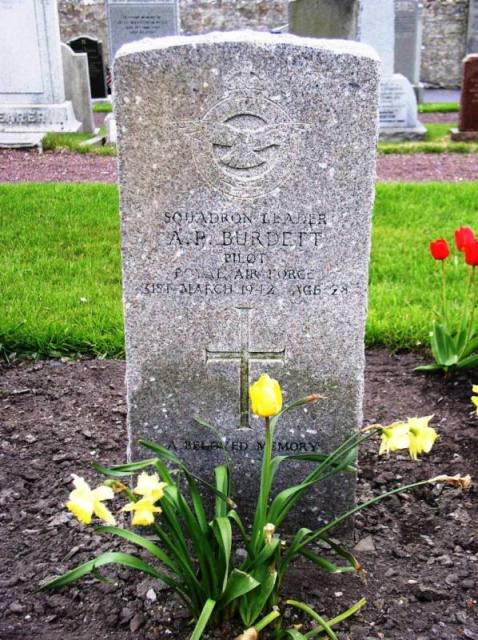 Terrace 7B. Grave 6. Lerwick New Cemetery, Scotland
Patrick married Claire Stuart Brown. She was born on 23 November 1907, the daughter of Henry James Stuart Brown.  Patrick's probate record is below:

After Patrick's death Claire married Ernest Vivian Ritson. However Ritson was killed in action 

and was buried at the Arnhem Oosterbeek War Cemetery [6.D.18].
Claire's father Henry James Stuart Brown was a renowned etcher and a summary of his work was published in the Print Collectors Quarterly that can be read HERE <—-
Below from The Daily Telegraph April 2010:
Claire Courtier, wife of the late Major E.V. Ritson, passed peacefully away on April 10th, aged 97 years, of Bude, Cornwall. Any inquiries to The Arthur W. Bryant Funeral Service. Tel. 01288 352282.