Gustav(e) Wilhelm Wolff was born in Hamburg on 10 October 1834, the son of Moritz Wolff and Fanny Maria Schwabe. Gustav Wolff died on 17 April 1913 at 42 Park Street, London and was buried at the Brompton Cemetery. He did not marry.
He founded the shipbuilding company Harland and Wolff from which he retired on 30 June 1906.  He was the conservative MP for Belfast and received the freedom of that city on 18 February 1911.
Clara May's diary notes that he died at 2.00 AM on 17 April 1913, two days and one year after the sinking of the Titanic.
There are a few sources of information that discuss Gustav Wolff.  One is Jefferson's book 'Viscount Pirrie' and another 'Shipbuilders to the World: 125 years of Harland and Wolff, Belfast 1861-1986′ by Michael Moss and John R. Hume published in 1986.  These links lead to both sources in PDF.
You can read a summary of Wolff's will prepared by the Northern Ireland Public Records Office below.  Among the recipients of the will was Aileen Smiles who is the granddaughter of the Victorian writer Samuel Smiles whose book 'Self-help' had a quite profound impact during the nineteenth century.  A friendship arose between Wolff and the Smiles family which can be gathered from Aileen's biography of her grandfather published in 1956: 'Samuel Smiles and his surroundings'.
Gustav Wolff was also one of the founders, owners, and directors of the largest rope-works in the world located in Belfast, and so too was Aileen's father, Willy Smiles.  What makes Aileen's book interesting from a Wolff/Schwabe perspective is that it is (so far) the only source that gives a 'description' of Fanny Schwabe and Moritz Wolff, albeit extremely fleeting, as follows:
"They (Mr. and Mrs. Samuel Smiles) usually stayed on the Continent for three months and when there would meet their friends and neighbors.  It was almost as good as being at home. Gustave Wolff with his father and mother, "good kindly folk" … " (p. 158).
The book makes some further very brief mentions of Wolff.  It is interesting that rope should have been one of Wolff's interests. Hamburg was one of the leading rope making centers of Europe and the fact that Wolff established a rope works in Belfast suggests the possibility that the Wolff family may well have had an interest in that industry in Hamburg.  More research is needed here.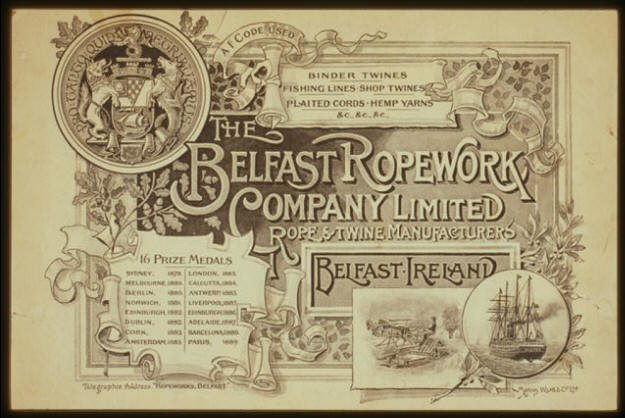 Also Samuel Smiles' book 'Men of Industry' has a chapter by Edward Harland in which Harland recalls his association with Wolff, this can be accessed below.
MEN OF INVENTION AND INDUSTRY by Samuel Smiles
CHAPTER XI: Shipbuilding in Belfast
By Sir E. J. Harland, Engineer and Shipbuilder
Most discussions of the development of Harland and Wolff rely heavily on the account given by Sir Edward Harland and which appeared in Samuel Smiles' 'Men of Industry' book. The following passage is extracted from the Introduction.
In Plutarch's Lives, we are told that Themistocles said on one occasion, "'Tis true that I have never learned how to tune a harp, or play upon a lute, but I know how to raise a small and inconsiderable city to glory and greatness."  So might it be said of Harland and Wolff. They have given Belfast not only a potency for good, but a world-wide reputation. Their energies overflow.
Mr. Harland is the active and ever-prudent Chairman of the most important of the local boards, the Harbour Trust of Belfast, and exerts himself to promote the extension of the harbour facilities of the port as if the benefits were to be exclusively his own; while Mr. Wolff is the Chairman of one of the latest born industries of the place, the Belfast Rope-work Company, which already gives employment to over 600 persons.
The following is extracted from the Chapter by Edward Harland.
After three years thus engaged, I resolved to start somewhere as a shipbuilder on my own account. I made inquiries at Garston, Birkenhead, and other places. When Mr. Hickson heard of my intentions, he said he had no wish to carry on the concern  after I left, and made a satisfactory proposal for the sale to me of his holding of the Queen's Island Yard. So I agreed to the proposed arrangement. The transfer and the purchase were soon completed, through the kind assistance of my old and esteemed friend Mr. G. G. Schwabe, of Liverpool; whose nephew, Mr. G. W. Wolff, had been with me for a few months as my private assistant.
It was necessary, however, before commencing for myself, that I should assist Mr. Hickson in finishing off the remaining vessels in hand, as well as to look out for orders on my own account. Fortunately, I had not long to wait; for it had so happened that my introduction to the Messrs. Thomson of Glasgow had been made through the instrumentality of my good friend Mr. Schwabe, who induced Mr. James Bibby (of J. Bibby, Sons & Co., Liverpool) to furnish me with the necessary letter. While in Glasgow, I had endeavoured to assist the Messrs. Bibby in the purchase of a steamer;  so I was now intrusted by them with the building of three screw steamers the Venetian, Sicilian, and Syrian, each 270 feet long, by 34 feet beam, and 22 feet 9 inches hold; and contracted with Macnab and Co., Greenock, to supply the requisite steam-engines.
This was considered a large order in those days. It required many additions to the machinery, plant, and tools of the yard. I invited Mr. Wolff, then away in the Mediterranean as engineer of a steamer, to return and take charge of the drawing office. Mr. Wolff had served his apprenticeship with Messrs. Joseph Whitworth and Co., of Manchester, and was a most able man, thoroughly competent for the work. Everything went on prosperously; and, in the midst of all my engagements, I found time to woo and win the hand of Miss Rosa Wann, of Vermont, Belfast, to whom I was married on the 26th of January, 1860, and by her great energy, soundness of judgment, and cleverness in organization, I was soon relieved from all sources of care and anxiety, excepting those connected with business.
The steamers were completed in the course of the following year, doubtless to the satisfaction of the owners, for their delivery was immediately followed by an order for two larger vessels. As I required frequently to go from home, and as the works must carefully attended to during my absence, on the 1st of January, 1862, I took Mr. Wolff in as a partner; and the firm has since continued under the name of Harland and Wolff. I may here add that I have throughout received the most able advice and assistance from my excellent friend and partner, and that we have together been enabled to found an entirely new branch of industry in Belfast.
[Another fifteen or so pages continue the story of the founding and development of the firm Harland and Wolff. ]
Below is Wolff's obituary from the Times, photographs of his grave, and the exterior of his home on Park Street, etc.
The Will of Gustav Wolff
Public Record Office, Kew (England) ref: FO917/1624 (document no.204)
(This is amongst wills which are in the possession of the British Foreign Office because individuals have died abroad, or for other reasons. This is a copy of the will; although Wolff died in England, he held property in Shanghai in China!)
Death of Gustav Wolff 17 April 1913. Probate of will granted 8 May 1913. This copy is presented in His Britannic Majesty's Supreme Court for China at Shanghai.
Wolff lived at The Den, Strandtown, Belfast and 42 Park Street, London (West). He died at the latter residence on 17 April 1913. One of the trustees of the will was his nephew: Frederick Albert Wolff May (of 38 Leadenhall Street, London). Gustav Wolff left 12,000 pounds to F A W May and to William Harland (a son of the Rev Albert Harland – who, I think, was a brother of Sir Edward Harland) to be invested. The income from this investment was to be paid to another of Wolff's nephews: Sydney E May (See May children below). Various sums were also left to others:
8000 pounds to Franz Wolff, the son of Gustav's brother, Richard Wolff. 15,000 pounds for his nephew, Gustav Wolff, son of his late brother, George M. Otto Wolff.
400 pounds to William Bailey, a clerk at Harland & Wolff (I think he is the son of John Bailey, who had been the chief book-keeper at H&W from the early days and was a very close friend of both men. John Bailey died in 1901).
200 pounds each to Aileen and Norah Smiles, daughters of Wolff's friend William Holmes Smiles. (The Smiles family lived about half-a mile from The Den at Westbank in Palmerston Road, Strandtown, Belfast. W H Smiles had founded the Belfast Ropework Company with Wolff in 1875; it became the largest in the world).
200 pounds to Letitia and Edith Walkington (daughters of the late T R Walkington; (I do not know anything about this family).
400 pounds to John McCandless of the Belfast Ropework Company;
400 pounds to William Harland (son of Rev Albert Harland);
The children of his sister Ida Marie (Wolff) May:
8,000 pounds to Gustav May; 1,000 pounds to Frank May; 12,000 pounds to be invested for Sydney E. May and his wife (as he has children); 5,000 pounds to Evelyn May [Effie Schwabe]; 12,000 pounds to be invested for Florence May [Dolly Pocock]; 11,000 pounds to be invested for Alice May; 8,000 pounds for Ella May [Eleanor Ida Loeck].
He left his niece Clara Fanny May (sister of F A W May) his possessions, in addition to other financial benefits. He was residing at 42 Park Street with Clara Fanny May at the time of his death.
Gustav Wolff also held property called Cadastral Lot no.29, situated in Nanking Road, Central District of Shanghai.
************************************
Gustav Wolff was born 1834 in Hamburg, son of Moritz Wolff and Fanny Schwabe. Came to England to learn the trade. He was made Harland's partner in 1862 (p.54). In 1892 became Conservative Member of Parliament for East Belfast – was unopposed at 5 subsequent elections (p.55). Retired from Parliament in 1910 (p.56). He was given the Freedom of the City of Belfast as result of his interest in its welfare "and his noble benefactions to her charitable institutions" (p.56), 1911.
Wolff liked East Belfast, and lived at The Den, Station Road, Belfast (p.59). Laconic and good humoured. When asked to make a speech on board a trial trip for a steamer, he said: "Sir Edward Harland builds the ships for our firm; Mr Pirrie makes the speeches, and as for me I smoke cigars for thefirm" – and promptly sat down (p.59).
Kind-hearted, charitable, a good friend – also an able financier and fully qualified engineer (p.60).
***********
Public Record Office of Northern Ireland (PRONI) ref: D3437/B/3B
The East Belfast electors held a meeting (perhaps 1892) to select a new MP. The meeting was held at Connswater (i.e probably the Ropeworks factory), and consisted of many Ropeworks' employees.
The Chairman of the meeting, James McNaught, said "that the meeting was convened for the purpose of testing the feelings of the working men on the question of the future representation of East Belfast. They knew that Mr Wolff and his partner, Sir Edward Harland, had been the making of that district. 36 years ago Ballymacarrett was a wilderness; now it was a large and populous district of the city, inhabited by industrious, loyal and contented people, and this great change had been brought about by the enterprise of Mr Wolff and his partner".
Wolff was a charitable man who, six years earlier, had given a substantial donation to a fund for the relief of the poor and distressed in the district.
An additional speaker said that Wolff was a friend of the working man, benevolent and charitable, and "no place hunter".

***********
Obituary in Belfast News Letter (probably 18 April 1913)
Had died at London residence: 42 Park Street. He had been suffering from a serious internal complaint for some time. Characterised by perseverance and determination. Left Germany at age of 14 to study engineering at Liverpool College. First apprenticed to Joseph Whitworth & Co, Manchester (tools and machinery) – selected to represent them at the Paris Exhibition, 1855. Then employed as draughtsman at Goodfellow & Co in Hyde (Manchester). Then came to Belfast, becoming assistant to Harland at Hickson's yard: "Mr Wolff's practical experience and shrewd common sense were an immense asset to the firm (of H&W), and in the promotion of its interests he never spared himself". Also founded Belfast Ropework Co in mid-1870s. Member of Belfast Harbour Board from 1887 to 1893. Very modest, but upright and kind. Made a Freeman of Belfast on 20 April 1911. Main hobbies were shooting and fishing. Buried at Brompton Cemetery in London.