Clara Mathilda Wolff was born in 1848, the daughter of Moritz Wolff and Fanny Maria Schwabe.
She died aged 47 years in London on 25 March 1896 and is buried at the Brompton Cemetery.
She married Frederick Albert May in 1872, half brother of her sister Ida's husband Thomas May (see May Family page).  Frederick was born in 1842 and died 16 June 1908 in Parkstone, Dorset.  After Clara died he later remarried.
Clara and Frederick had twins:
Clara Fanny
Frederick Wolff
They were born on 10 October 1872, Hamburg, Germany.
Clara's sister Ida married Thomas May and the only living descendants of both the Wolff and May families are through Ida. However this claim is questionable.
The family appears on the 1881 Census at The Birches, Lawrie Park Gardens, Lewisham, London. Searches of the 1891 census have produced no results. Clara Mathilda (Wolff) May passes away at 10 The Boltons, West Brompton, on 25th March 1896 aged only 47 years. She is buried in Brompton Cemetery, London.

In 1901 the widowed Frederick is living at 10 The Boltons, Kensington London along with Frederick Jr, who is now a steamship manager with his uncle Gustav Wilhelm Wolff's shipbuilding company Harland and Wolff and his sister Clara. In 1903 Frederick Snr marries Louise Spencer Smith, however five years later in 1908 Frederick Snr dies of typhoid fever and heart disease at Poole in Dorest.
Below, Frederick's probate record:

CLARA FANNY MAY (1872 – 1948)
Clara May was the daughter of Clara Wolff and Frederick May. Known as 'Aunty May' or 'Toots'. She never married. She spent most of her early life as 'housekeeper' for her uncle Gustav Wilhelm Wolff.
She had a series of terriers. One called 'Twinky'  lent its name to a family expression 'Wait Twinky wait' which meant 'be patient'.
Once on a birthday her uncle Gustav gave her a string of pearls (see picture left) that were as long as she was tall which she wasn't very.  She had a Rolls and a Lancaster and lived in London and then Oxshott.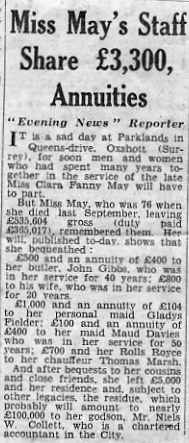 FREDERICK (Freddie) WOLFF MAY
Although Frederick married he had no children of his own although he appears to have adopted his wife's son.
AUGUSTA MARIA MAY.
Augusta was the sister of Thomas Albert May and the aunt of Clara and Freddie. Their father was John May and mother Phillis Eliza.  Augusta has been found on the 1911 census living on her own means: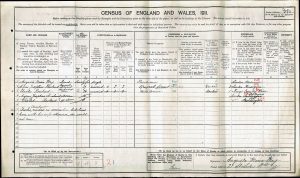 She died a spinster on 24th January 1915 and her nephew Frederick was her executor: