The Wolff family appears here on the Man family web site as a result of a series of marriages. First Ida Marie Wolff, the daughter of Moritz Wolff and Fanny Maria Schwabe, married Thomas May. Next, their daughter Eleanor Ida May married Otto Loeck. Next, their daughter Nora Loeck married Harry Morgan Stoe Man.
Moritz Wolff was a successful Hamburg merchant who, like his wife's family the Schwabes, had converted to Christianity early in the Nineteenth century. He married Fanny Maria Schwabe in the early 1830's and they had the following children:
ALICE
HELENE
RICHARD
IDA MARIE who married Thomas May (<— as far as we know, Ida is the only ancestor with descendants alive today on this branch).
GEORGE MORITZ OTTO (see also son Gustav Otto).
NOTES: Information on the children of Moritz and Fanny(Schwabe)  Wolff is scarce. Clara, Ida, and Gustav are chronicled on this web site and so too is George M. Otto's son Gustav Wolff. Neither Alice nor Helen married. I have in my possession a small hand painted plate with Alice Wolff's name on the back. Richard married Amanda Koeplin and they had one child Franz Wolff. Ida Wolff and Clara Wolff married half brothers, Thomas and Frederick May.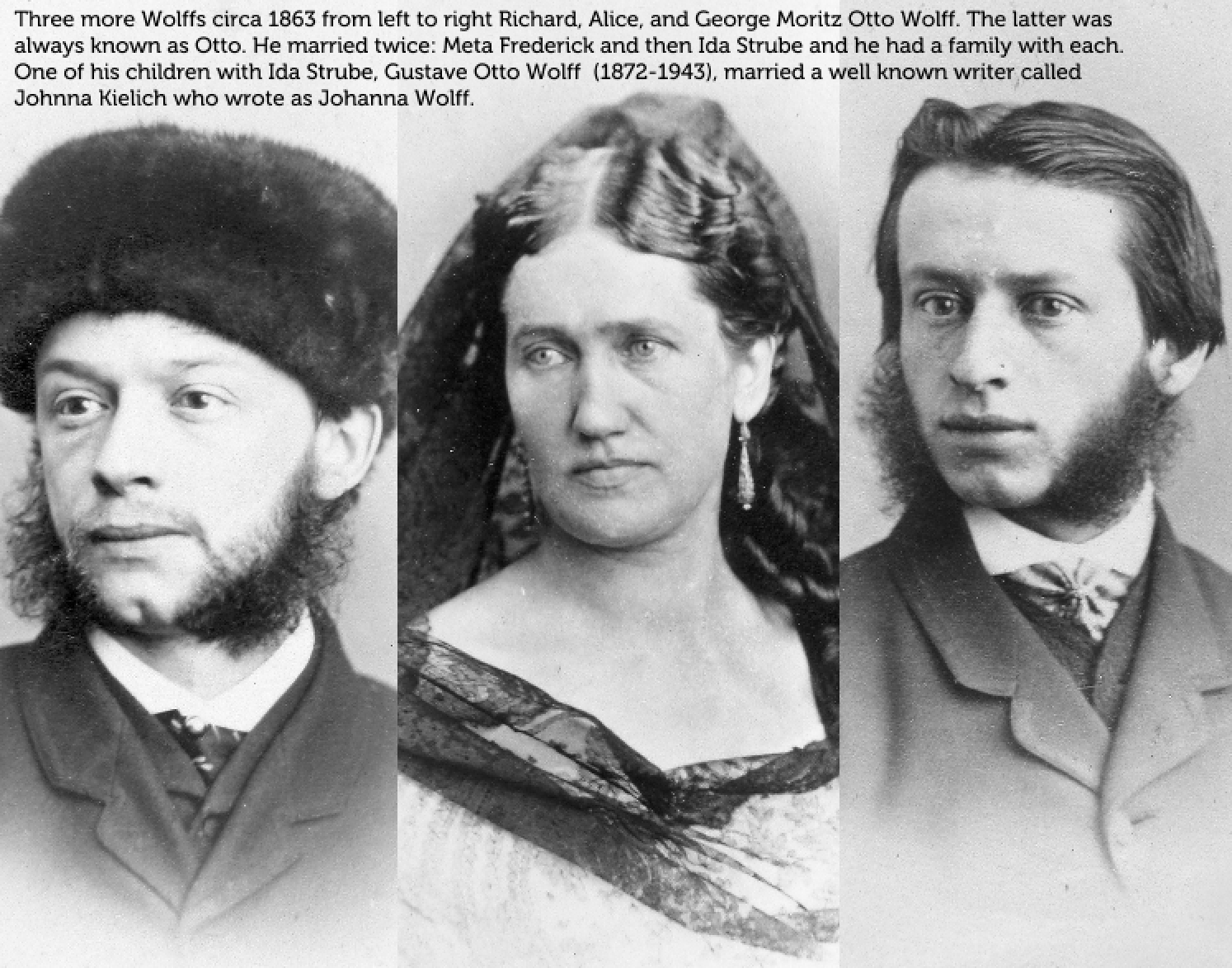 The picture below shows the Wolff home taken probably around the late 1840's early 1850's. The house was situated at the very end of the Alte Rabenstrasse in Hamburg, Germany (at the corner of Alte Rabenstrasse and Baderstrasse). The house no longer exists.
Below, Moritz Wolff with is daughter Ida.