The Clarkson family page appears here on the Man family web site as a result of the marriage between Amy Frances Clarkson to Thomas Nelson Holberton on 9 November 1878 at Bombay Cathedral, India. Thomas and Amy were the parents of Beryl Holberton who married Hubert William Man.
Amy Frances (Clarkson) Holberton was the daughter of Horace Anderton Clarkson and Emma Ann Strange. Horace was the founder of the highly profitable ship brokering business 'Clarksons'. (<— external link to company's web site)
Horace Anderton Clarkson was born in 1830 and baptised on 7 January 1831. He was the son of Frederick Clarkson (gent) and Frances Hodgkins. At the time of his baptism his parents were living at Hangers Lane in Tottenham.

Horace married Emma Ann Strange on 2 September 1851 at Dover in Kent. According to the Clarkson shipping company's website Horace first eloped with Emma but their parents were so angry with them that they made him marry her again at an official ceremony in Dover. From the 1871 census we know that Emma Ann was born in Brighton, Sussex. Horace had a brother Eugene Comerford Clarkson who was born on 2 February 1832 (see below).
Horace and Emma (Strange) Clarkson had the following children:
Horace Strange Clarkson was born in 1852 and baptised at Holy Trinity church in Paddington on 14 May 1852. A burial (shown below) has been found for Horace Clarkson who was buried on 13 March 1855 age 3 years at All Souls, Kensall Green. His parents are residing at Cockham Terrace, Bayswater in Paddington.

There then followed the births of twin girls Amy Frances and Alice Emma born on 22 March 1855 and they were baptised on 17 May at St James' in Paddington. At the time they were living at No. 53 Cleveland Square, Paddington and the father is a ship broker.

Alice Emma Clarkson married Hugh HW Macpherson who was born in the Strait Settlements (Malaya) in 1853. They had two sons and two daughters.
Another son, Norman Strange Clarkson, was born in 1857 and baptised at Erith in Kent on 14 July 1857 (FHL Film Number; 1836104).
A third daughter, Florence Ann Clarkson, was born in 1860 although a baptismal record has not yet been found for her. She appears along with the rest of the Clarkson family on the 1871 census aged 11 born at Woodford in Essex. On the 1861 census the three daughters appear as well as the son Norman aged 4. The family is living at Woodford in Essex where the youngest daughter Florence was born. On the 1881 census only Florence (aged 21) is residing with her parents at Elmfield House in Teddington. Florence married Cecil Harrison an officer of the East Yorkshire Regiment (according to her death notice in The Times). Florence died on 9 January 1917 at a nursing home in Hythe, Kent.
Horace Anderton Clarkson died on 29 June 1886 at Elmfield House, Teddington, and was buried on 3 July 1886 at Teddington.

Below Emfield House:
Emflield house in the 20th century
Horace had a younger brother Eugene Comerford Clarkson who was born 10 January 1832 and baptised on 2 February.

Eugene married Emiline/Amelia Jane Harris on 2 April 1859 at St. John The Evangelist, Notting Hill, London.

They had five sons (some of whom emigrated to the US and established families there): Harold Comerford, Wilfred Comerford, Guy Comerford, Reginald Comerford and Alan Comerford.
Eugene died on 19 August 1881 and the following appeared in the newspapers: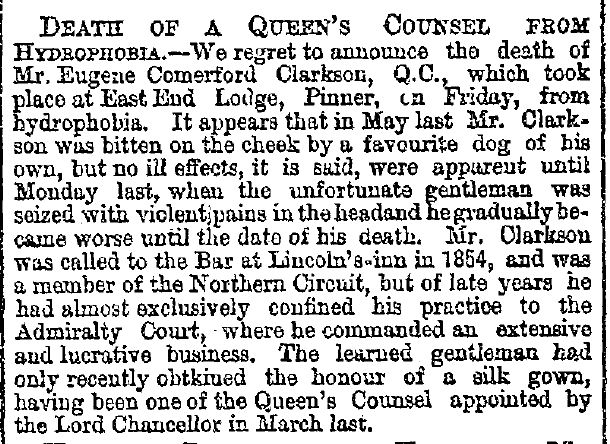 His will was noted by the papers on 9 December 1881:

In 1856 an attempt was made on the life of Eugene which was reported by the newspapers and can be read here.
Sophia Clarkson mentioned below was the daughter of William Clarkson, sister of Frederick Clarkson, and thus the aunt of the brothers Horace Anderton and Eugene Comerford Clarkson.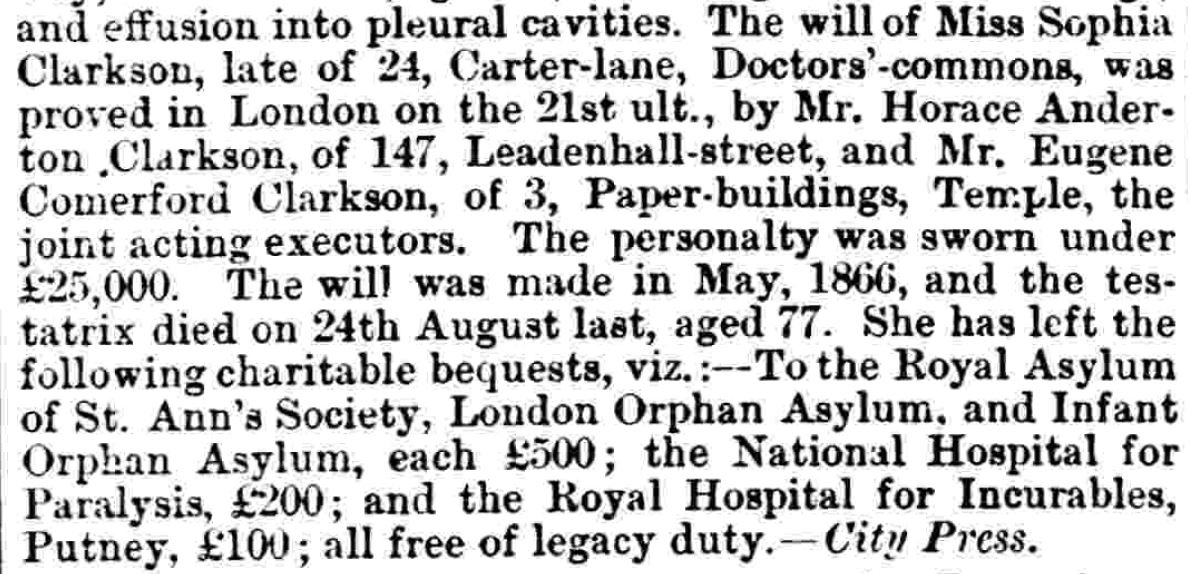 As mentioned above the father of Horace Anderton and Eugene Comerford Clarkson was Frederick. Frederick's father was William Comerford Clarkson who married Sophia Geering on 28 February 1790 at Chingford, Essex.
The following baptism of Placentia Clarkson is of a daughter of their's: