The Godolphin family appears here on the 'Man & Other Families' website on the marriage of Elizabeth Godolphin to Sir Arthur Northcote; their son Henry Northcote married Penelope Lovett; their daughter Elizabeth Northcote married John Incledon; their daughter Mary Incledon married Philip Rogers Webber; their daughter Mary Webber married John Harris; their son John Webber Harris married Louisa Ayton Desborough; their daughter Louisa Mary Harris married Edward Desborough Man.
Thus Elizabeth Godolphin is the direct ancestress of all those members of the Man family who are descended from Edward Desborough and Louisa May (Harris) Man and there are a lot of those.
Elizabeth (Godolphin) Northcote was the eldest daughter of Sir Francis Godolphin (1605–1667) and his wife, Dorothy, daughter of Sir Henry Berkeley. Elizabeth was the sister of the politician Sidney Godolphin,
Sidney was baptized on 15 June 1645 at Breage in Cornwall and died on 15 September 1712 at St. Albans in Hertfordshire.  He married Margaret Blagge, the daughter of Thomas Blagge, on 16 May 1675 at Temple Church, London. They had a son Francis who was born on 3 September 1678. He married Henrietta Churchill, Duchess of Marlborough, daughter of John Churchill, 1st Duke of Marlborough and Sarah Jenyns, on 23 April 1698.  He died on 17 January 1766 at age 87. Francis and Henrietta (Churchill) had two children: William and Henrietta (below).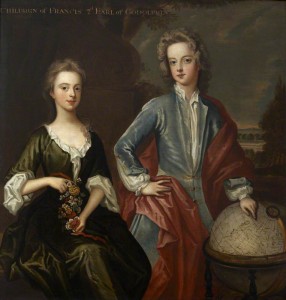 Above:  William Godolphin (c.1700–1731), Viscount Rialton, Later Marquess of Blandford and his Sister, Henrietta (d.1776), Later Duchess of Newcastle.