The Davie family appears here on the 'Man & Other Family' web site as the result of a series of marriages: Mary Davie married Henry Incledon;  their son John Incledon married Elizabeth Northcote;  their daughter Mary Incledon married Philip Rogers Webber;  their daughter Mary Webber married John Harris;  their son John Webber Harris married Louisa Ayton Desborough;  their daughter Louisa Mary Harris married Edward Desborough Man.
Thus Mary Davie is the direct ancestress of all those members of the Man family who are descended from Edward Desborough and Louisa Mary (Harris) Man, and there are a lot of those.
Below the arms of John Davie (d.1710), Mary (Davie) Incledon's father. He was a wealthy Bideford tobacco importer of Orleigh Court.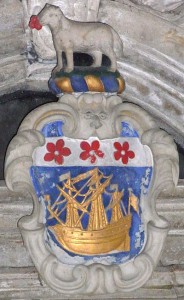 John Davie married Mary Luscombe and they had at least two daughters:
Mary who married Henry Incledon
Henrietta Maria who married Walter Moyle
And a son Joseph Davies who had a son:
John Davie, Esq. of Orkigh, in the parish of Buckland Brewer, Devon, and who married Eleanor Basset and they had the following children:
1 Joseph Davie, who succeeded to Watermouth and Timberleigh, and assumed, by royal licence, the surname of Basset, in pursuance of his mater uncle's will (Francis Bassett.
Rev. Charles Davie, Rector of Heanton Punchardon, Devon, m. Bridget Boytield, of Lee, Kent, and d. leaving issue, Charles Christopher, Capt. 67th Regt.; and Mary Jane, m. John May, Esq. of Broadgate, near Barnstaple, J.P. and D.L. Devon.
John Davie, Post Capt. K.N., who m. and d. leaving one son and one dau.
Peregrine Davie, U.E.I.C.S., m. and d. in India, leaving issue.
Eleanora, m. Rev. Lewis Lewis, of Gwinfe. co. Carmarthen.
Julia, m. Rev. J. W. Beadon.
7. Eustuchia, m. Captain Shairp, 29th Regt.
8. Charlotte, m. General Jasper Desbrisay.
9. Mary, m. twice, 1st, — Lumsden, Esq. of the E.l.C.S.r and Sndly, — Jones, Esq.