The Incledon family connects with the Man family through as series of marriages as follows: Mary Incledon married Philip Rogers Webber; their daughter Mary Webber married John Harris; their son John Webber Harris married Louisa Ayton Desborough; their daughter Louisa Mary Harris married Edward Desborough Man.
Thus Mary Incledon is the direct ancestress of all those members of the Man family who are descended from Edward Desborough and Louisa Mary (Harris) Man, and there are a lot of those.
Mary (Incledon) Webber was the daughter of John Incledon (1702-1746) and Elizabeth Northcote. John was the son of Henry Incledon (1671-1736) and Mary Davie (d.1710). Henry's father was Lewis Incledon who married Elizabeth Fane (d.1717). Below is Robert Incledon  (1676-1758), the son of Lewis and Elizabeth (Fane) Incledon, the brother of Henry, and father of Benjamin (above).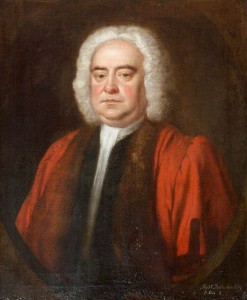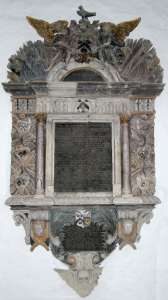 Incledon monumental inscriptions, St Brannock's Church, Braunton. Immediately to right of main door, on entering church:Near this monument are inter'd ye Bodys ofRobert Incledon of Buckland Gent who married Agnes ye daughter & heir of John Wolf of this parish Gent. & was buried ye 25th day of Decembr. 1558.
John Incledon Gent their Son married Jane daughter of Lewis Davill of Marland Esq. and was buried ye 16th of September 1570.
Lewis Incledon Esq their Son married first Grace ye daughter & heir of Robert Cranberry of Bratton Clovelly Gent, secondly Willmott daughter of Andrew Pomeroy of Collaton Esq. and was buried ye 21st of December 1614.
John Incledon Esq his Son by his first venture married Philippy daughter of William Glyn of Glyn in ye County of Cornwall Esq.
Lewis Incledon Esq his Son by his second Venture married first Anne Wiot daughter of Phillip Wiot Esq secondly Eliza. daughter of Thomas Collemore of Lilcott Gent & was buried ye 6th of April 1657.
John Incledon Esq his eldest Son by his 2d venture married Honor daughter of William Pagett Esq and was buried ye 9th of Iune 1661.
Lewis Incledon Esq his 2d Son by ye same venture married ye Alic daughter of Iojn Addington of Harloberry in ye County Of Essex Esq, 2d Eliza. daughter of ye Honble. Robert Fane Of Combanck in ye Countey of Kent Esq a younger Son to ye Right Honble. ye Earl of Westmorland & was buried ye 2nd of February 1698.
To whose memory chiefly this monument was erected by his widow Eliza. Incledon & his Son Henry Incledon.
Lower panel of same:
Mary wife of Henry
Incledon daughter of John
Davie of Orligh Esq buried
September 26 1710. Henry
Incledon Esq May 8th 1736
aged 62. John Incledon Esq
his son June 28th 1746 aged 44