The Webber family appears here on the 'Man & Other Families' website as the result of a series of marriages as follows:
Mary Webber married John Harris; their son John Webber Harris married Louisa Ayton Desborough; their daughter Louisa Mary Harris married Edward Desborough Man.
Thus Mary Webber is the direct ancestress of all those members of the Man family who are descended from Edward Desborough and Louisa Mary (Harris) Man, and there are a lot of those.
There are several inter-marriages among these families which have been diagrammed and can be viewed here (one page PDF).
The father of Mary (Webber) Harris was Philip Rogers Webber (1732-1819) and her mother was Mary Incledon (1736-1802). Above is Mary Webber's grandfather Alexander. He was a fourth generation pewterer of Barnstaple, North Devon and was Mayor of Barnstaple in 1737. Portrait by Thomas Hudson (1701-1779), collection of Barnstaple Guildhall.
Below a memorial to Philip Rogers Webber, his wife Mary Incledon, and their two sons Lt. John Incledon Webber RN and Lt. Col. Charles Webber. The memorial can be found above the inside of  the south door of St. Brannock's church at Braunton (See Cia Familigia website):
Sacred to the memory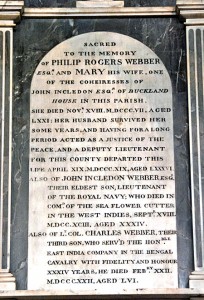 of Philip Rogers Webber Esq.
and Mary his wife, one
of the coheiresses of
John Incledon Esq of Buckland
House in this parish.
She died November 18th 1807, aged 71.
Her husband survived her
some years, and having for a long
period acted as a justice of the peace
and a deputy lieutenant
for this county, departed this
life April 19 1819 aged 85.
Also of John Incledon Webber Esq.
their eldest son, lieutenant
of the Royal Navy who died in
Comd of the Sea Flower cutter
in the West Indies, September 18
1793 aged 34.
Also of Lt. Col. Charles Webber their third son
who served the Honourable
East India Company in the Bengal
Cavalry with fidelity and honour
34 years. He died February 22nd
1822, aged 56.
On left-hand side of altar at Brannock's:
In the vault beneath this stone are interred
the remains of
Philip Rogers Webber, of Buckland, in this parish,
who died in the year 1819 aged 86. And of Mary,
his wife, elder daughter and co-heiress of John
Incledon, of Buckland aforesaid – who died in 1807,
aged 71.
Also of
Caroline, their daughter – wife of Robert Hacche
Drake, Commander R.N., who died in 1825, aged 43, with
her dear child.
Also of
Henry Webber of Buckland, Major-General E.I.C.S.,
eldest surviving son of the first above named, who died
in 1833, aged 71. And of Elizabeth Lucie, his wife,
who died aged 30 in 1823.
Also of
Lewis Charles Incledon Webber, grandson of the
last named, who died in 1847, aged 11 years.
Below the home of the Webbers: