The Man and Harris families connect with the marriage of Louisa Mary Harris to Edward Desborough Man in 1849. The parents of Louisa Mary Harris were John Webber Harris who married Louisa Ayton Desborough; their eldest son was General Webber Desborough Harris (right) who married Elizabeth Matthews and their youngest son was John Henry Harris (see below).
Webber Desborough Harris was born on 27 December 1822 at Clapham, Surrey and died on 11 July 1903. He married Elizabeth Matthews on 22 February 1859 at Saint James, Westminster, London. There were no children.
There is a complex web of Man, Desborough, Harris, and Matthews marriages. To view Steve Man's diagram of the relationships click here.
The sister of John Webber Harris was Mary Anne Harris who married James Pennington (see below).
The parents of John Webber Harris and Mary Anne Harris were John Harris and Mary Webber. A Webber family page can be viewed here.
John Webber Harris had a brother, Major-General Philip Harris, who had a son, Lieutenant William Harris, who came to an untimely end while training local infantry troops in the Punjab on 26 November 1876. Details of what happened to William can be read HERE.
The following clipping refers to the actions of Webber Desborough Harris and a transcription follows: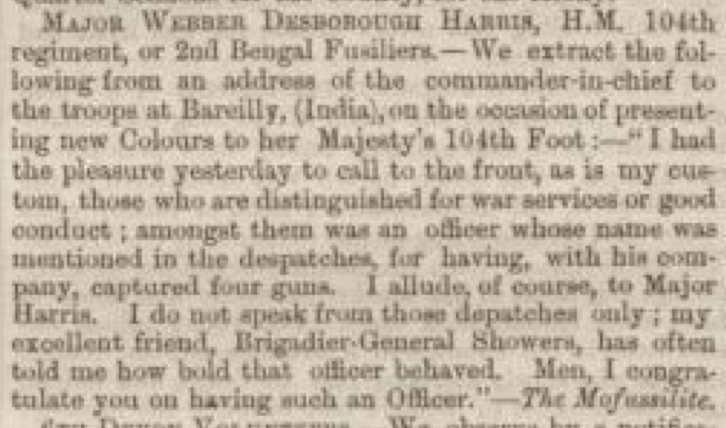 Major Webber Desborough Harris, H.M. 104th regiment or 2nd Bengal Fusiliers. – We extract the following from an address of the commander-in-chief to the troops at Bareilly, (India), on the occasion of presenting new colors to her Majesty's 104th Foot: – " I had the pleasure yesterday to call to the front, as is my custom, those who are distinguished for war services or good conduct; amongst them was an officer whose name was mentioned in the despatches for having, with his company, captured four guns. I allude, of course, to Major Harris. I do not speak from those despatches only; my excellent friend, Brigadier-General Shower, has often told me how bold that officer behaved. Men, I congratulate you on having such an Officer" – The Mofussilite.
Below the marriage announcement (2nd paragraph) of Webber Desborough Harris to Elizabeth Matthews:

22nd ultimo, at St. James's Church, Piccadilly, by the Rev. Henry Stent, rector of Fairlight, near Hastings, Captain Webber Desborough Harris, 2nd European Bengal Fusiliers, to Elizabeth, second daughter if James Matthews, Esq. of Bexley Heath, Kent.
John Henry Harris (1826 – 1879), was the younger brother of the above Webber Desborough Harris. He a solicitor who practiced in Victoria, Australia. He died from a pistol shot to the head whilst lying in his bed. Recently uncovered newspaper reports on the death of J.H.H. can be read here and his death certificate can be seen here.
Transcript of the Will of Mary Harris, 1850.
This is the Last Will and Testament – of me Mary Harris of Lark Hall Lane, Clapham, in the County of Surrey, Widow, but at present residing in the Town of Plymouth, Devon.  ffirst I desire and direct that my Body may be interred in a plain and decent manner at whatever place I may depart this life and that a plain Tablet or Tombstone may be erected to my memory. And I direct that all my just debts, funeral and Testamentary expenses may be paid by my Executor hereinafter named as soon as conveniently may be after my decease. I give and bequeath to my Daughter Mary Ann Pennington my white India Shawl and to my daughter ffrances Desborough my scarlet India Shawl. All other of my wearing apparel, rings, trinkets, jewels and personal ornaments I give to my daughter Elizabeth Charlotte Watts.  I also give to my Son in Law Robert Watts my gold watch and to my Son John Webber Harris my Bed, Bedstead and Bed Furniture, chest of drawers, dressing table, Looking glass and wash stand now used by me in my Bedroom to and for his own use and benefit. And to all the Rest, Residue and Remainder of my Personal Estate whatsoever and wheresoever which I may be possessed of or entitled to at the time of my decease and not otherwise disposed of by this my Will, I give and bequeath the same unto my Son William Charles Harris of the City of Winchester, Gentleman, his executors and administrators. Upon Trust nevertheless as soon as conveniently may be after my decease to call in .…. and ….. all such sum and sums of money as may be then due or be owing …. to stand possessed of my said Residuary Estate. Upon Trust to pay and discharge all my just debts, funeral and testamentary expenses, and the costs of proving this my Will. And subject thereto upon Trust to pay the several Legatees hereby bequeathed to the persons hereinafter named (that is to say) …….  said John Webber Harris the sum of Three hundred pounds and all such interest as may be due me thereon at my decease and which sum of three hundred pounds I advanced and lent to fit out his Son Webber Desborough for India. And upon further Trust to pay unto my Son Henry Harris the sum of one hundred pounds and to each my Daughters in Law Louisa Ayton Harris, Henrietta Harris and Maria Matilda Harris the sum of ten Pounds. And to each of my Grandchildren Agnes Maria Pennington, ffrances Desborough, Webber Desborough Harris, Philip ffarrell Harris and William ffrederick ……. Harris the sum of nineteen pounds and nineteen shillings. And to my Grandson Robert George Watts the sum of fifty pounds. And to my Grandson Philip Henry Watts the sum of ten pounds. And my wish is that the Legacy or Legacies of each of my said grandchildren as may be under age at the time of my decease or when each Legacies may be payable or shall be paid by my Executor to the ffather, if living, of each grandchild under age. And in case of his previous death then to the Mother or Guardian (if any) of each other grandchild or otherwise to the Executors or administrators of his, her or their deceased ffather upon Trust for each grandchild as attains the age of twenty one years. And I declare that the receipt of the ffather, Mother, Guardian, Executors or administrators as the case may be for the legacy of such grandchild so being under age shall be a good and sufficient discharge to my said Executor for the same and that he shall not be thereafter required to see to the application of the same Legacy or be answerable for its loss or nonapplication. And I declare that the said several Legatees given by this my Will shall be paid at or before the expiration of six calendar months next after my decease free of Legacy or other duty which remain after answering the said several purposes aforesaid. I give and bequeath the same to my said Son William Charles Harris to and for his own use and benefit. And I lastly hereby nominate and appoint my said Son, the said William Charles Harris, Executor in trust of this my Will. And I expressly declare that the Legacies given by this my Will or the appointment of Executor hereby made shall not operate to release or discharge any debt or sum of money which may be due to me from occasional Legatees or Executor at the time of my death. And I hereby revoke all former and other Wills by me at any time hereto fore made and declare this to be a my only Will unto which I have subscribed my name this twenty eighth day of  ffebruary one thousand eight hundred and fifty —– .
Mary Harris.
Signed by the said Mary Harris the Executrix as and for her last Will and Testament in the presence of us present at the same time who at her request in her presence and in the presence of each other have subscribed our names As Witnesses hereto —— Jonathan Luxmoore of .…Sol'r ——- Geo Mitchamore,his clerk.
Proved at London 18th April 1850 before the Worshipful Robert ……… Phillimore, Doctor of Laws and Surrogate by the oath of William Charles Harris, Esquire, the Son, the sole Executor to whom admon was granted having been first sworn only to administer.
Above, the death announcement of Louisa Harris who was the daughter of Henry Desborough.
J.H.H.'s marriage announcement in The Times November 1855 is below
PENNINGTON FAMILY
Louisa Mary (Harris) Man's aunt, Marry Anne Harris, married James Pennington on November 23 1811 at Holy Trinity Church, Clapham Common. Details of the Pennington family can be found here.