The Fowles are a Kentish family and became connected to the Man family through the marriage in 1819 of Louisa Caroline Fowle (1795 – 1878) to Harry Stoe Man (1783 -1824). Two further Man – Fowle marriages occurred in the following generation with that of Harry Edward Julius Man who married his cousin Henriette Fowle and William Lionel Man who married Mary Fowle Starnes.
A pdf of the entire Fowle family can be downloaded HERE.  Please note that the Fowle family on this page is not connected to the Fulwar Craven Fowle family which links into Jane Austen's family.
The picture left is of the church at Nettlested. The large 'table top' tomb to the south (right) of the church doorway is that of John Fowle's second wife Margaret Baldock and three of their children; there is no mention of John. Notes on the inscription found on the tomb were made by Mr. Havland the rector and were found among Andrew Man's papers. The age of Margaret Fowle is transcribed as 85 years so she was born in 1691; however the rector has made a note that the age could be 88 years. Inscriptions are found only on the North and South sides of the tomb. On the South side it reads: Here be deposited the remains of Margaret wife of John Fowle of Pain near Maidstone who died Nov 17 1776 aged 85 years. Also John ……. who died in his infancy …. (the rest is beyond reading). On the North side it reads:
Also John their Son
who died March 24 1715
aged 19 years.
Likewise Liza their daughter
who died May 6 1719
aged 26 years.
John and Margaret were married on September 13, 1720 in Shipbourne. John is the great grandfather of Louisa Caroline Fowle. Family tradition claims that John Fowle of Nettlested was the great great grandson of Sir John Fowle of Sandhurst. The descent runs as follows: Sir John of Sandhurst had a son Alexander who married on April 14, 1603, Dorothea Wastnes and they had a son John of Sandhurst. This John married on June 23, 1624, Anne Wildigos. This descent is found in the Visitation of Kent (see below). John and Anne are then supposed to have had a son Thomas the father of John of Nettlested. However there are problems with the dates on this descent which have to be resolved.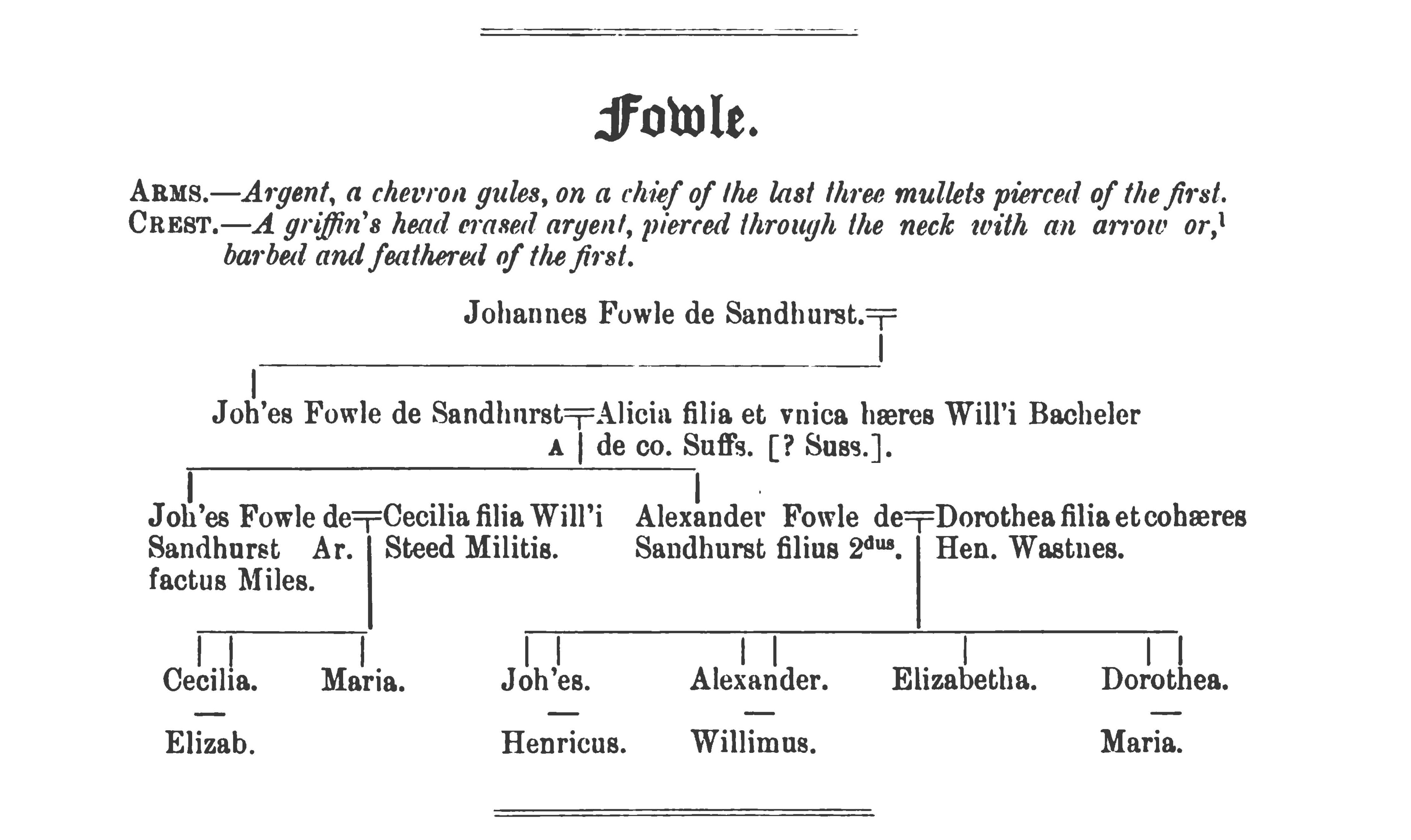 The Fowle family occupied a series of farms in the Maidstone area such as Fant House in Fant, Half Yoke Farm near Yalding (Thomas Fowle), The Parsonage and Yew Tree Farms at Boxley (William Fowle), and Cobtree Manor Farm (Edward Fowle). Half Yoke was owned by Louisa Caroline's eldest brother Thomas who may not have had heirs as the farm and other property were sold after his death (see auction details at the end of this page).
Louisa Caroline was born at Cobtree Manor, Aylseford, Kent, the home of her father Edward Fowle (1751 – 1802) and mother Ann Pattenden (1750 – 1835).  A search of the Boxley parish registry has revealed the following affidavit made by Louisa's mother on the circumstances surrounding her baptism:
I Ann Fowle of Maidstone in the county of Kent widow and relict of Edward Fowle late of Cobtree in the parish of Boxley in the said county of Kent gentleman deceased and Margaret Fowle of Maidstone aforesaid, widow [ .. ] make oath and say that Louisa Caroline Fowle one of the daughters of the said Ann Fowle by her late husband Edward Fowle deceased was baptized either in the fourth of June or in the fourth of July in the year of our lord one thousand seven hundred and ninety five at Cobtree aforesaid in the said parish of Boxley in the presence of the deposed Ann Fowle by the Reverend John Lloyd then curate of the said Parish of Boxley and that this despondent [?] Margaret Fowle was one of the sponsors for the said Louisa Caroline Fowle and that shortly after the said Louisa Caroline Fowle was so baptized (that is to say) in or about the fourth of July in the said year one thousand seven hundred and ninety five the said Louisa Caroline Fowle was received into the church or christened at the Parish church of Boxley aforesaid by the said John Lloyd in the presence of those deponents. 
Both deponents Ann Fowle and Margaret Fowle sworn at Maidstone aforesaid this 26th day of November one thousand and eight hundred and twenty three _______________ before me at Maidstone 26 Nov 1823
The Fowle family resided at Cobtree Manor, from 1780 – 1831 and it was then sold to Charles Milner of the nearby Preston Hall Estate which it then formed a part. Cobtree Manor was later occupied by Mr. William Spong who rented it from Charles Milner. It was during the time of the Spong's residence that Charles Dickens came to know the 'Manor' and its occupants. It is said that he based his description of Dingley Dell, the home of the Wardle family in The Pickwick Papers, on Cobtree. The Wardle family in turn may have been based on the Spong family, not the Fowles who had long since left the manor. However it has sometimes been difficult to dissuade members of the Man family that the Fowles were not known to Dickens.
In 1828 Louisa Caroline Fowle was given six hundred pounds by her mother Ann (Pattenden) Fowle with which money she bought Halstead Hall. A genealogy of the Fowle family can be viewed on request. Some Fowle wills have been digitized in PDF as follow:
Fowle From Monumental Inscriptions Boxley. These are provided by Bernard Thompson and Andrew Man who found these inscriptions not on the actual graves, which are very weather worn, but rather in a manuscript produced at the turn of the 20th century in which was copied down the following:
Edward Fowle Gent late of Cobtree in this parish died August 9th 1803 aged 53 years whose remains are interred in a vault at Bredhurst.

Also Ann widow of the above died January 1st 1835 aged 85 years.

Jane 2nd daughter of Edward and Ann Fowle died October 5th 1854 aged 70 years.

Elizabeth 3rd daughter of Edward and Ann Fowle died March 16th 1826 aged 38 years.

Also Louisa Caroline widow of Henry Stoe Man R.N. youngest daughter of the above Edward and Ann Fowle died July 21st 1878 aged 83 years buried at Halstead and leaving 4 sons and 1 daughter surviving. (see picture of tomb below)

William Fowle Esq. of this parish died Feb 1st 1865 aged 31 years.

Edward Fowle 3rd son of William and Louisa Fowle died at sea April 16 1889 aged 28 years.

William Fowle eldest son of William and Louisa Fowle died June 14th 1897 aged 38 years.

Robert Fowle Esq. of this parish accidentally shot on September 20th 1830 in the 29th year of his age also Mrs. Mary Pattenden died March 27th 1844 aged 82 years. (tomb shown below)
Edward Fowle (b. 1751) married Ann Pattenden (b. 1750) and his brother William Fowle (b.1755) had a long term relationship with Mary Pattenden (b. 1762) but never married her. Mary's four children were all christened as Pattenden thus Mary (b. 1806) and William (b. 1802) were known by the name Pattenden. According to the book 'Boxley, the story of an English Parish' by David Hook and Robin Ambrose published in 1999, although William never married Mary, he acknowledged her children as his.
William Pattenden, who became Fowle, was born in 1802 and when his father William Fowle died in 1815 his son William took the name Fowle. Between 1833 and 1839 his children were christened as Pattenden alias Fowle. William Pattenden Fowle was a farmer at Boxley and died in 1839 and buried under the mill with his father. Later he was buried in churchyard at Boxley. presumably as Fowle, no death as Pattenden has been found.
There is also a Margaret Pattenden who married in St George Hanover Square, London in 1790 to George Fowle as a result three Pattenden girls all sisters married three Fowle brothers. Unfortunately, no suitable christening records for Ann, Mary or Margaret have been located. Left is Boxley church.
The Boxley branch of the Pattenden family was started by Robert Pattenden 1784 born Sutton Valence, the son of Robert Pattenden and Sarah Webb who married in 1783 in Bearsted. There are Pattendens in Sutton Valence in the 1630's but no link to the 1784 birth. The Shirley family used the names Pattenden and Pattenden as a forename in Sutton Valence in 1705 and 1730, 1742, 1847 and 1867 so there is a link there.
The following inscription can be found at Rainham church: High tomb (in the N panel) Sacred to the memory of Elizabeth Ann FOWLE wife of Mr. John Fowle of this parish who departed this life September 13th 1799 aged 85 years. Left issue five sons and two daughters. Also Edward son of the above died March 1st 1800 aged 5 years. Likewise George their son died November 2nd 1800 aged 11 years. Also Elizabeth Ann their daughter died June 29th 1803/5 aged 18 years. [Nothing apparent on the top or other sides]
A search of the Church of Latter Day Saints International Genealogical database at https://www.familysearch.org web site had produced 6 Fowle boys christened between 1748 and 1764 and they are: John Fowle (1748), Thomas Fowle (1750), Edward Fowle (1751), William Fowle (1755), Robert Fowle (1761) and George Fowle (1764). The film batch number is 8336130.  Edward is the husband of Ann Pattenden and the father of Louisa Caroline Man.  John Fowle is the father of Henriette Marie Fowle who married her second cousin Harry Edward Julius Man.
Henriette's brother, Edward, was involved in a lengthy divorce proceeding about which a number of items have been found  such as Edward's appeal reported in the Calcutta Law Reports.  An office copy of Edward's will has also been located and can be read here.
In the divorce case Edward Fowle was represented by his second cousin Edward Garnet Man, who was also his sister's brother in law. The following detailed account of the divorce has been obtained and will be digitized soon:
Title: Fowle vs. Fowle :
suit for divorce and alimony. In the Court of the Recorder of Rangoon,
civil regular no. 20 of 1876.
Author(s): Fowle, Charlotte Rebecca Webster.
Publication: [Rangoon?] : British Burma Advertiser Press,
Year: 1876
Description: ii, 12a, 129, 27 p. ; p., 28 cm.
SUBJECT(S)
Named Person: Fowle, Edward.
Named Corp: Burma, Lower. Court of the Recorder of Rangoon.
Note(s): "This case [was] brought under the Indian Divorce Act."
— p. [1a]
Document Type: Book
After the divorce Rebecca Fowle returned to England with her daughter Emily. In her will Charlotte leaves all her money – 42,981 pounds – (quite a lot for then) – to her doctor – James Cameron and his wife Mary Louisa.  Charlotte owned a house at 109 Blenheim Crescent, Notting Hill, West London which was also willed to the Camerons and where she died on 3 August, 1913, aged 76.  Emily received just ten pounds and so mother and daughter must have had some kind of 'falling out'.  In 1884 Emily married a man called Dudley White in London and they went on to live in Wandsworth (see 1891 census) and later in Southsea. When it came to making their wills, Emily, who died first, left her estate to the Countess Ruth Metaxa while her husband left his to a gardener. Emily was born in France in 1857 and Dudley in Marylebone in about 1860. They did not have any children. (see note at the end of this page on Dudley White).
Among some family papers a poem to Louisa Caroline has been preserved titled: 'A few lines suggested for Mrs. Man's consideration by her unfortunate starving children'
1
Accept pray this hint and trust me 'tis true
The beef bone you left although it's burned blue
Will be served up by Emma for dinner again
And we shall be starved the more to your shame.
2
We've had nought to eat but beef since you went
Such a horrible time we ne're before spent
A Rabbit was purchased and made up a stew
But was quartered for that between me and you.
3
The bread it is mushy the pudding 's not done.
No butter's allowed, potatoes we've none.
Black pepper's avoided because it is dear.
And we're told to thank God for what we have here.
4
Aunts Emma and Jane and also Miss Ann
On this Rabbit have fed now five days
It's been hashed, frigassee'd and stewed in a pan
And the bones in a Pee will be raised.
5
Poor Joe has left, not a bone can he get
The Cats are reduced down to skin,
Our Williams so thin, it hurts him "to sit".
And there's nought on his leg left but skin
6
Aunt Jane's got up and sadly complains,
That her back and her stomach are subject to pains,
Starvations the cause and should death take place
Coroner's verdict will bring you disgrace.
7
To beer we are strangers, cold water's our drink
The effects are distressing, we really do think
For the Cholera now on our vitals does play
And we all have the Stomach ache every day.
8
The song truly says "there's no place like home"
But surely t'was never intended, a "Bone"
Should be all the food to be found in a place
So honoured by Poets and Men of that "Race"
9
To complete this sad picture we need only say,
We are all getting thinner and dwindling away
Our spirits are gone for my word it i sad
The effects of starvation will drive us all mad.
10
In conclusion; perhaps you may have a desire,
to see us again before we expire
Our advice then pray take
let it not be in vain
Never think of departing from Halstead again
Till you have stocked your house
both with eating and drinking
And form your Motherly duties
BE SHIRKING.
______________________
Morrice Man has added the following note: 'Rhymes suggested for Mrs. Man's consideration. Halstead Hall. Mention of Emma and Jane (sisters of writer? daughters of Mrs. Man) and 'Aunt Ann'. Notes by David Man made in 2001: Mrs. Man is Louisa Caroline Man (nee Fowle) wife of Harry Stoe Man. Her children are probably the four youngest born at Halstead between 1829 and 1841 namely: Emma, William Lionel, Edward Garnet, and George Octavius. Aunt Emma is probably Emma Claudiana Man (1780 – 1856) Harry Stoe Man's sister. Jane is probably Jane Fowle, Caroline Louisa's unwed elder sister, who was christened, according to the IGI, on 23 July 1783 at Allington in Kent. (See IGI Batch No. C109992) and died 5 October 1854 aged 70 years, and is therefore another aunt, and not a daughter as suggested by Morrice. Miss Ann is in fact a great aunt Eleanor Ann Rankin Man (1789-1873). All these ladies died at Halstead Hall. Who actually penned these lines is not possible to say although the handwriting looks like Edward Garnet Man's.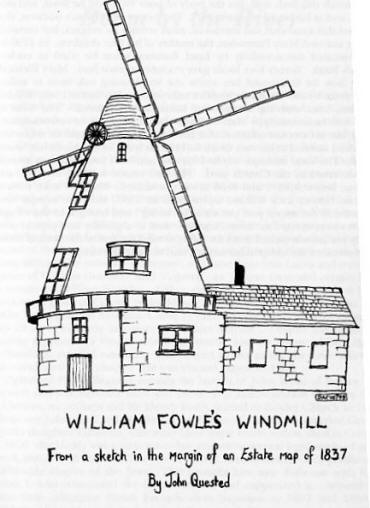 From the Monthly magazine of 1815: Died at Boxley, whilst sitting in his chair, in good health, after having eaten a hearty dinner, and drunk a bottle of wine, Wm. Fowle, gent. 59. He was a man of very eccentric habits, and has in his will directed, that his body shall be deposited in a niche of the wall of a room under his windmill, at Boxley; and the parties to whom he has bequeathed his property are to enjoy it on condition only of obeying his directions for the disposal of his body. They were of course complied with ; and, from their eccentricity, the funeral drew together a considerable concourse of people. The following lines were composed by the deceased for his epitaph, and are to be inscribed on his tomb:
"Underneath this little mill
Lies the body of poor Will:
Odd he liv'd, and odd he died,
And at his burial no one cried."
From the Monthly repository of theology and general literature, Volume 10 – Eccentric Funeral. – On Friday last, the remains of William Fowle, Gent, of Boxley, were interred, according to his will, under part of a windmill upon his estate. The funeral was respectably attended by his executor and relatives, and was conducted with a solemnity well according with the awful circumstance of sudden death ; and the eccentricity of selecting such a spot for the occasion drew together a considerable assemblage of persons. On arriving at the mill, the coffin was carried into the building, and the Rev. Mr. Harris, of the Society of Unitarians, in the open air addressed the persons assembled on the singular request of the deceased, and after some religious reflections on the uncertainty of human life, and the particular instance of it which had called them to that spot, Mr. Harris repeated a prayer, and concluded with the Pater noster. The body was then committed to its silent abode ; and the following epitaph (the deceased's own composition) is to be placed on his tomb : " Underneath this little mill Lies the body of poor Will ; Odd he liv'd, mid odd he died. And at his burial no one cried." M. Chron. April 11. [Below the Mill in which William Fowle was interred. The mill no longer exists]
Below is a clipping from the Oxford Journal dated Sept 25 1830 based on article from the Maidstone Gazette outlining how Robert Fowle (see his grave above) accidentally shot himself while out hunting.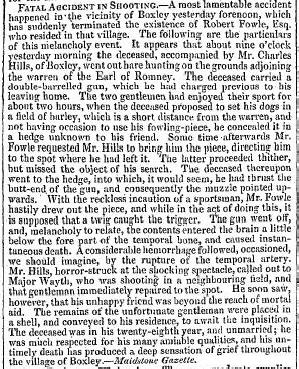 William Fowle's will (notes) Source: Prerogative Court of Canterbury, Probate 10 Oct 1840. William Fowle of Boxley, farmer, will dated 19 Sep 1833. To be buried in vault as my late father was at the mill in the field called the poor field, part of my estate at Boxley. Wife Isabella, Brother in law William Sharp Avery of Boxley, yeoman, trustee Edward Simmonds of Woodchurch, salesman and farmer, trustee. Property in Boxley, Aylesford, Chatham, Gillingham and Strood. Witnesses: H A Wildes – B Harrison – Jos'h Harrison, clerks to Mr Wildes, solicitor, Maidstone. Codicil dated 25 Mar 1836. Witnesses: Thomas Fumer – William Dickin – H A Wildes.
SOME FOWLE COURT CASES
In 1841 three of Caroline's brothers: Thomas, George, and Edward were involved in a court case to do with claiming money from an inheritance that can be read HERE.
The Times March 17 1825.  William Fowle (1755 -1815) had four illegitimate children, two boys and two girls.  The following court case was taken up by the two sons – William and Robert – against their cousin George Robert (son of William's brother George).

Below  from The Times November 25 1841 (no further reference to this case has been found yet)  All the male members of the Fowle family mentioned here: George, Thomas, and Edward are the brothers of Louisa Caroline (Fowle) Man.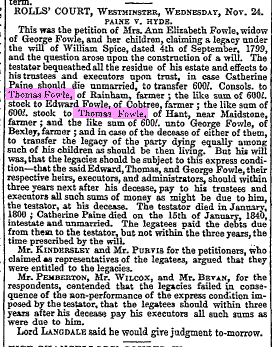 THE AUCTION OF THOMAS FOWLE'S FARM: HALF YOKE  (The Times, August 21 1854). (Thomas was Louisa Caroline Man's brother. He appears not have had issue.)
Half Yoke Farm, Maidstone, and Cottages and Woodland, Nettlested, Kent Mr. Summerfield has received instructions from the Executors of the late Thomas Fowle, Esq. to SELL by AUCTION, at the Mitre Hotel, Maidstone, on Thursday, August 31, at 3 for 4 precisely, the above valuable PROPERTY, in two lots Lot 1 comprises the well known Half Yoke Farm, containing about 43 [acres], in the occupation of Mr. F. W. Day. This truly valuable farm is situate near the beautiful valley of the Medway, over which it commands an extensive view. It is distant two miles from Maidstone, and close to the Farleigh Railway Station. It offers a most desirable opportunity for investment, being highly productive land, and admirably calculated for the growth of hops, of which there are at present about 11 acres. Lot 2 consists of Three Cottages, with large gardens, occupied by Coulter and others, and about four acres of superior woodland in the parish of Nettlested. This property is situate adjoining the road leading from Wateringbury to Yalding and Brenchley, and commands an extensive frontage to the said road. It is within a short distance of the Wateringbury, Yalding and Paddock-wood Railway Stations. Particulars and conditions of sale, with plans attached, may be obtained at the Auction Mart, London; Mitre Hotel, Maidstone; Allen and Walker's, Solicitors, Tunbridge; and at the office of Mr. Summerfield, surveyor and land agent.
Also in The Times of November 25, 1841 is a case brought by the widow of George Fowle. (George is Louisa's brother).
Below: A Footnote to History. Poor Ella Jarrett committed suicide in November 1933. She was the great, great, great, granddaughter of Robert Pattenden whose sister Anne was the mother of Louisa Caroline Fowle.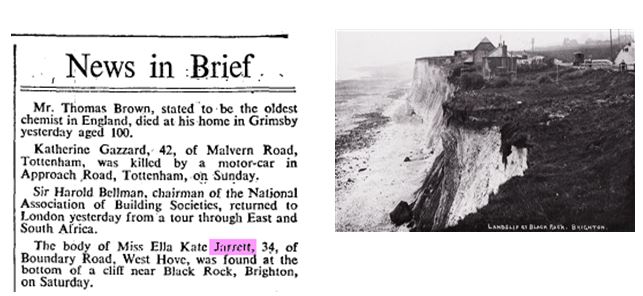 The old oasthouse that once formed part of the Cobtree Manor estate has now been converted to the Museum of Kentish Life. In this picture, taken in 1986, a school party visits the site.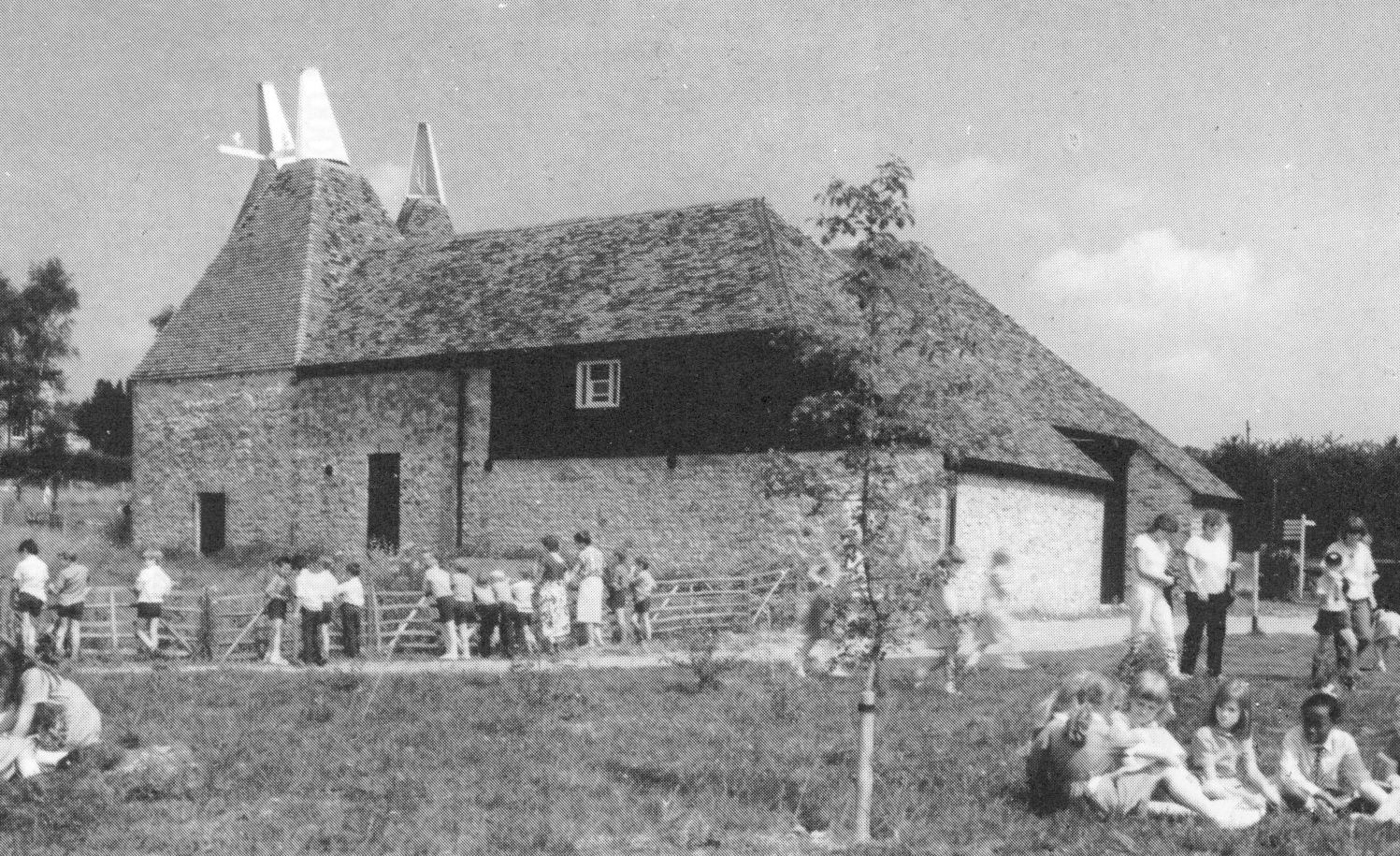 NOTES ON DUDLEY WHITE.
Dudley White married Emily Fowle the daughter of Edward Fowle and Charlotte Rebecca Webster. Dudley has been found in the Admission Registers of St. Paul's school where he is listed as follows: Dudley Stuart Septimus White, aged 9, son of Thomas W., gentleman farmer, 48, Portland Place. 1877. Clerk in a Solicitor's Office. We know from the probate record that he was a solicitor. Dudley's family has been found on the 1871 Census. He is aged eleven and his mother is the widow of a landowner. Dudley is indeed the seventh child and the family is living at 52 Portland Place. He and all his siblings were born at Wateringbury, Kent. Although Dudley White does not appear on the 1861 census what that census record does tells us is that Dudley's father was born at Yalding, Kent, a center of Fowle family habitation. It also shows the names of Dudley's siblings including Louisa Elizabeth (1851-1896) of whom more below. We also know that Dudley's mother was Louisa Frances Winton (d. 1905) the daughter of the William Winton of Halland Park, Sussex.
The identity of the 'Countess Ruth Metaxa', to whom Emily (Fowle) White left her entire estate, was at first puzzling but it turns out that Ruth was the daughter-in-law of Emily's sister-in-law Louisa Elizabeth White's. On 14 November 1871 Louisa E. White married the very long named Andrea Rushout Northwick Prescod Metaxa-Anzolato, (8th count Metaxa) who was the eldest son of Jean Baptiste (count Metaxa of the Ionian Isles). Andrea was born in 1844. The Count and Countess Metaxa had two children: 1. Andrea Francis Cochrane Andrew METAXA , (9th Count Metaxa) who was born on June 13, 1874 at Malling, Kent and who on December 5 1900 married Ruth ANKETELL-JONES. The count died on February 16, 1903, on the Isle of Wight at the age of 28 years. Thus it is this Ruth, the count's widow, who is Emily's beneficiary. Andrea and Ruth had a son: Count Andrea Dudley Richard Metaxa who was born on 20 January 1902. Ruth and her husband have been found on the 1901 census.
From Who's Who 1905 – METAXA, Andrea, The Count; b. 23 Mar. 1841; m. 1871, Louisa Elizabeth, d. of late Thomas White of Congelow, Yalding, Kent (d. 1896). Educated at Cheltenham. Special war correspondent, 1870. Publications: Round the Wight in an Open Canoe; Journal of a Tour in the Mediterranean; Walking Tour through Isle of Wight, 1870. Recreations: rowing, public and political speaking on Eastern Question, Women's Suffrage Bill, Deceased Wife's Sister's Bill, and Married Woman's Property Act. Heir:
g. s. Andrea-Richard-Dudley, b. 20 Jan. 1902. Address: Sutherland House, Grove Park, Chiswick, W.


We should also note that among the names of the White family of Yalding is one Alfred Starnes White and Thomas Starnes White. This may indicate a connection to the family of Mary Fowle Starnes who married William Lionel Man and whose father, Laurence Starnes, was a farmer in Yalding. The White family lived at Wateringbury Hall, near Maidstone; and Congelow in Yalding. According to one source Samuel White of Yalding, married Anne daughter of James Starnes, Esq. of Congelow. Samuel died in 1837 leaving a son,
A chart showing the relationship among the Fowle, Starnes, White, and Metaxa families can be viewed HERE (<– one page PDF).
Thomas White, Esq. of Wateringbury Hall, and Congelow, in Kent, and 53, Portland Place. Thomas was born in 1812 and on 3 December 1842, he married Louisa Frances, younger daughter of the William Winton of Woodgate House, Beckley, Sussex. It could be that James Starnes and Laurence Starnes were brothers.
A brother of Dudley's was George Meryon White-Winton, who was a lawyer and who was educated at Christ Church, Oxford, and who matriculated 20 January 1871, aged 18; B.A. 1874, M.A 1880, barrister-at-law, Inner Temple, 1877. He assumed his mother's maiden name as an additional surname 1905.
A sister of Dudley's – Helena – married a son of the Marquis of Huntly as follows:
From The Churchman 1882 – MARRIED: On September 27th, at All Saints' church, Margaret street, London, England (choral service), by the Rev Archibald White, chaplain of All Saints' church Baden-Baden, brother of the bride, Hubert George Gordon, son of the late Lord Cecil Gordon, and grandson of the ninth Marquis of Huntly, to Helena, daughter of Thomas White, Esq. of Portland Place, London, Congelow, Yalding, and Wateringbury Hall, county Kent, England. American papers please copy.
Note on the name of Pattenden
This is an English locational surname. It originates from a former medieval village of the same name in the county of Kent. Surnames from now 'lost' villages are a feature of the British Isles surnames listings, and it is estimated that over three thousand modern surnames survive from this source. Today the village of Pattenden has disappeared completely and according to the gazetters of Britain, is only recorded as a locality. The name is believed to translate as 'The valley of the Peatta tribe', the latter being a well known people of Ancient British origins who inhabited various parts of the south east of England in the period after the end of the Roman Invasion in 410 a.d. As to why villages disappeared has been the subject of many books. In general the most usual reason was changes in agricultural practice, when sheep farming took over arable land, and required fewer workers. However war and in particular plague, also played their parts, the latter wiping out large sections of the community. In this case we have a number of examples in early records. These include Henry Pattenden, recorded as being a student at Oxford University in 1582 – 83, whilst Margaret Pattenden married George Fowle at St Georges Chapel, Hanover Square, Westminster, in 1790.