The Eben family connects to the Man family with the marriage of William Sydenham Ebden to Nancy Claire Marshall on 3 December 1918.
William was the son of Edward James Ebden (1843 -1931) and Mary Bullock.
Edward's parents were James Collett Ebden and Eliza Wylde (1802-1880) . They were married on  2 September 1828 at St. Michael's Church, Millbrook in Bedfordshire.
Eliza was the daughter of Captain Sydenham Teast Wylde and Elizabeth Dorothea Powney.
Another daughter – Harriet Wylde – married Abraham John Valpy. [For more on the Wylde family see below]
Above, John Ebden (1751-1834) the father of James Collett Ebden. This John married Elizabeth Collett and died at Haughley, Suffolk (where his sepulchral tomb is). John was an army surgeon who is said to have taken part in the American War of Independence. A separate pdf file of Ebden family descendants can be shared upon request.
Below from the Monthly Notices of the Royal Astronomical Society, Volume 45:
James Collett Ebden was born at Loddon, Norfolk, on the 16th of August, 1794, and died at the vicarage, Great Stukeley, Hunts, on February 15, 1884, in the 90th year of his age, being at that date the Senior Fellow of the Society. He was tho son of Mr. John Ebden of Haughley, Suffolk, by his second wife Elizabeth, daughter of Anthony Collett, Esq., of Eyke, and granddaughter of Robert May, Esq., of Sutton, Suffolk, who was High Sheriff of Suffolk in 1758. The Suffolk family of Collett had been settled in the county from the fifteenth century, and was a branch of the Colletts or Colets of Wendover, of whom was Sir Henry Colet, twice Lord Mayor of London, and father of the celebrated Dean of St. Paul's. Mr. Ebden received his school education at Stowmarket, whence he proceeded in 1813 to Caius College, Cambridge. He graduated in 1816 as sixth wrangler, having amongst his competitors Dr. Whewell, the late Master of Trinity College, second wrangler, Professor Cape, fifth wrangler, and Richard Sheepshanks, sometime Vice-President of the Society, tenth wrangler. He was elected in 1816-17 a Fellow of Caius College, and in 1817-18 Fellow and Tutor of Trinity Hall, which post he held for ten years, numbering amongst his pupils Lord Chief Justice Cockburn, the late Lord Lytton, and other distinguished members of the college and university.  In 1821-22 he was appointed Vice-Master of Trinity Hall. He married in 1828 Eliza, daughter of Sydenham Feast Wylde, Esq., of the 7th Hussars, and granddaughter of Penyston Portlock Powney, Esq., M.P. for Windsor.
[After he left Cambridge James was an Eton tutor, which must be how he met his wife, and among his pupils were two great nephews of the Duke of Wellington. After Eton he was then Headmaster of Ipswich School and then became Vicar of Great Stukeley (and Rector of Abbots Ripton), Huntingdonshire.]
Mr. Ebden was one of the original members of the Athenaeum Club and of the British Association for the Advancement of Science, the annual meetings of which society he attended without intermission till he was past eighty years of age. He was distinguished as a classical and English scholar, and was well versed in the languages and literatures of several foreign countries. He was associated with Messrs. Riddle and Arnold in their lexicographical undertakings, and he is believed to have been engaged in earlier life upon other literary and scientific work, although he has not left any record by which it can be ascertained and verified. He was nevertheless possessed of accurate and very varied scientific knowledge, and took a warm interest in the objects and proceedings of the British Association until he was confined to his home by increasing age and infirmity.
Mr. Ebden was elected a Fellow of the Society on June 9, 1820.
*********************************
NOTES ON THE WYLDE FAMILY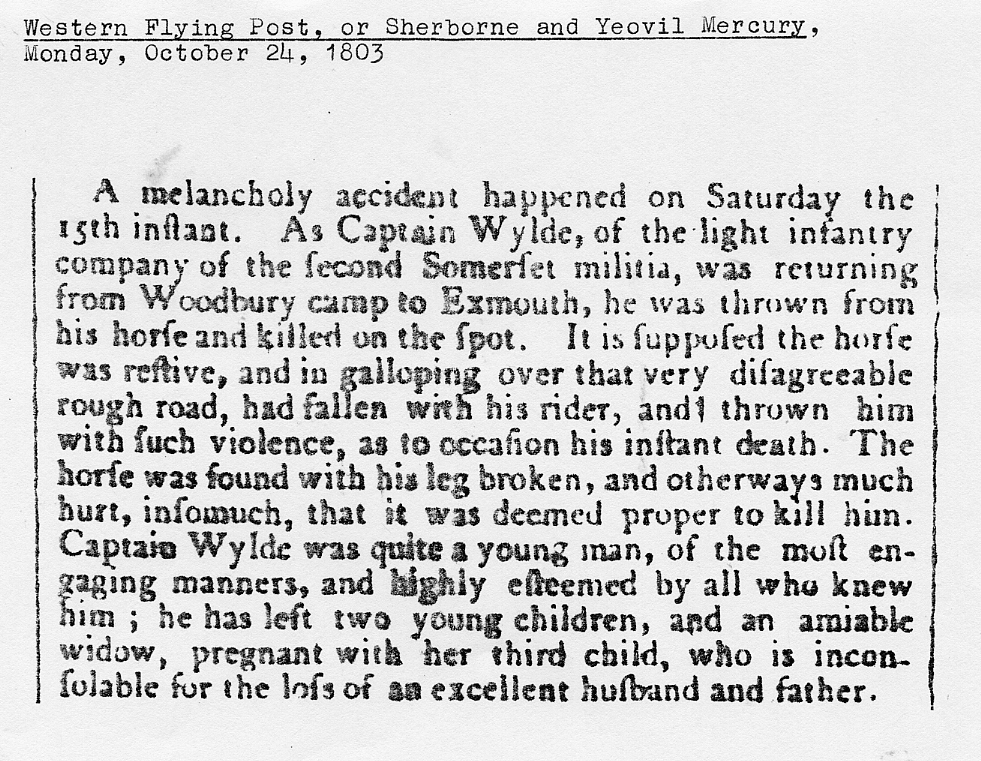 Descendants of Edward Wylde, RN. He was the brother of Eliza who married James Collet Ebden (see above) and the son of Captain Sydenham Teast Wylde.
Generation No. 1
1. LIEUT EDWARD WYLDE, RN was born 1791 in Yatton, Somerset, and died 6 Jul 1860 in Greenwich Hospital, London.
He married MAGDELENA GURTRUYDA JOHANNA WILTENS ANDREE 14 May 1817 in Holy Trinity Church, Burrington, Somerset.
She was born 1797 in Surinam, and died 20 May 1861 in Greenwich Hospital, London.
Edward and Magdelena were previously married at Surinam on 15 September 1816.
Children of EDWARD WYLDE and MAGDELENA ANDREE are:
i. MAGDALENA FRANCIS WILTENS5 WYLDE, b. 28 Jul 1820.
ii. EDWARD ANDREE WYLDE, b. 11 Oct 1822, Blagdon, Somerset; d. 28 Dec 1897, Southsea, Portsmouth.
iii. JOHN WYLDE, b. 1823.
iv. MARIA LOUISA WYLDE, b. 1828, Bathwick, Somerset. Baptism on 2 Dec 1828, St Mary's Church, Bathwick.
v. CAROLINE WYLDE, b. Abt. 1832.
vi. ALBINIA GERTRUDE CAROLINE WYLDE, b. Abt. 1839, Prior Park, Somerset. Baptism on 26 Jan 1839, St Mark, Lyncombe & Widcombe, Somerset
vii. MARIA WILTONA ANDREE WYLDE, b. Abt. 1839, Prior Park, Somerset. Baptism on 26 Jan 1839 at St Mark, Lyncombe & Widcombe, Somerset
viii. AGNES HELEN WYLDE, b. 1839, Prior Park, Somerset; d. Aft. 1871. Baptism on 24 Apr 1839, St Mark, Lyncombe & Widcombe, Somerset
Generation No. 2
2. EDWARD ANDREE WYLDE was born 11 Oct 1822 in Blagdon, Somerset, and died 28 Dec 1897 in Southsea, Portsmouth. He married ELLEN DREW 18 Oct 1853 in Kensington, London. She was born 1828, and died 23 Nov 1914 in Windsor, Berkshire.
Notes for MAJOR GENERAL EDWARD ANDREE WYLDE: Royal Marines; 2nd Lieut 18 May 1841; 1st Lieut 21 Dec 1844; Captain 17 Feb 1854; Bt Major 3 Aug 1866; Lieut Col 23 Aug 1866; Bt Col 23 Aug 1871; Hon Maj Gen 3 Feb 1875; Retired 8 Feb 1875
Children of EDWARD WYLDE and ELLEN DREW are:
i. EDWARD ANDREE6 WYLDE, b. 29 Apr 1858; d. 12 Oct 1925.
Notes for GENERAL EDWARD ANDREE WYLDE: Royal Marines; Lieut 29 Apr 1858; Capt 13 Apr 1876; Major 8 Sep 1892; Bt Lieut Col 8 Sep 1899; Lieut Col 17 Sep 1899; Bt Col 17 Sep 190?
Col, 2nd Commandant 23 Apr 1905;  Col Commandant 2 Oct 1908; Maj General 1 May 1910
Lieut General 16 Apr 1912; General 8 Apr 1922; Retired 1 JAN 1923
ii. CHARLES ANDREE WYLDE, b. 31 Jan 1860, Gillingham, Kent; d. 18 Nov 1939, Isle of Wight.
iii. MABEL LOUISA WYLDE, b. 1870.
Generation No. 3
3. CHARLES ANDREE WYLDE was born 31 Jan 1860 in Gillingham, Kent, and died 18 Nov 1939 in Isle of Wight. He married ROSETTA MILDRED LAWES 31 Oct 1888 in St Georges, Hanover Square, London. She was born 8 Oct 1865 in Costessey, Norfolk, and died 4 Mar 1934 in Isle of Wight.
Notes for CHARLES ANDREE WYLDE: Bank Manager
Children of CHARLES WYLDE and ROSETTA LAWES are:
i. CHARLES EDWARD ANDREE7 WYLDE, b. 1890.
ii. DOROTHY EVA WYLDE, b. 20 Feb 1892, Walworth, London.
Generation No. 4
DOROTHY EVA WYLDE was born 20 Feb 1892 in Walworth, London. She married REGINALD ARTHUR MASCALL 5 Aug 1914 in Westminster, London. He was born 27 Nov 1886 in Ramsgate, Kent, and died 21 Jul 1954 in British Columbia, Canada.
Notes for REGINALD ARTHUR MASCALL: Civil Engineer in Argentina
Children of DOROTHY WYLDE and REGINALD MASCALL are:
i. RICHARD CHARLES WYLDE8 MASCALL, b. 28 Jun 1915, Buenos Aires, Argentinia; d. 8 Apr 1967.
ii. BETTY MASCALL, b. 10 Jun 1917.
Generation No. 5
5. RICHARD CHARLES WYLDE MASCALL was born 28 Jun 1915 in Buenos Aires, Argentinia, and died 8 Apr 1967. He married …?.
Child of RICHARD MASCALL and …? is still living.
Richard Powney is below. He was the uncle of Elizabeth Dorothea Powney whose daughter Eliza Wylde married James Collett Ebden.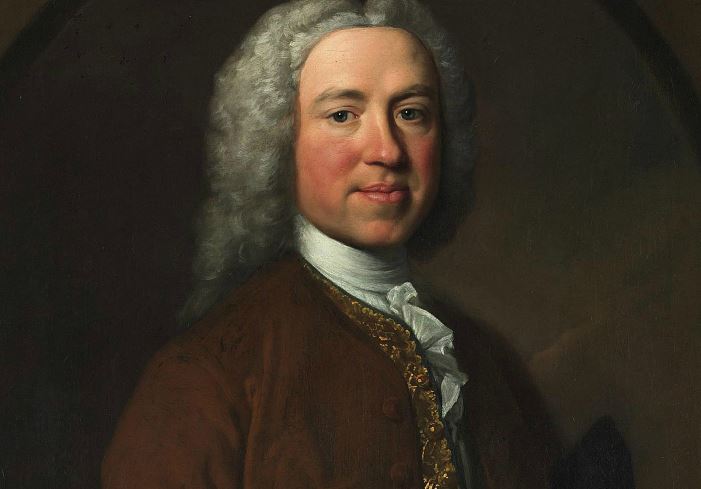 Richard Powney
Sydenham Wylde, Lieutenant, R.N., H.M. Coastguard, Caister, citation reads, '25 February 1838: With two Coastguardmen Wylde saved the crew of the Shields schooner Lapwing when she went aground in a storm at Caister, Norfolk. He got a rope on board the schooner, enabling a hawser to be hauled ashore, by which the Master and eight men were saved at one time. Lieutenant Wylde narrowly escaped drowning.
Lieutenant Sydenham Wylde, R.N., joined the Royal Navy as Volunteer 1st Class, 1816; served in H.M.S. Minden at Algiers, and in H.M.S. Eden in operations against pirates in the Persian Gulf; as Mate of H.M.S. Boadicea he commanded her cutter in the attack on Melloone during the Burmese War and was promoted Lieutenant for his services in December 1826; served with the Coastguard from 1836, until his death in 1845.
Below –  a medal struck to honour the rescuing by Sydenham Wylde of the crew of the Lapwing.