The Blacklaw family connects with the Man family on the marriage of Charles Fettes Blacklaw (1867 -1949) to Eleanor Katherine Ellen Man, the daughter of George Octavius and Mary (Bradford) Man, on 25 August 1894 at Bengal, India. There was one daughter.
Charles was born about 1867 [C11263-1] at Laurencekirk, Kincardineshire, Scotland, the son of Alexander Scott Blacklaw and Sarah Ann Peck. He had the following siblings
Hugh Arbuthnott b. 18 April 1869
William Morton b. 21 August 1870
Marie Florence b. 5 February 1872
Amy F (born in South America)
Harold Scott
Douglas
In Laurencekirk cemetery is the following 'monument' which is dedicated to Alexander and his parents and was erected by his siblings:
Erected by Mary & Hugh BLACKLAW in memory of their parents Peter BLACKLAW one time Bailie of Laurencekirk who died 19 Apr 1837 aged 49 years and their mother Mary COBBAN who died 13 December 1874 aged 76 years also their son A. Scott BLACKLAW who died at Rio de Janeiro 2 July 1899 in his 63rd year.
The family is recorded across a number of censuses which are reproduced below. Charles's father, Alexander, begins on the 1871 census as an Aberdeenshire farmer but by the 1881 census he is absent and is a coffee planter in Brazil.
When he first left Scotland soon after 1871, Alexander headed for Ceylon but did not meet with much success there and he soon returned to Scotland. However, the following notice of bankruptcy appeared in the Glasgow Herald:
After this Alexander left for Brazil where he took up as a coffee planter. He co-authored a book titled Brazil as a coffee-growing country. He also authored an article that appeared in Volume 20 (1882) of The South American Journal titled: Slavery in Brazil.
Alexander's death has been recorded as occurring in Brazil on 2 July 1899. His probate record is below.

Alexander's son – Charles Fettes Blacklaw – left for India on 29 September 1892 and is listed among passengers travelling first class aboard the Valetta. HIs name appears on the last line below: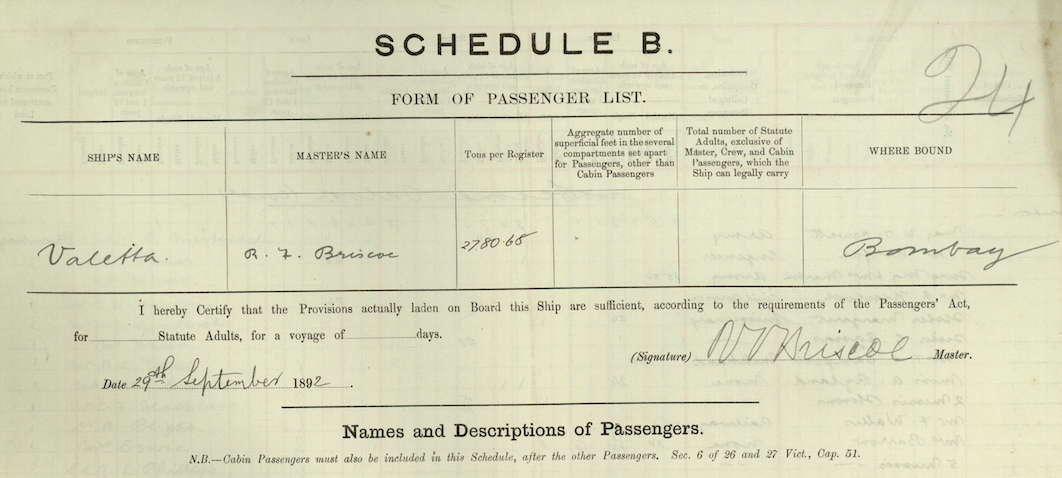 1871 Census for Scotland:
1881 Census for Scotland
1891 Census for Scotland
The recollections of one of the uncle's of Charles Blacklaw that appeared in List of Inscriptions on Tombstones and Monuments in Ceylon is below. The five Blacklaw brothers mentioned below are: 1. Francis who was tea planter and who died on 9 October 1863 in Colombo, Western Province, Ceylon (Sri Lanka). 2.  James died on 21 May 1863 at Kotmalee in Ceylon, aged 40. 3. Hugh (who seems to be the one doing the recalling) retired to Scotland and died their in 1911 [He left a will]. 4. Alexander who left Ceylon for Brazil and died there in 1899 [He left a will]; and possibly 5. Francis whom Hugh does not know what happened to but who died in Ceylon on 9 October 1863, aged 31.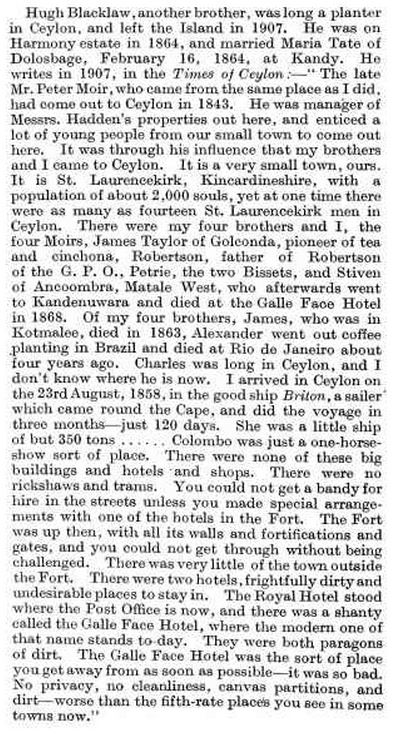 In 1842 the mother of the above five brothers who went to Ceylon and the wife of Peter Blacklaw – Mary Cobban – brought a paternity suit against James Muir accusing him of having impregnated her on 1 August 1839. She won her case but lost it upon appeal. The case can be read HERE <—