Louisa Emma Man was born on 3 December 1810 at 18 Chester Place, Kennington, Lambeth, Surrey, and was baptized on 1 January 1811 at St. Mary-at-Lambeth, Lambeth, Surrey, the second daughter of Edward and Georgiana (Desborough) Man.

She died, unmarried, on 9 August 1858 at Tapton Grove, Chesterfield, Nottinghamshire, and was buried on 11 August at Spittal Cemetery, Chesterfield.
Below the death registry index showing Louisa and her second cousin Emma Claudiana.
Louisa Emma belongs to Man Generation Eight.
Louisa Emma has been found on the 1851 census as a governess in a family headed by Cockshutt Heathcote. The daughter, Georgiana Caroline, was a twin born in June 1836 and it was probably this daughter whom Louisa Emma was governess to.
Ashbourne Green Hall, where Louisa worked as a governess, is a William and Mary house that belonged to the Hayne family, and which was rented by Cockshutt Heathcote until 1852, when the Heathcotes left and the house's contents were sold. Maybe it was at that point that Louisa left her employment and then moved to Tapton Grove. By 1855 Ashbourne Green Hall had become young ladies' boarding school.
Louisa's death certificate indicates that she was a 'domestic governess'. She died of Erysipelas (a form of Streptococcus infection). Her grave is below: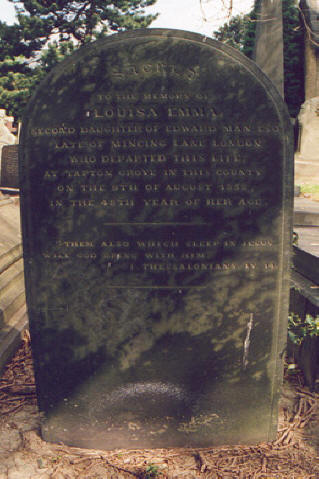 Sacred to the memory of Louisa Emma.
Second daughter of Edward Man Esq.
Late of Mincing Lane London who departed this life
at Tapton Grove in this county on the
9th August 1858 in the forty-eighth year of her age.
Them also which sleep in Jesus will God bring
with him' 1st Thessalonians Chapter IV , 14. 
[References: Her birth from family bible; Her baptism – FHL Film # 0254604; her death – copy of her death certificate; her burial – FHL Film # 2094513].
Why did Emma end up at Tapton Grove? Perhaps she decided to help teach the children at the largest employer at Tapton Grove – the Work House pictured below. It's a theory ….