Edward Kirkness Man was born on 21 October 1862 at No. 10 The Crescent, Clapham Common, Surrey, the son of Frederick and Elizabeth (Dumas) Man and was baptized on 21 December 1862 at Holy Trinity, Clapham Common North Side, Surrey.  Edward died unmarried on 29 January 1901 at Beckenham, Kent.  He belongs to Generation Six.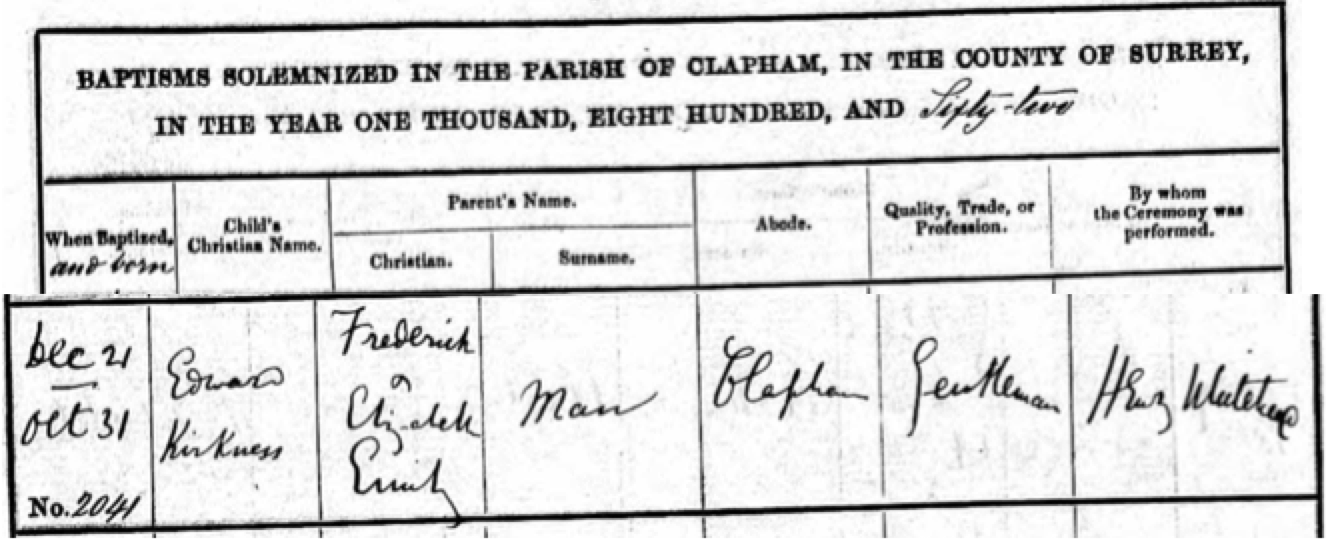 NOTES: He was made a partner of E. D. & F. Man but died without issue six months later. The following data was found in the 1891 census of Norwich in Norfolk:
Charles D. Man, 32, born Clapham, Surrey, Boarder, Student
Frederick H. D. Man, 29, born Clapham, Surrey, Visitor, Colonial Broker Agent
Edward Man, 38, born Clapham, Surrey, Head, Classical Schoolmaster
The age for Edward is in fact wrong, he would have been 28. This would suggest that some error occurred in recording Edward's age. The other two ages are correct for Charles D. and Frederick H. D., both sons of Frederick Man's.  The print images of the census pages indicate Charles D. Man, is a theological student, and Frederick H. D. Man, is a colonial broker agent.
On the census Edward is shown as Edward Man, Classical Schoolmaster.
A look-up volunteer in Norwich searched the City Directories and came right back with a hit for 1892, but not 1883, nor 1896 (these were the ones that he has).  For 1892, the entry was MAN, Edward Kirkman M.A. (sub-master of Grammar school) School Lodge, The Close.  Also, from the Haileybury register 1901: Man, Edward Kirkness b. Oct 31 1862 son of F. Man Esq. Beckenham, Kent. Lawrence House 1876 -1881. XXX Captain Football ' 80. Exhibitioners Clare College, Cambridge. Foundation Scholar. B.A. (3rd Class. Classical Tripos) '84. Assistant Master Norwich Grammar School. Since 1896 in business at 7 Mincing Lane. London, EC. i.e. he joined the family business E.D. and F. Man.