Mary Louisa Man was born on 20 June 1852 at 17 Spencer Place, Kennington, Lambeth, Surrey, the daughter of Edward Desborough and Louisa Mary (Harris) Man and was baptized on 15 October at St. Mark's, Kennington.

She married the Reverend Vere Awdry on 27 October 1891 at St. John the Evangelist Church, St. Leonards-on-Sea, Sussex.

Mary Louisa died (of cancer) on 22 April 1908 at St. Mark's Vicarage, Ampfield, near Romsey, Hampshire and was buried on 25 April at St. Mark's churchyard, Ampfield.
Vere Awdry was born 14 October 1854 in Notton, Wiltshire, and died 12 July 1928  at Journeysend, Box, Wiltshire.
Mary Louisa and Vere Awdry belong to Generation Six; their children belong to Generation Seven and are:
BRIDGET HILDRED VERE
The following letter from Charlotte Mary Yonge to Christabel Rose Coleridge was written on 2 March 1900 and mentions the death of Mary's daughter Bridget.
My dear CC …. Has Fanny Awdry [Vere's sister] written to you about their trouble Mr Vere Awdry's little Bridget has died after two days illness, a very clever child of seven, and they have only the boy left He is such a depressed person that one is very sorry for the shock to him, and probably the good little homely wife [Mary] is more grieved for him than herself. ….your affte C M Yonge

Below the two children, Bridget and Carol, in the vicarage garden at Ampfield.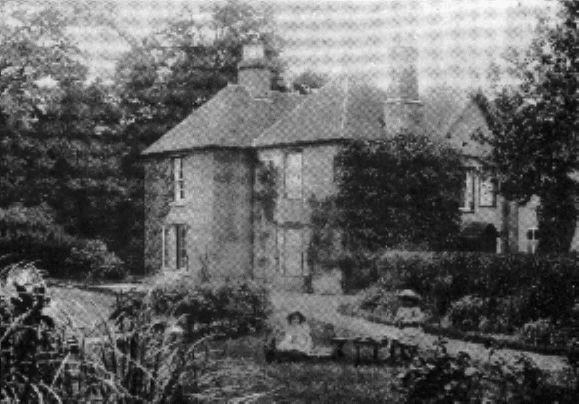 Vere Audrey had originally married Mary Louisa Man's first cousin Margaret Emily Man.