John William Cowper Man was born on 30 August 1920 in Derby, the son of John Horace Cowper and Annie (Dolly) (Hodgkinson) Man. He married Joyce Kathleen Sprinthall on 22 June 1942 in St. Giles Church, Normanton, Derby. Joyce was born on 5 April 1921 in Derby.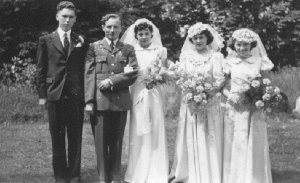 John and Joyce belong to Generation Nine; their three sons are living and belong to Generation Ten.
On June 22 2002 Will and Joyce celebrated their Diamond Wedding Anniversary. The wedding picture below shows from left to right: Gordon Man (best man), Will, Joyce, Dorrie Sprinthall (Joyce's sister) & Mary Man. See also below is a message from the Queen sent on the occasion of the Golden Anniversary.