John Huntley Man was born on 29 March 1875 at 54 Regent Street, Derby, Derbyshire, the son of James Henry and Sarah Francis (Huntley) Man. He was baptised on 1 June 1875 at St. Andrew's, Derby.
He married Florence Maud Cowper on 5 September 1896, in Grantham, Lincolnshire. John died on 5 November 1932 at 197 Crewe Street, Derby.  Florence was born on 3 January 1870, the daughter of John and Mary Ann Cowper, at Carlisle, Cumberland and died on 4 February 1934 at The Gables, 1067 London Road, Alveston, Derbyshire.
John and Florence belong to Generation Seven; their children belong to Generation Eight and are:
JAMES EDWARD REGINALD COWPER
Notes: John was an engineer of some repute who invented the shoe making last but failed to get his invention patented due to illness and lost the rights applying his invention to another. He also lost the money provided to him by his father [reputed to be £10,000 for the education of his children].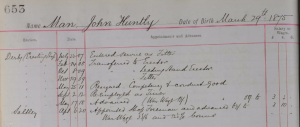 John and family has been on the 1911 census residing at Durdant Gardens 103 Kedleston Rd Derby, Derbyshire. His employment is stated to be 'Head Time Clerk-midland Railway' apart from John aged 37 the others include his wife Florence Maud Man aged 41 and two sons – John Cowper Horace Man aged 13 and James Edward Reginald Man aged 10 his mother in law Mary Ann Cowper aged 80.