Florence Edith Man was born on 12 January 1881 at Vergnoegen Plantation, West Coast, British Guiana, the daughter of James Henry and Sarah Frances (Huntley) Man.
She married Charles William Taylor on 22 November 1906 at St. James the Greater, Derby, Derbyshire.
Florence died on 29 January 1928 at Southside, South Avenue, Littleover, Derbyshire and was buried on 2 February at Uttoxeter Road Cemetery, Derby.
Charles was born on 1 May 1872 and died 20 August 1949.
Florence and Charles belong to Generation Seven; their child belongs to Generation Eight and is:
NOTE: A record of the announcement of the birth of Florence in the Argosy newspaper, a local British Guiana newspaper for January 1881 has been found. The announcement runs:  'On the 12th inst. at Vergnoegen West Coast the wife of James H. Man of a daughter'.  Later on the descendants of this family marry into British royalty….
Below, The Taylor family on the 1911 census: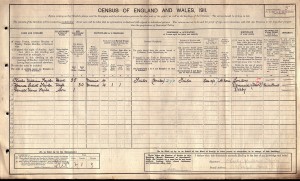 Charles William Taylor has been found along with his father Robert Verner Taylor and mother on the 1901 census. Charles' profession is shown as a violinist: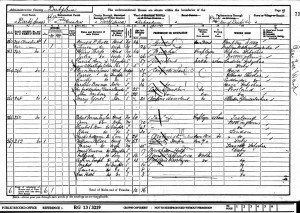 Below, Florence Edith (Man) Taylor's probate record:

Below, Charles William Taylor's probate record:

Below, the probate record for Robert Verner Taylor the father of Donald: