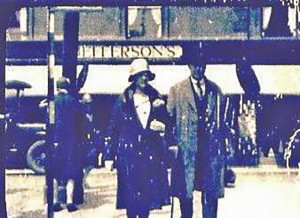 Charles Francis Man was born on March 18, 1877, at Alexandra Villas, Derby, Derbyshire, the son of James Henry and Sarah Frances (Huntley) Man. He married Edith Annie Sommerville on 19 June 1910. Charles died on 10 April 1919, at 7 Molineux Street, Derby and was buried on 15 Apr 1919 at Uttoxeter Cemetery, Derby.
Edith was born in the third quarter of 1882 in South Manchester, Lancashire. After Charles died Edith re-married in the March quarter of 1921 a Wright Hargraves in the district of Burnley, Lancashire. Edith died on 22 May 1967 In Salford, Lancashire. Charles belongs to Generation Seven.

Notes for Charles: He managed a roller skating rink in Paris where it is believed he specialised in tutoring VIP's. He is pictured right with his sister Alice Hilda Man.
January 2006