Horace George William Man was born on 12 July 1856 in Glasgow, Scotland, and he was baptized on 20 August 1859 at All Souls, Langham Place, St. Marylebone, Middlesex. He was the youngest child of William Lionel and Rosa (Cooper) Man. He died on 27 July 1871 at Halstead, Kent and was buried on 31 July at St. Margaret's, Halstead. He appears on the 1861 and 1871 censuses.
Family lore has it that he was killed by a blow to the head from a cricket ball. However notes on his life made soon after his death make no mention of such an accident. On the other hand, his great aunt, Ann Man, wrote a note that says: 'Horace was born July 21 [sic] 1856 at 46 Oxford Street, Glasgow, he came to Halstead and went to school at Maidstone thence to the grammar school at Basingstoke and then to Tonbridge Wells in 1868. He died (result of a cricket accident) in 1871.'
The photograph of Horace (above) formed part of the content of the black-edged envelope shown below. The envelope is 4¾ inches wide by 2½ inches high. Its back was not written upon. The wording on the front reads:- A Brief account of my beloved Horace's Life — His mortal Remains consigned to their Last Resting Place – Halstead Cemetary [sic] … July 31st 1871 —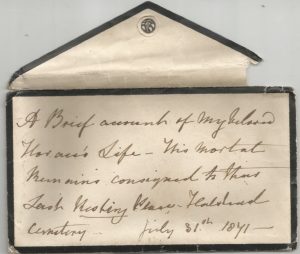 Apart from the photograph, the remainder of the contents consists of a four-page biography of HGW Man written on a mourning notelet which has been folded twice along with two inscribed packets of his hair (dark brown). The 'brief account' reads as follows:
Horace, William, George Man, Eldest son of William and Rosa Man, was born Monday July 21st 1856 – at No 46, Oxford Street Glasgow – N.B. – He was christened at St Philip's church Regent Street Augt 6th 1859 – came to Halstead Decbr .21st 1858th aged 1 year and a half – Went to school at Maidstone, then to Mr Oborne at Marden, removed from Marden to the Grammar /2 School atBasingstoke, Hants Octbr 11th 1867 -afterwards to the RevdT. Allfree's Rose Hill, Tunbridge Wells -in 1868 – In 1869 taken very ill at school, quite unable to Walk, 2 of his schoolfellows carried him immediately to Mrs Allfree who sent for Dr Trustram, who pronounced his right leg quite helpless -Horace remained at school a few weeks, and was treated /unremitting attention -his Grandmama felt the necessity of taking apartments for him that he might have the advantage of Dr Trustram's opinion as Mr Richards does not undertake Surgical cases He remained there 5 weeks and under Trustram's care who brought him to Halstead he remained 1 year and a half – May 8th 1871 – he was sent to Guy's Hospital, where he had the first advice, there he remained 5 weeks /4 having gone thro' an operation under chloroform – came home June 20th 1871, making daily progress as to Strength appetite and sleep – apparently getting much better – when diarrhoea set in July 22d, the day after his birthday he had the Nurse from the Hospital who knew so well how to manage On the 27th he ceased to breathe about 10 minutes after 4 -A.M and Now let us Hope he has joined the Church above, and his eyes see that inaccessible brightness which tabernacles the Presence of G o d–Amen.
The original handwritten note is shown below. The first image shows the first page (on the right) and the fourth page. The second image shows the second page (on the left) and the third page.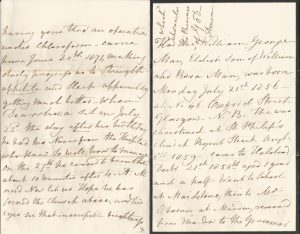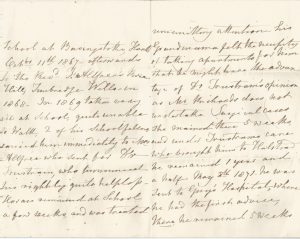 The first hair packet is a sealed envelope which remains unopened. The boy's age when the sample was taken was just under 9 years. The wording reads:- My beloved boy's curls June 1865 —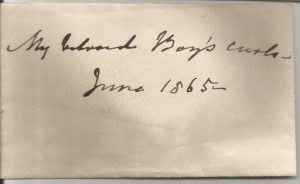 The second hair packet is of folded paper, and the sample was taken after death. The wording reads:- Horace's Hair cut after his removal July 29th 71 —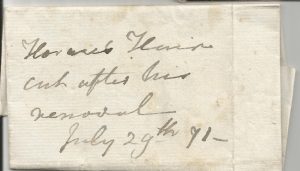 The cut hair is shown below: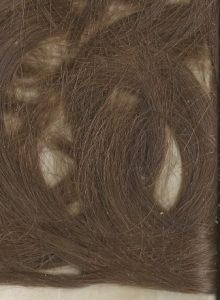 Horace appears on the 1861 census at Halstead Hall with his grandmother and great aunt Eleanor Ann Rankin Man.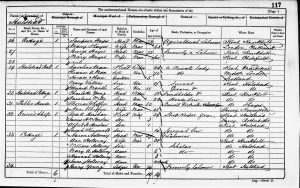 He is also found on the 1871 census with his grandmother (here enumerated as 'Louisa C Man'); his great aunt Eleanor Ann Rankin Man; his great aunt Catherine (Walch) Man (wife of Peter Bruels Man); Peter and Catherine's son Henry Garnet Man and his wife Elizabeth (Garrard); and the two daughter's of Horace's uncle Harry Edward Julius Man namely: Ella Katherine Emma Man and Harietta Emma Man.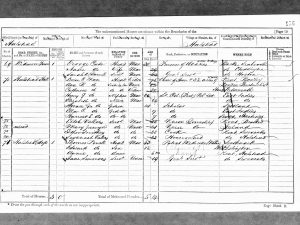 It is interesting to note that another Horace Man also died young. For what happened to this other Horace click HERE.