Katherine Rosa Man was born on 29 June 1883 at 22, Sydenham Road in Croydon, Surrey, the daughter Edward Garnet and Katherine (Matthews) Man.
She married Leland George Crosthwait on 3 November 1911 at St. Lukes, Chelsea, London.

Katherine died on 16 February 1975.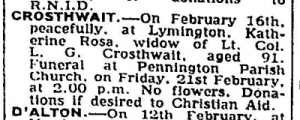 Leland was born on 29 August 1881, at Bagenalstown, Co. Carlow, Ireland. His father was Samuel Crosthwait and mother Sarah Eliza.

Leland died on 31 October 1943 at "Leelands", Lymington, Hampshire.

Katherine and Leland belong to Generation Six; their children belong to Generation Seven and are:
ANTHONY EDWARD LELAND
JEVON LELAND
Notes on Leland George: He was a Lieut. Col (Indian Army) and assisted in the Survey of India.