Penny was born on 30 November 1939 and died on 9 May 1993. The daughter of Katherine Holberton (Man) and Basil Jones She married Horace Freeland Judson on 11 January 1969.  Horace was born on 21 April 1931 in Washington, DC, U.S.A. The two children of Penny and Horace belong to Generation Nine and are living.
Below B.D. Jones and Blue with Penny.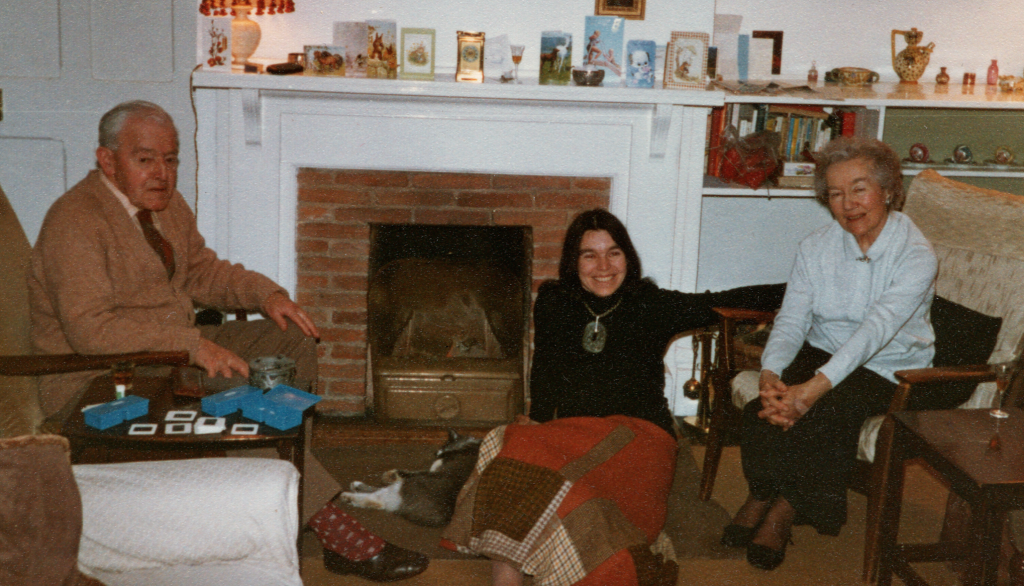 The following obituary appeared in The New York Times, Science Section, 10 May 2011.
Horace Freeland Judson, Science Historian, Dies at 80
By WILLIAM GRIMES

Horace Freeland Judson, a science writer whose 1979 book "The Eighth Day of Creation" is regarded as the definitive account of the breakthroughs that transformed molecular biology in the mid-20th century, died on Friday at his home in Baltimore. He was 80.
The cause was complications of a stroke, his daughter Olivia said.
Ten years in the making and based on interviews with more than a hundred scientists, "The Eighth Day of Creation: Makers of the Revolution in Biology" revisited the critical discoveries in molecular biology, notably the double-helix structure of DNA, its mode of replication and the role of RNA and proteins in carrying out its commands.
"It stands entirely by itself," said the molecular biologist Matthew Meselson, who is prominent in its pages. "If he had not written it, there never would have been an account of the DNA revolution equal to its importance, that captures what really went on."
With a novelist's sense of pace and drama, Mr. Judson put arcane scientific information within the reach of the common reader while weaving a tale rich in incident, conflict and character.
"As scientists understand very well, personality has always been an inseparable part of their styles of inquiry and a potent, if unacknowledged, factor in their results," he wrote. "Indeed, no art or popular entertainment is so carefully built as is science upon the individual talents, preferences and habits of its leaders."
The physicist and author Jeremy Bernstein, writing in The New York Times Book Review, called it "one of the best books of popular or semi-popular science writing I have ever read," and pointed to the author's dogged interviewing as a key to its power.
"It is as if one were in the classroom with a dozen or so of the world's greatest biologists, with Mr. Judson acting as the informed student," he wrote. "We learn as he is learning."
Mr. Judson described his approach as a fusion of journalism and history, with a strong emphasis on first-person testimony. In an interview with the reference work Contemporary Authors, he said that "in an era in which more than half the scientists who have ever lived are still alive, I am repeatedly surprised to find that historians of science are reluctant to attempt interviews or rely on them."
Horace Freeland Judson was born on April 21, 1931, in Manhattan. He contracted polio at 13, and the disease left him with a withered right arm, a disability he learned to disguise.
At 15, he entered the University of Chicago, where Mr. Meselson was a friend and classmate. After earning a bachelor's degree in 1948, he spent a year in Berlin, where his father, an economist, was working for the Allied government.
On returning to the United States, he worked at writing and editing jobs in New York and wrote a book, "The Techniques of Reading," before being hired in 1963 by Time magazine, for which he reviewed books and reported on the arts and sciences from London and Paris.
While interviewing Bob Dylan during his 1965 tour of Britain, Mr. Judson found himself on the receiving end of a Dylan tirade against Time that remains one of the more colorful scenes in D. A. Pennebaker's documentary film "Don't Look Back."
Mr. Judson later said in an interview with Howard Sounes, the author of "Down the Highway: The Life of Bob Dylan," that he thought the outburst had been contrived to spice up the film. "The whole episode was entirely unprovoked," he said. "That evening, I went to the concert. My opinion then and now was that the music was unpleasant, the lyrics inflated and Dylan a self-indulgent, whining show-off."
While in Britain, Mr. Judson became acquainted with Max Perutz, the Austrian-born molecular biologist and Nobel laureate known for his work on hemoglobin. He planned a book on the discovery of the structures of cellular macromolecules but soon broadened his focus to embrace the history of molecular biology, and this became his project for the next decade.
Mr. Judson's first marriage ended in divorce. His second wife, Penelope Jones, died in 1993. In addition to his daughter Olivia, of Berlin, an evolutionary biologist and the author of "Dr. Tatiana's Sex Advice to All Creation: The Definitive Guide to the Evolutionary Biology of Sex," he is survived by two sons, Thomas, of Brooklyn, and Nicholas, of Boston; another daughter, Grace, of San Diego; and a sister, Judith, of Arlington, Va.
Although Mr. Judson had no science degrees, he taught the history of science at Johns Hopkins University from 1981 to 1990 and spent four years as a senior research scholar at Stanford University before being named the director of the Center for History of Recent Science at George Washington University, where he taught from 1994 to 2003.
While researching "The Eighth Day of Creation," Mr. Judson completed his second book, "Heroin Addiction in Britain." He later published two other books on science, "The Search for Solutions" (1980), a series of essays on how scientists approach their work, and "The Great Betrayal: Fraud in Science" (2004).